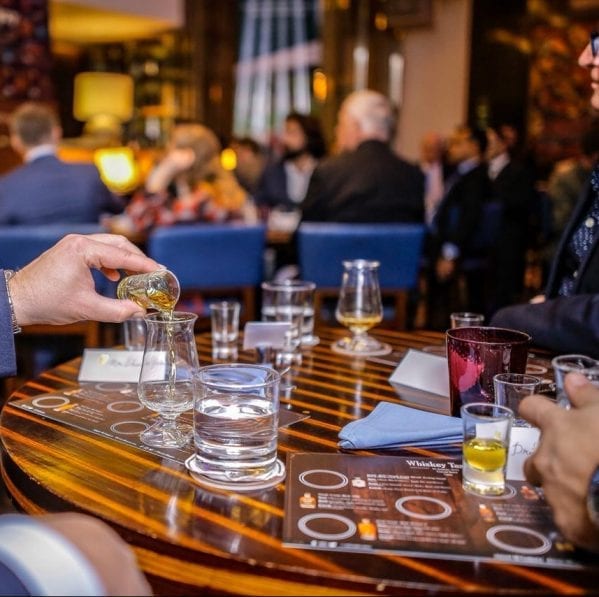 Download your own Customisable Irish Whiskey Day Tasting Mat. BuyNow
Irish Whiskey Day
Get ready for International Irish Whiskey Day on Sunday 3rd March
International Irish Whiskey Day or Irish Whiskey Day is celebrated each year on 3/3 or 3rd March.
The 3rd March date was chosen because of the significance of the number 3 in Irish Whiskey and in Ireland.
There are three styles of Irish Whiskey, Single Grain, Single Malt and Single Pot Still.
Irish Whiskey must be matured for three years before it may be called whiskey.
There is a tradition of Irish Whiskey being Triple Distilled.
The whole idea of Irish Whiskey day is to coordinate a global Irish Whiskey Tasting on Social Media using the Hash Tag #IrishWhiskeyDay.
Irish Whiskey Day on 3rd March is exactly two weeks to the day before St Patrick's day, so these global Irish Whiskey Day Tasting events are an ideal opportunity for the Irish Diaspora around the world to hone their Irish Whiskey Tasting Skills and Knowledge in advance of the international St Patrick's Day celebrations on 17 March.
Incidentally, the symbol of Ireland and St Patrick's Day is the Three Leaf Shamrock .
Note the importance of Three in all things Irish!
Create Your Own Irish Whiskey Day Tasting Event
Creating your own Irish Whiskey Day Tasting event is quite simple, but it does require a little advance planning and preparation.
Design and Print Your Irish Whiskey Day Tasting Mat Menu
First, design your own Irish Whiskey Tasting Mat or Menu Card. If you are skilled in the use of photoshop or graphic design this is a fairly simple task to complete. For those who are more challenged in this area, you can download our ready to go, programmable Irish Whiskey Tasting Mat in PDF format for just €5. https://whiskeyblogger.com/product/irish-whiskey-day-tasting-mat/
Once you have downloaded your Whiskey Tasting Mat Menu file, you can fill in the details of your Irish Whiskey Day event and location by clicking in the two free title block fields.
Fill in a Name and Description, Nose, Taste and Finish notes and upload an image for each of the six Irish Whiskeys you have chosen to feature on your tasting menu.
Get Ready For Irish Whiskey Day on Sunday 3rd March – @WhiskeyBlogger
Select Your Irish Whiskey Day Whiskeys
As you can see, I recommend 6 different Irish Whiskey expressions for a really great tasting event, using 20 ml samples. A standard whiskey serving in an Irish bar is 35 ml.
I'd reccomend starting with the whiskeys which are lighter in style and strength and build from 1 to 6 as the tasting progresses.
A suggested hand rail could be as follows.
A light entry-level Blended Irish Whiskey such as Jameson, Teeling Small Batch, Powers, Black Bush or Tullamore D.E.W..
Since the Teelings parted company with Cooley, the company they started, we've been waiting for their return and here it is – Teeling … Buy Now
A Single Grain Irish Whiskey such as Hyde 1916, Teeling Single Grain or Kilbeggan Single Grain.
A straight Single Malt Irish Whiskey such as Pearse 5, Knappogue Castle, Hyde, Teeling or Writers Tears.
A Single Pot Still Irish Whiskey such as Green Spot, Yellow Spot, Redbreast, Powers Three Swallow, Powers Johns Lane or Teeling.
Distillery Bottling – A single pot still incarnation of Powers whisky, named for the now-defunct old Powers distillery. This is a very … Buy Now
A Premium Blended Irish Whiskey with a Special Cask Finish such as Teeling Brabazon 2 (Port Finish), Portmagee 9 (Barbados Rum cask Finish), Tullamore D.E.W. Trilogy (Bourbon, Oloroso and Rum Cask Finish) or The Irishman Founders Reserve (Marsala Cask Finish).
£54.95 70cl / 40% – A 12yo blended Irish whiskey from duty-free favourite Tullamore Dew, Special Reserve has been assembled from a mixture of bourbon Buy Now
A Cask Strength or nearly Cask Strength Irish Whiskey such as Redbreast 12, Tullamore D.E.W. Phoenix, Writers Tears Cask Strength, Writers Tears Cask Strength or Boann Cask Strength.
A higher intensity bottling from the Walsh distillery as part of their premium Writers' Tears range. Only 5280 bottles have been … Buy Now
This is just an example to show beginners to Irish Whiskey Tasting how it could be done. Your own list will of course reflect your own personal preferences and local availability of Irish Whiskey brands and expressions where you live.
For each Whiskey Tasting place setting you will need.
Whiskey Tasting Mat as descibed above
Six 20 ml measures per mat. These can be shot glasses or plastic disposable shot glasses (commononly sold as tubes of 50 in discount stores).
One Nosing and Tasting Glass such as Tuath Irish Whiskey Glass or Glencairn Whisky Tasting Glass. Other glasses such as small tulip shaped sherry or port glasses can also be used. Ideally, a nosing and tasting glass should be widest at the level of the whiskey measure and should narrow slightly at the top to focus the aromas near the nose.
Drinking water (room temperature with ice) and glass per place setting. Tap water is fine but let it stand for at least 30 minutes before the tasting.
A small jug of tap water (room temperature) to be used to add water to each tasting sample during the tasting.
I would personally discourge the use of ice or whiskey stones in tastings as their use numbs the tongue and sense of taste.
A small ceramic (non transparant) jug or vase which guests can use to dispose of unfinished tasting samples.
Food pairings can also be fun. Again, use lighter flavoured foods at the start and leave your more robust flavours for the more premium whiskeys at the end of your tasting menu. Cheeses, smoked fish and meats, canapés and even chocolate can all pair well with Irish Whiskey.
If you are running a large event, it can be a nice idea to welcome your guests with an Irish Whiskey Cocktail and finish the event with either an Irish Coffee or a Hot Irish Whiskey served with Irish Chocolates.
Join in the Fun on 3rd March with #IrishWhiskeyDay
Share your Irish Whiskey Day Tasting Events, Adventures and Photos with the World on 3rd March on Social Media using the #IrishWhiskeyDay.
Follow Irish Whiskey Day on Twitter @IrishWhiskeyDay , on Instagram @irishwhiskeyday or on Facebook.com/IrishWhiskeyDay using #IrishWhiskeyDay
And finally, #IrishWhiskeyDay is all about quality rather than quantity. Keep your tasting samples to about 15 or 20 ml per whiskey and drink respsonsibly.
Happy Irish Whiskey Day!