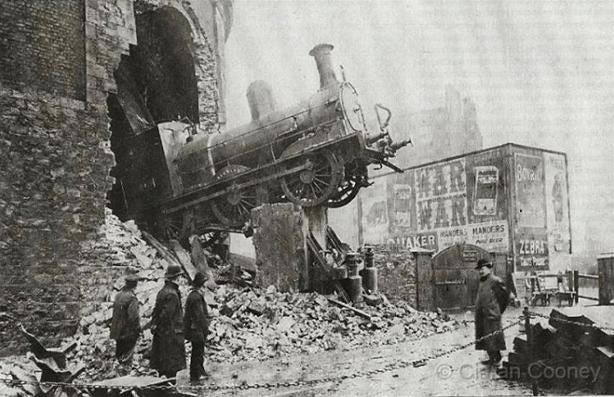 Written by : Andy Bambrick
On the 14th of February 1900 an out of control speeding train, pulling 30 wagons loaded with cattle,   burst through the buffers and a one metre thick wall, to balance precariously over Hatch Street in Dublin city. 
The Harcourt Street station train crash has a legend attached, that relates to the destruction of a Fairy Fort. Local folklore claimed an ancient Fairy Fort was destroyed when the canal was built in the eighteenth century. The railway line was built to cross over the canal at the very spot where the fort once was. Locals believed Fairies still lived at the site and there was a tradition among drivers to always blow the horn/whistle when approaching the canal, which would give the Fairies a chance to get out of the way.
However, on that fateful day, a young 22 year old driver, Walter Hyland forgot to blow the horn.
All went well until the heavily loaded train approached Harcourt Street Station. Walter applied the brakes to slow the train down, but instead of slowing down, the train appeared to pick up speed. Brave to his task, Walter stayed at his post, applying the brakes over and over as the train rushed into the station. People on the platform watched on, alarmed as the speeding train approached, horrified as the engine crashed through the buffers and wall, to be left dangling thirty feet over the street below.
Miraculously nobody was killed in the incident, but poor Walter was trapped in the damaged engine, and had to have his arm amputated at the scene to escape.
Reports at the time blame the heavy load of thirty carriages, the wet wheels and rails, but many other trains had carried out the same task in the same conditions without incident.
Might we add, the tradition of blowing the horn at the canal to warn the Fairies, continued diligently until the line was shut down.
Another tradition, perhaps related to the old beliefs, began shortly after the accident. Whereby Dubliners travelling on the number 14 and 15 bus routes, would bless themselves as the bus passed the station.
Many thanks to Darren M O Murchu for sending us the story, which we posted in 2017. We have added a few bits we learned from the first time we posted this tale. Original story accessed by Darren from: The Harcourt Street Line: Back on track: By Brian Mac Aongusa Image attributed to Ciaran Cooney. Accessed from Rare Irish Stuff available at: https://www.rareirishstuff.com/…/valentine-train-crash-.489…