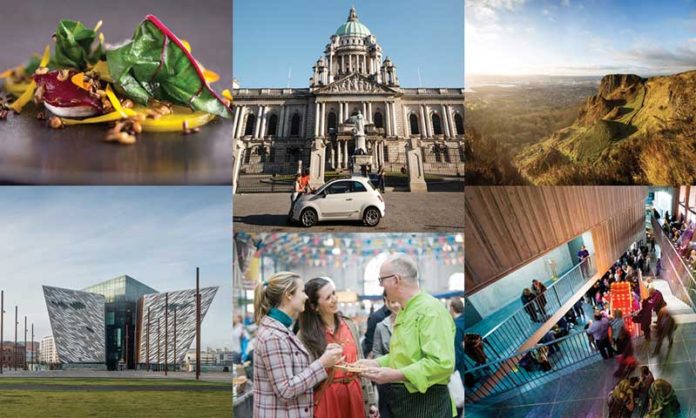 Culture, history and super-friendly people are what Belfast is all about. Visit here and you'll experience a place unlike any other in Europe. This is a city that can trace its history back to the Bronze Age; a city that built Titanic; a city forging a unique food scene; and a city that dances to its own beat. From its mighty shipbuilding past to the dynamic arts scene that swirls around the Cathedral Quarter, Belfast likes to mix it up.
Have lunch in the Michelin-starred restaurants and fish and chips dinners in downhome chippies. Enjoy upscale cocktails in snazzy jazz bars and local craft beers in traditional pubs. Soak up the story of Titanic, see the famous political wall murals and hurtle headlong into history at the Ulster Museum;whatever you do in Belfast, you're guaranteed a good time.
Going Out
Like going out? You've come to the right place. This is a city that is unapologetically social, with a buzzy vibe that radiates through the bars, clubs, restaurants or cafes. Start with something excellent to eat – Belfast is at the cutting-edge when it comes to food, and there's a critically acclaimed culinary scene playing out in some of the best restaurants on the island.
Try the Michelin-starred Ox and Eipic for fine dining; enjoy a more relaxed vibe at James Street South, Town and The Muddler's Club, or get your caffeine fix at Established. For great bars, hit the Cathedral Quarter, which cradles much-loved trad such as the Duke of York and The John Hewitt. Try cool cocktails at the Merchant Hotel, Ritas and The Albany, and finish the night with a gig at the legendary Limelight on Ormeau Avenue, where everyone from Snow Patrol to Shane McGowan has taken to the stage.
Go Out – 3 Belfast Classics
Mourne Seafood Bar
Crown Liquor Saloon
The Empire Music Hall
What to see and do
Belfast mixes beautiful outdoors experiences and really great museums and with its compact size, getting the best out of the city is a cinch. Embark on an urban adventure with a difference by hopping on a Black Taxi Tour. Unique to Belfast, this tour is run by people that know the place best and takes you into the city's past with visits to the political murals.
Walk out towards the beautiful Queen's University (with an alumni including poet Seamus Heaney and actor Liam Neeson) and you'll find the fascinating Ulster Museum, and the verdant wonderland of the Botanic Gardens. Belfast's big architectural showstopper is City Hall, which dominates Donegall Square with its grand Baroque exterior. Head south from here and you're into the Cathedral Quarter, where galleries sit cheek-by jowl with buzzing pubs and restaurants. Dynamic, cultural and great fun – it's like Belfast in a nutshell.
3 great things to do
Cave Hill
MAC Belfast
Belfast Music Tour
Titanic Quarter
Rising like an incredible shimmering ship near the waters of Belfast Lough, Titanic Belfast is the world's biggest Titanic visitor attraction. This majestic building stands on the very site where Titanic was built, and boasts nine galleries covering everything from Belfast's shipbuilding heritage to the discovery of the wreck.
3 Titanic Experiences
Susie Millar Titanic Tours
Segway Guided Tour
Titanic Boat Tour
You're well placed here to delve even further into the story of the Titanic, with everything from Titanic walking tours to visits to the Pump House and Dock, where she sat on the eve of her launch. You can even get on board a piece of real Titanic history with the SS Nomadic, which ferried first-class passengers from Cherbourg Port in France to the Titanic and is the last remaining White Star Line Ship in the 
world.