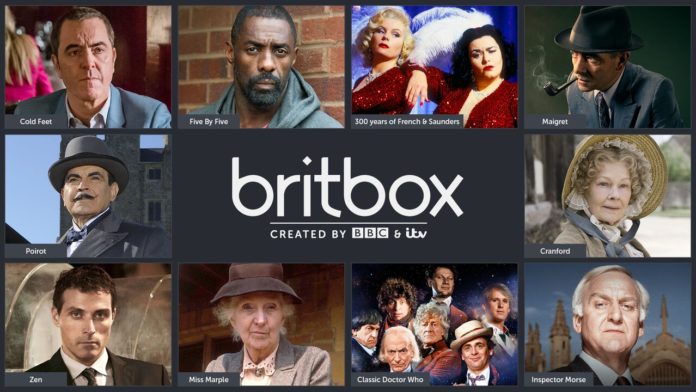 'Tis the season for Christmas pudding, television specials, the Queen's Christmas Message, and a splash of live choral performances!  But thanks to BritBox, the streaming service from BBC Studios and ITV that brings UK TV to Canadian fans, anglophiles can partake in a bit of British telly at its barmy best!  Beginning December 1 and running through the entire month, BritBox will be celebrating "Britmas" with a sack full of original programs, exclusive premieres, and live broadcasts featuring a long and diverse roster of celebrities including Mary Berry (Mary Berry's Absolute Favorites), Kenneth Branagh (Guest Star, Upstart Crow Christmas Special), Hugh Bonneville (Mr. Stink), Patrick Stewart (Snow Queen), Rowan Atkinson (Maigret) and John Cleese (Hold the Sunset Christmas Special) among others.
Soumya Sriraman, President of BritBox, said, "TV watching on Christmas Day is a huge event in the UK, where families are encouraged by the shutdown of public transportation, businesses, and general indolence of a huge meal to crash on the couch and watch hours of holiday specials.  By bringing many of those very same Christmas specials, the Queen's Christmas day message, and other popular holiday programming to viewers as part of our Britmas celebration, we are inviting our subscribers to get cozy and share in the very same joys that viewers across the pond get to indulge in."
In addition to having Christmas Day covered, this year's month long Britmas event will celebrate "12 Joys" of the holiday and programs will fall into one of the following categories: food, theater, lights, carols, family, literature, travel, gifts/shopping, Father Christmas, Christmas crackers, games, and traditions.  The month-long celebration will be anchored by a BritBox original,  the "Slow TV" holiday-themed special The Lights Before Christmas: Luminous London and North American original premiere Click & Collect, starring Emmy® nominated Stephen Merchant (Ricky Gervais Show) and Asim Chaudhry (People Just Do Nothing).
As part of Britmas, subscribers will also be treated to a family movie day on December 7 with four exclusive North American premieres including Mr. Stink, inspired by the eponymous popular children's book and starring Downton Abbey star Hugh Bonneville.
For those who are interested in sharing the gift of Britmas with a loved one, BritBox has launched new for this year a gifting option that lets anyone order up a year-long subscription to the service for a price of $89.99 CAD.
Beginning December 1, BritBox viewers are cordially invited to pull up a chair, enjoy the whimsey of a Christmas cracker, and partake in the "12 Joys of Britmas."  You will find an addendum attached with all titles, but here you will find a sampling of our top programs and categories.
Travel:
December 12 – Mary Berry's Country House Secrets (North America Premiere): In this intriguing series, Mary Berry discovers the rich history of our nation's greatest stately homes through the prism of food. (A Shine TV production of BBC)
December 1 – Further Tales From Northumberland (BritBox Premiere): Born and bred in Northumbria, Robson Green (Grantchester) thought he knew everything there was to know about this remote and mystical part of Britain – until now. Join him on a magical journey as he rediscovers the dramatic scenery and profound history of the hidden jewel in Britain's tourism crown.
Food:  
December 12 – Mary Berry's Absolute Favourites (North America Premiere): In this delightful program, the legendary celebrity chef introduces viewers to her favorite dishes using produce from the farmers' market, the herb garden, the seaside, the countryside and more.
Theater
(December TBA) Upstart Crow Seasons 1 and 2 and 2017 Christmas Special (BritBox Premiere): Starring Gemma Whelan (Game of Thrones) and David Mitchell (Peep Show), Upstart Crow tells the story of William Shakespeare as he starts to make a name for himself in London while also trying to be a good husband and father for his family in Stratford-upon-Avon. Actress Emma Thompson guest stars as Queen Elizabeth I in the Season 2 Christmas special.
Carols
December 22 – Swingin' Christmas (BritBox Premiere): Michael Parkinson presents the sensational John Wilson Orchestra in a celebration of festive musical treats from the golden age of swing with soloists Seth McFarlane, Anna-Jane Casey and special guest Curtis Stigers.  The Christmas classics include Winter Wonderland, Baby It's Cold Outside, Let It Snow and Winter Wonderland.
December 24 – Carols from Kings (North American Exclusive Premiere): A celebration of Christmas from The Chapel of King's College Cambridge. The story of the Nativity is told in the familiar words of the King James Bible.
Family
December 7 – Mr. Stink (BritBox Premiere): Chloe (Nell Tiger Free) sees Mr. Stink (Hugh Bonneville) every day, but she's never spoken to him, which isn't surprising, because he's a tramp—and he stinks.  But before she knows it, Chloe has an unusual friend hiding in her garden shed when it seems Mr. Stink and his stinky dog, Duchess, might be driven out of town.
December 7 – Billionaire Boy (BritBox Premiere): The story of Len, who made a billion dollars from inventing a new toilet roll, and his 12-year-old son Joe who appears to have everything he could want but what he really needs is a friend.
December 7 – A Child's Christmases in Wales (BritBox Premiere): A Child's Christmas in Wales takes viewers on a journey back to the magic and marvel of boyhood where no two moments were ever alike and life was embraced with belief instead of doubt.  On this special Christmas Eve, Old Geraint shares these heartwarming memories with his dearly loved grandson, Thomas.  In one evening, he does more than recall his cherished youth—he relives it
December 7 – Snow Queen (BritBox Premiere): Starring Patrick Stewart.  Based on the classic story by Hans Christian Andersen and featuring music performed by the Royal Philharmonic Orchestra, The Snow Queen is a heart-warming story of friendship and the triumph of love over evil. When Gerda and her mother take in the penniless street urchin Kay, powerful forces emerge that will take both children on a magical journey and test their friendship to the extreme. One cold winter night a splinter of ice pierces Kay's heart and makes him angry and unhappy. He soon becomes enchanted by the Snow Queen and is taken to her palace in the frozen North. Gerda decides that she must do whatever she can to rescue her friend. Faith, love and courage lead Gerda on a perilous quest through strange lands and past terrifying creatures. Will the little girl in the red velvet cloak be able to match the power of the Snow Queen?
Gifts and Shopping
December TBA – Click & Collect (North American Original Premiere): Emmy®-nominated  Stephen Merchant (Ricky Gervais Show) and Asim Chaudhry (People Just Do Nothing) headline this holiday movie about two very different neighbors who end up taking a rather hilarious road trip to find the perfect gift for their daughter on Christmas.
Lights
December 19  – The Lights Before Christmas: Luminous London (BritBox Original Debut): BritBox is diving further into the world of "Slow TV" with this holiday themed special.  The Lights Before Christmas: Luminous London is a magical slow tour of the world-famous London Christmas lights, a destination which attracts thousands of families and travelers to London every holiday season.
December 15  – Northern Lights & City Lights (BritBox Premiere) Uproarious rivalry comedy starring Mark Benton and Robson Green who play Neighbors Howie and Colin always trying to one-up each other.
Literature
December 3   – To Walk Invisible: The Brontë Sisters (Canadian Exclusive Premiere): Written by Sally Wainwright (Happy Valley), this bleak and brilliant portrayal of the Brontë sisters as they begin writing in the face of almost insurmountable obstacles.  Starring Jonathan Pryce and Chloe Pirrie, this two-hour drama brings these literary titans to life.
December 26  – Maigret Season 2 (Britbox Premiere): Rowan Atkinson returns for a two-part second season of Maigret.  In Night at Crossroads, Maigret interrogates suspected murderer Carl Andersen for hours. But despite his best efforts, Andersen's story never slips. In Maigret in Montmartre, Arlette, a stripper from one of the area's seedy nightclubs, reports a conversation she overheard about an imminent murder.
Father Christmas
December 15 – Clash of the Santas (BritBox Premiere): Clash Of The Santas sees Colin (Robson Green – Touching Evil) and Howie (Mark Benton – The Street) travelling to Lithuania to take part in a Santa Claus convention, for which Howie has been asked to represent England. Believing himself to be a better candidate, Colin goes along for the ride.
Christmas Crackers
Fans of British humor are in for a treat with these Christmas specials from current popular shows and specials from holidays of yore.
Porridge (December 17)

Original comedy series from 1974 starring Ronnie Barker as the indomitable Fletcher trying to survive prison life.

Porridge 2017 (December 17)

Sequel to the original sees Fletcher's Grandson, Nigel (played by Kevin Bishop), carry on the Fletcher mantle in prison for cyber crime.
Games
BritBox is also inviting viewers to get their game on holiday style.
North American Exclusive Premieres:
Celebrity Mastermind  (December TBA)
Would I Lie to You 2018  Christmas Special  (December TBA)

(A Zeppotron Limited production for BBC)

Mock the Week Christmas Special (December TBA)
QI Christmas Special (December TBA)
Traditions
Each Christmas, it's the tradition of UK TV watchers to tune in to the Queen's Speech and the holiday specials of their favorite soaps.  BritBox is extending that tradition to its subscribers in Canada.
                North American Exclusive Premieres:
Queen's Christmas Message (December 25, LIVE)
Emmerdale (December TBA)
Casualty  (December TBA)
Holby City  (December TBA)
BritBox is now available to Canadians for $8.99 per month, or $89.99/year after a 7-day introductory free trial period, through web, iPhone, iPad, android phone & tablets, Apple TV, Chromecast, and Roku®.
About BritBox
BritBox is a digital video subscription service offering the largest collection of British TV in the U.S. and Canada. Created by two British content powerhouses – BBC Studios, the commercial arm of the BBC, and ITV, the UK's biggest commercial broadcaster – the service features iconic favorites, exclusive premieres, and current series and soaps available a day after they air in the UK. BritBox also offers expert curation and playlists that enable fans to easily find programs they know and discover new favorites on web, mobile, tablet and connected TVs. AMC Networks is an investor in BritBox.