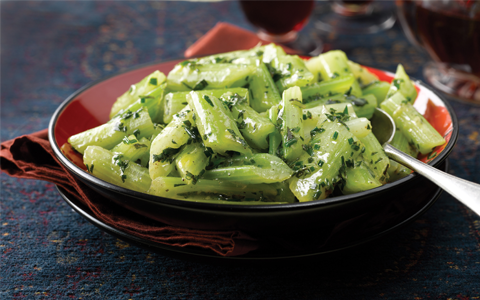 Celery with Herby Butter!
Serves 8
Ingredients
2 heads of celery
50g butter
2 tablesp. red wine vinegar
2 tablesp. fresh chives and tarragon, chopped
Salt and freshly-ground black pepper
To Cook
Wash and trim the celery stalks and cut into strips approx. 4cm long.  Place in a saucepan, add a little salt and barely cover with cold water.  Bring to the boil, reduce the heat and simmer for five minutes.
Meanwhile melt the butter in a small pan, add the vinegar and cook for two minutes.  Stir in the herbs and seasoning.  When the celery is cooked, drain well and then pour the herby butter over the celery.  Serve immediately.
Source: BordBia