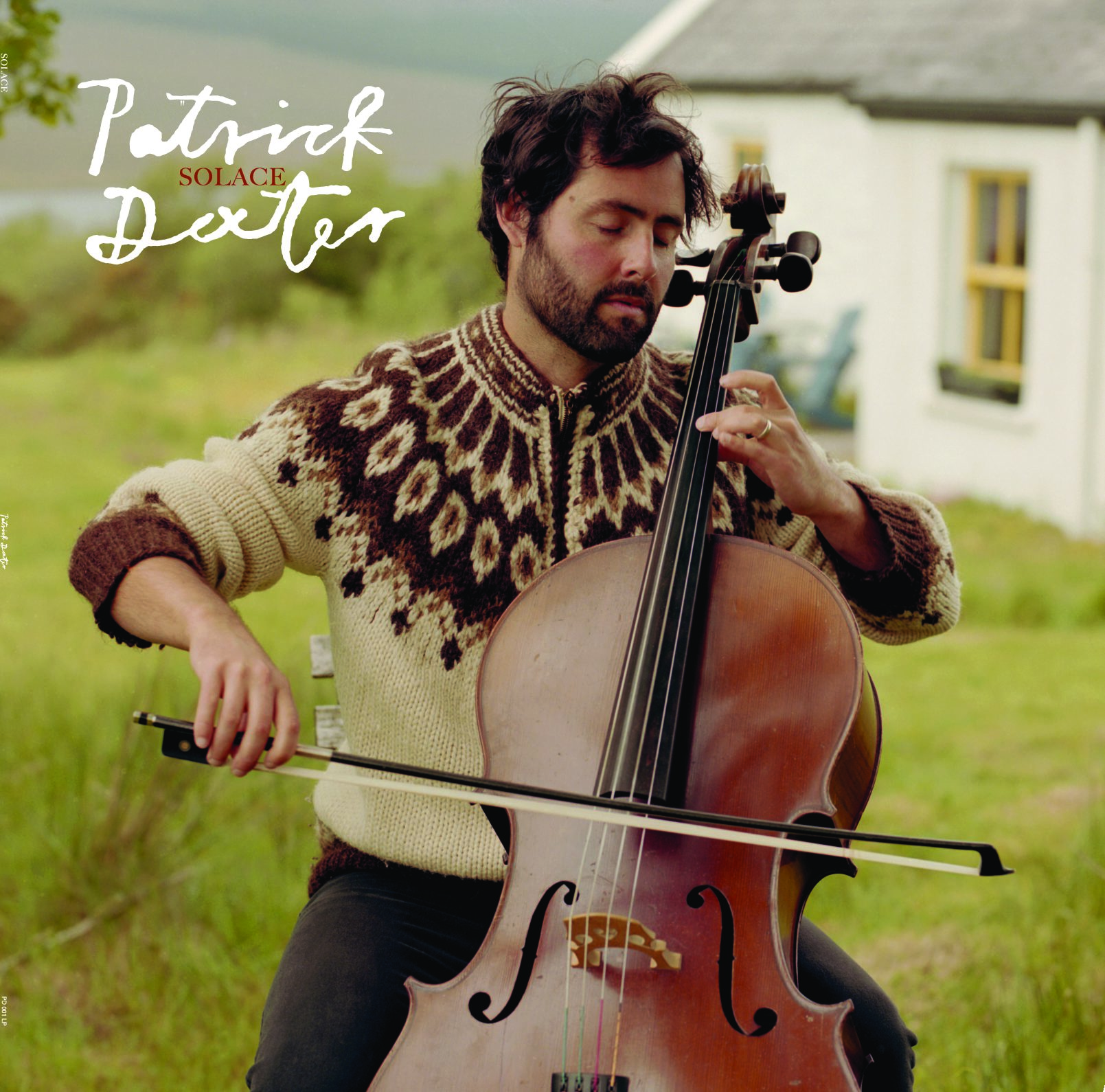 "Calming, plangent, like falling rain or like the south wind itself, Patrick Dexter's cello is a direct invitational voice, asking us to leave the stressed periphery and drop down, to some inner water's edge of listening, and to drink thankfully, from that deeper well." – American-Irish Poet David Whyte.
Music has always been an integral part of Patrick Dexter's unconventional life. His father is a conductor in Dublin who studied at Oxford University and trained in St. Paul's Cathedral in London. One of seven children — all of whom are musical — Patrick spent his school years learning the cello, an instrument he was gifted at the age of 7, and playing in a family ensemble with his siblings, overseen by his parents.
Patrick spent much of his school years in Dublin, but the west of Ireland is where he truly found a sense of place and belonging. After graduating and spending a number of years living and teaching abroad in Vietnam, Patrick and his partner moved to the wilds of County Mayo and purchased an old Irish house to fix up. A tiny stone building surrounded by immense amounts of nature, its remoteness provided both solace from the business of city life and excellent fodder for writing music.
By then it was 2020, and the Coronavirus had hit in full force. As countries around the world began to lock down, Patrick started to feel an overwhelming need to have his music reach further than the peaks of the surrounding mountains, the birds in nearby trees and his wife and young daughter's ears.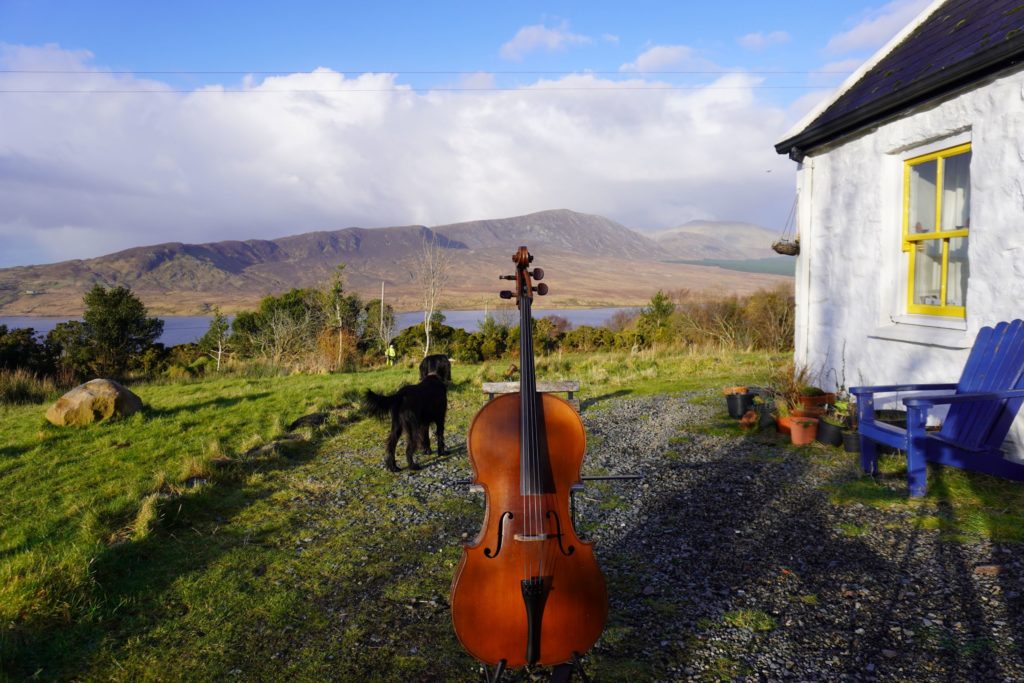 Developing a habit of practicing outside, one day Patrick decided to film himself playing his cello amongst all the splendour around him. He posted a video of himself online, and the Internet took the wheel, as it tends to do. 
His performances started to rack up millions of views on Tik Tok, and media requests suddenly came flooding in alongside messages from people all over the world who had taken comfort in his rich, expansive playing. Patrick's performances were broadcast on international news channels like CNN, CBS, BBC and Sky News and he was invited to do a talk on the healing power of music for TEDX Stormont. His virtuosic arrangements of classical, traditional Irish folk and contemporary pop music saw him skyrocket to international notoriety, all while he wasn't allowed more than 5 kilometers from his front door.
In the midst of this frenzy, Patrick began recording his debut album, aptly titled Solace. A mixture of his own compositions and traditional Irish and Scottish ballads, all played on the cello, the record is a cerebral accumulation of all the thoughts, feelings and notions tumbling around in Patrick's head during this unorthodox time in his life. Expecting his first child and watching her experience her surroundings in the middle of the pandemic had a way of acutely focusing Patrick's mind on the most important things. 
"There was such a life-changing amount of anticipation, excitement and preparation," he recalls. "That particular time in my life where those things — home, nature, family — were becoming so important, it felt huge."
Prior to this project, Patrick largely sang and played Irish music on fiddle, and although he plays traditional tunes on Solace, he remains innovative by using a classical instrument. "When the Covid lockdown was kicking off, I was free to experiment away from a certain type of music that I would be encouraged to play," he says. "If I were doing a classical music concert with a quartet or orchestra I would be playing the cello, but playing classical music. And if I were in the pub, I would be sticking to singing folk tunes or playing a violin or guitar. The two never really met except for in my own brain, ability and interests."
Solace harnesses a unique sound — the album was always intended to be as raw and intimate as humanly possible. Patrick intentionally recorded his cello completely unprocessed, as you would hear it if you were sitting in his back garden. It's this ethos that allows Patrick, through his cello, to reach directly into the hearts of his audience.
"I felt a strong urge to keep it simple," he explains. "Something that is so powerful about folk and traditional music is that you have these simple melodies and they can really reach out and touch hearts. That's why I think they transcend centuries. The simplicity of their form is a big part of that, and I wanted to explore that area of music, but with my cello, because it's become like my voice. The most direct way that I would communicate music to someone — I think the most direct way anyone communicates music — is by singing. You look people in the eye and sing to them, and there's nothing else that compares to that. But for me, more and more, my cello became that voice.
"If I wanted to communicate and share the power of folk music, it would have to be with my cello, even though it wasn't something that was an accepted or normalised thing to do. It felt so right, personal and natural in that moment to be bringing those things together."
Exploring themes of home, the natural world, and the dichotomy of despair and joy found in both the landscape of the west of Ireland and the sonic depth of the cello (one of classical music's most arresting instruments), Solace taps into a vitality and humanity not easily explored. Beginning with 'Féile', a piece of Patrick's own composition and named after his niece, for whom the track was written, he kicks off his debut with unbridled joy.
"Féile was born in the middle of winter at the end of 2020," Patrick says of the opening track. "For most people, a very dark, difficult time. She was born just before the New Year, and it was such an explosion of joy. I thought: 'there's still beauty in the world.'
"I wrote that song straight away when I heard the news. It ties into how the whole album proceeds. Though it has been this introspective time, it's also a celebration of family, life, nature, home and music."
Weaving through a complex and fascinating history of traditional Irish music, as well as his own personal history, Solace is a vast, accomplished and incredibly life-affirming body of work that comes during one of the darkest moments in human history, from an artist who has so much more to offer.