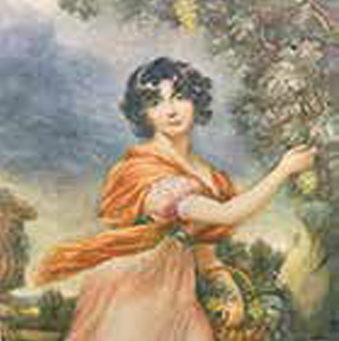 By Peter Garland M. A.
The Blarney Stone is reputed to give eloquence, but if the stones themselves could talk what stories they would tell. For instance, in the second half of the eighteenth century there lived in Blarney Castle an Anglo-Irish girl named Mary Anne Jefferyes (pronounced Jefferies). Her great-grandfather had bought the heap in 1703 and, through marriage to the Colthursts of Dublin and Cork, her family is still related to today's 21st century ownership.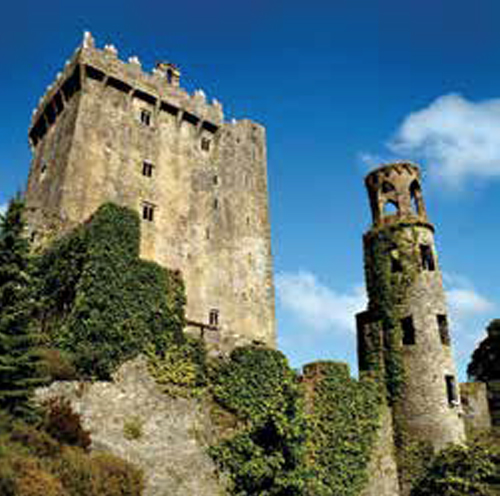 She was called a young woman of "great beauty, education and high accomplishments." In her early twenties she married an Irish peer, George Frederic Nugent, 7th Earl of Westmeath, described as a young man "gay, social and convivial," and "a pretty, little, thin, delicate man." Mary Anne thus became the Countess of Westmeath.
It was a love match, and according to the evidence at the trial that would later lead to their divorce, was initially happy. They had two sons. After about six years "the couple effectively parted, he living in Ireland, she in London."
"At an unknown date Mary Anne became intimate with Augustus Cavendish Bradshaw, younger son of Sir Henry Cavendish." A Cambridge University man, Augustus Bradshaw was five years younger than Mary Anne. He was wealthy and remained so, even after Mary Anne's husband got through with him.
Nugent, or Westmeath, the "injured" husband hesitated for a long time before deciding on a divorce, which invariably caused scandal, was slow and expensive and required an act of Parliament. However, he needed cash and so, in 1796, he sued young Bradshaw, in Ireland, for what was called Criminal Conversation, usually shortened to Crim. Con. He sought the then enormous sum of £20,000 (equal to many millions today.) The idea of "Crim Con" was that an outsider had come in and "debauched" one's wife. Bradshaw's attorney would paint a very different picture, portraying his client as a victim of both Mary Anne and her husband.
The legal action opens on 20 February 1796, before Judge Barry Yelverton. Nugent has John Toler, Ireland's Solicitor General on his legal team, while John Philpot Curran speaks for the defendant, Bradshaw.
The courtroom is packed. Curran is one of the greatest of Irish orators and wits, speaking Latin as well as Gaelic, at home in an Irish cottage or an English palace. Lord Byron has said of him, "I have heard that man speak more poetry than I have seen written," and, in 1869, Karl Marx will recommend the reading of Curran's speeches to Frederich Engels.
One story tells of Curran while he was a student at Trinity College, Dublin. He is called up before the college authorities and accused, in Latin, of having "idle women" in his rooms. He responds, in the tongue of the Romans, that he never keeps women idle in his rooms and the entertained judges let him off.
While Curran is an Irish patriot and a man of impeccable integrity, Judge Yelverton, though reportedly eloquent (none of his speeches survive) "being a man of insignificant physical appearance" can be bought and sold. In 1800 the English will bribe him, making him 1st Viscount of Avonmore when he votes for the Act of Union.
Five servants of Mary Anne Jefferyes testify to her long-time adultry with Bradshaw (in both Dublin and London). Curran attacks the character of both husband and wife, describing Lady Westmeath as an experienced woman of the world who has seduced a much younger man. Lord Westmeath he describes as a pleasure-loving and neglectful husband. As Curran points out, the picture of a happy marriage destroyed by Bradshaw does not fit with the fact that the couple has led separate lives for years.
Let Mary Anne herself speak:
"The trial provided great entertainment for the population. The principals, as we were called, did not testify, which was the custom, but our servants certainly did.
"The jury being sworn in, the Solicitor General led off for my husband, apparently modeling his attack on Marc Anthony's speech over Caesar's corpse. He painted a pretty picture of young me, of Nugent's bringing me his rank and fortune, and looking forward to a long life in the happy family with our two boys growing 'in blooming luxuriance,' but alas, 'In this state of present and prospective happiness – the cruel despoiler came and like Satan, envying the first happy pair, saw their felicity, and resolved to overthrow it – Mr Bradshaw – the Honorable Mr. Bradshaw – saw the noble Earl and his Countess happy and united, and listening to the dictates of lust or vanity, determined, by destroying the confidence of wedded affection, to demolish the fabric of future happiness which it had constructed, and had, as the evidence would show, proved but too successful.' He spoke of 'the enormously cruel and guilty conduct of the defendant' and asked for £20,000 in damages.
"He brought up my London maid, Mary Tucker, who was sworn in. She regaled the courtroom with the tale of the mysterious Sofa that was always powdered after Mr. Bradshaw's frequent visits in the absence of his Lordship. She also mentioned that I used to go to the country for a day or so without a servant, taking my nightclothes with me. She even added that when one evening I took a lodging in Tunbridge and found it destitute of a sofa, I had had one brought in.
"Next came the nurse, Mary Lunn, who had worked for me in Dublin in 1792, and afterwards in London. She corroborated the Sofa stories and added that she had strict instructions never to enter my apartment with the child when Mr. Bradshaw was with me.
"Then, Eliza Leekes, who lived with us for seven months in London. She recalled that I was known to spend three or four nights severally from home, she believed with the defendant, 'She took her night clothes with her.' She had to add that 'her Ladyship always received Mr. Bradshaw in a loose dress, which, on his departure, appeared much tumbled and powdered in the same manner, likewise that the carpet, near the Sofa, used on those occasions to be greatly rumpled and marked, as if with shoes or boots.'
"She even reported having seen Bradshaw, in my apartment, put his hand in my bosom, 'a freedom not in the least degree resented by her Ladyship.' O, the servants' revenge. She praised my husband's sweet disposition as both husband and father. I wonder how much he paid them all.
"Then up march the coachmen. First John Duigan, who was with us for about three years. He tells how Bradshaw joined me early one morning as I drove in my carriage on the North Road and that he, Duigan, happening to turn on his driver's seat, beheld through the fore-glasses, Lady Westmeath, with her legs and thighs so bared, he had seen above my hips.
"Mr. Curran in cross-examination, asked the witness if he was 'so well acquainted with her Ladyship's thighs, that he would know them from those of any other Lady' — to which the witness replied, that he 'had no particular mark to know them by; nor could swear to them, but that he was positive they were her's as no other Lady was in the carriage.'
"Last comes William Kennedy, the other coachman, and his sworn testimony was that in January 1792 he had seen even more than the other in the coach, – O, my goodness! We were very hot.
"And so the Plaintiff rested his case.
"Curran was very relaxed. He addressed the jury as working men with wives so essential to their everyday success and painted a very different picture of married life among us aristocrats – where men have nothing more serious to do than gamble and philander and wives, bored and neglected, to engage in love affairs. He pictured his client, Bradshaw, as having been taken advantage of by me, an older woman.
"I had supposedly fixed on Mr. B. as the instrument of my revenge, and how could he withstand a female beauty determined to conquer, aided by all the fascinations of the female art? Curran begged, that if the jury found his client guilty, they would charge him with very small damages.
"But Yelverton, the judge, addressed them quite differently before dismissing them to reach a verdict. He insisted that the crime of adultery deserved the sharpest punishment. His Lordship commented with severity on the licentiousness of the age, on the conduct of what are called Fashionable young men, saying that such should seek their pleasures among loose women and not in disturbing the nests of private happiness and in fathering spurious heirs to property. In just seventeen minutes the jury returned with a verdict of Guilty and awarded an astonishing £10,000 pounds against my dear Bradshaw.
"Of course Bradshaw and I married later in the year. We had not yet heard the last of Nugent. A pamphlet was published under his name which seems to me a work of genius. He dedicated it to 'the fashionable world.' It sold at a shilling a copy and he stated quite frankly that he hoped to make a large amount of money from it. In fact it went through four editions in 1796 alone. It depicted the trial, with its 'jury of citizens.'
"To conclude it he added a satiric poem in rhyming couplets, all about Modern Incontinency, The Mysteries of Coaching, and Addressed to the Higher Circles.
"Here is a snippet.
" 'Ask modern wives what 'twas that made them wed?
To share my husband's fortune, not his bed,
For him to bear my vices and their shame,"
And give my many-fathered son a name.'
must have a coachman, he should choose one who is blind and concludes by invoking blessings on that rarity, a happy, virtuous marriage.
"I am now ninety years old. I have outlived both my husbands and it will be time soon for me to go – and become just another ghost of Blarney Castle."
Mary Anne Bradshaw, who, during her second marriage, became a successful novelist under the pen name of Priscilla Parlante, passed away in 1849.
Peter Garland is a native of Dublin, Ireland and an American long-ago immigrant who lives with his French-American wife Nefertiti above a tidal lake in Oakland, California. Though he has never kissed the Blarney Stone himself, he has kissed someone who did, which has the same effect. He may be reached at garland1945@yahoo.com or http://ralef.com/Haig.