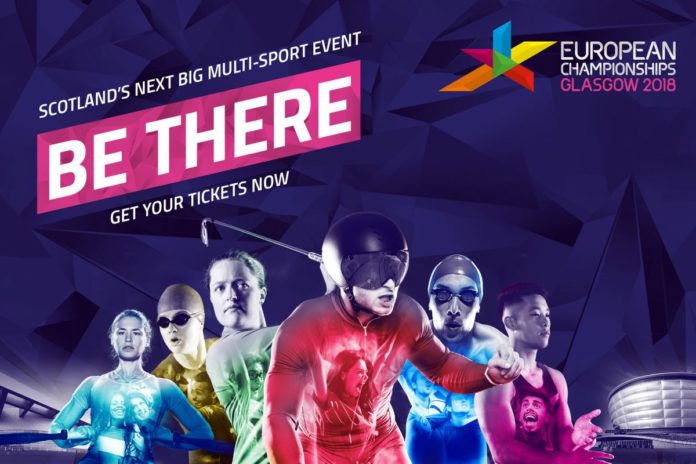 Planning a visit to Scotland for the Glasgow 2018 European Championships? Find out everything you need to know before your trip with these handy questions and answers, including which sports you can see, ideas for great places to stay and what else you can do while you're in Scotland.
1. WHAT IS THE EUROPEAN CHAMPIONSHIPS?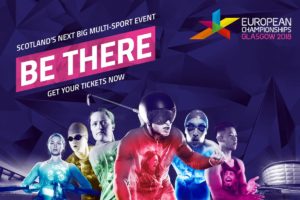 An advert for the Glasgow 2018 European Championships, showing seven competitors © Glasgow 2018 European Championships
The European Championships is a new multi-sport event which has been organised by leading European Sports Federations. It will bring together the existing championships of seven of Europe's leading sports. These are:
Aquatics (swimming, synchronised swimming, open water swimming and diving)
Athletics
Cycling
Golf
Gymnastics
Rowing
Triathlon
The championships will take place every four years, with Glasgow and Berlin co-hosting the first ever event – meaning you can be part of sporting history as it happens.
Over 11 days, from 2 – 12 August 2018, Scotland will host six sports – aquatics, cycling, rowing, gymnastics, golf and triathlon – while Berlin will be the scene of the athletics competitions from 7 – 12 August.
2. WHERE ARE THE SCOTTISH GAMES LOCATIONS?
GLASGOW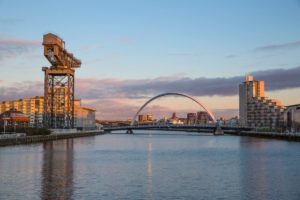 Looking east to the Stobcross Crane Finnieston Crane and the Clyde Arc bridge, connecting the southside of Glasgow to the city centre
Located in the west of Scotland, Glasgow is Scotland's largest city and is famous for its music scene and the wealth of great attractions you can visit, including museums, galleries and much more. As well as hosting the cycling, gymnastics and aquatics (swimming and synchronised swimming) events, Glasgow will also be the hub for Festival 2018.
STRATHCLYDE COUNTRY PARK, MOTHERWELL, NEAR GLASGOW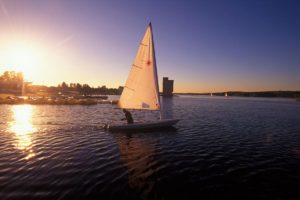 A dinghy sailing at the watersports centre at Strathclyde Country Park, near Motherwell, North Lanarkshire
South east of Glasgow, Strathclyde Country Park is a vast, 400 hectare expanse of countryside centering on a huge loch. The rowing and triathlon events will be taking place here, so you can cheer on competitors from the banks of the loch and throughout the country park.
Getting there from Glasgow – 20 minutes by car
GLENEAGLES, PERTHSHIRE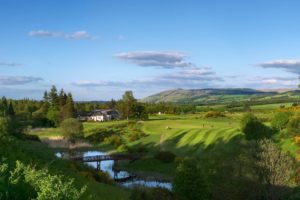 Queen's 18th, Glaeneagles © Gleneagles/Ian Haddow
To the north, the Gleneagles Hotel in Perthshire is a beautiful country estate, offering luxury accommodation, a spa, Michelin-star restaurant and three famous golf courses. The European Championships' golf events will take place on the PGA Centenary Course, which was the venue of the 2014 Ryder cup and will be the setting of the 2019 Solheim Cup.
Getting to Gleneagles Station from Glasgow – 55 minutes by train or 51 minutes by car
LOCH LOMOND, BALLOCH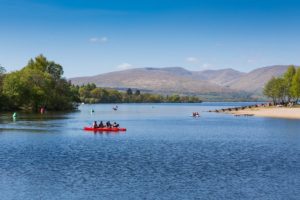 Pedal boat, canoe and bike hire at Loch Lomond Shores, Balloch
Situated on the southern tip of beautiful Loch Lomond, Loch Lomond Shores at Balloch will be the starting and finishing point for the free open water swimming events, which will take place in the loch. Why not make a day of it by visiting the shopping centre at Loch Lomond Shores, hiring a bike to explore the cycling routes or tackle the tree top course at TreeZone?
Getting there from Glasgow – 45 minutes by train or 40 minutes by car
EDINBURGH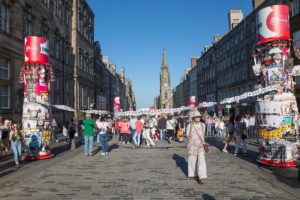 Looking down the Royal Mile during the Edinburgh Festival Fringe
East of Glasgow, Scotland's impressive capital city, Edinburgh, is the host of the diving championships, which will take place at the Royal Commonwealth Pool. On top of this, August is also peak festival season in Edinburgh, with five fantastic summer festivals taking place, including the Royal Edinburgh Military Tattoo, the Edinburgh International Festival and the Edinburgh Festival Fringe.
Getting there from Glasgow – 50 minutes by train or 1 hour and 10 minutes by car
See the venues on a map of Scotland.
3. WHERE CAN I STAY THAT HAS GOOD TRANSPORT LINKS WITH GLASGOW?
All these destinations are less than an hour away from Glasgow city centre by train:
Falkirk (20 mins by train) –
Paisley (20 mins by train) –
Stirling (40 minutes by train) –
Lanark (50 minutes by train) – .
Ayr (1 hour by train) –
Perth (1 hour by train) –

4. WHERE CAN I STAY THAT HAS GOOD TRANSPORT LINKS WITH GLENEAGLES?
These destinations are less than half an hour away from Gleneagles Station by train:
Perth (15 minutes by train) –
Stirling (25 minutes by train) –
5. WHERE CAN I STAY THAT HAS GOOD TRANSPORT LINKS WITH EDINBURGH?
These destinations are less than an hour away from Edinburgh by train:
Dunfermline (40 minutes by train) –
Galashiels (51 minutes by train) –
Other nearby places to visit and stay include: Argyll & The Isles, Ayrshire & Arran, Dundee & Angus, Dumfries & Galloway, Fife, Loch Lomond, Perthshire, Scottish Borders.

6. WHAT IS FESTIVAL 2018?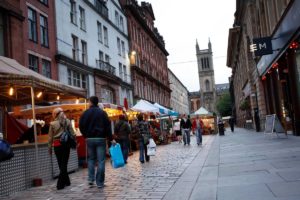 Street stalls on Candleriggs during the Merchant City Festival in the Merchant City, Glasgow
Running in parallel with the European Championships, from 2 – 12 August, Festival 2018 will bring a fantastic programme of music, art, dance, theatre, comedy and much more.
Head to Glasgow's George Square and Glasgow Green to enjoy great events and take part in activities.
This year's Merchant City Festival will also be running during the European Championships, bringing a whole host of great events to Glasgow's city centre. Visit the Merchant City (located to the south of George Square) for street arts, music, theatre, food and drink, visual art, film, comedy, dance, fashion & design events and families activities.
7. WHAT OTHER EVENTS CAN I GO TO DURING THE GAMES?
Summer Nights 2018, Kelvingrove Bandstand, Glasgow, 2 – 13 August
Special Olympics GB 40th Anniversary Games, University of Stirling, 9 – 13 August
Edinburgh's summer festivals, throughout August
Highland games, across Scotland, various events throughout August
8. WHAT ELSE CAN I DO WHILE I'M VISITING?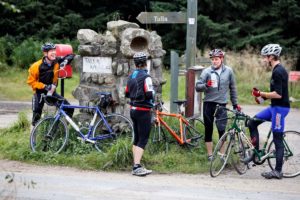 Cyclists resting at Tweedsmuir before heading to Talla reservoir on the borders loop route, Scottish Borders © Paul Dodds
Have the championships inspired you to get active? Find out more about the outdoor activities you can try for yourself in Scotland, including cycling, golf, watersports, adventure activities and more.
If you want to combine your visit to the games with a few great Scottish attractions there are castles, distilleries, museums, family attractions and much more to visit.
9. WHAT OTHER SPORTING EVENTS ARE COMING UP IN SCOTLAND?
If you love the thrill of watching sporting competitions playing out right in front of you, there's plenty to see in Scotland all year round. Events coming up include:
Blair Castle Equi-Trek International Horse Trails & Country Fair, Perthshire, 23 – 26 August 2018
European Athletics Indoor Championships 2019, Glasgow, 1 – 3 March 2019
Solheim Cup 2019, Gleneagles, 19 – 15 September 2019
Check out our sporting events page or the golf tournaments page to find more great events you can attend.

10. WHAT CAN I DO IF I STAY LONGER IN SCOTLAND?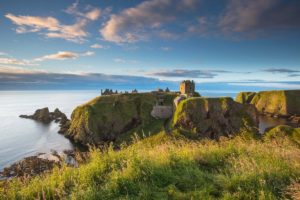 Looking across to the clifftop ruin of Dunnottar Castle, Stonehaven
Dunnottar Castle, Stonehaven
Extend your trip to see even more of Scotland. Find an itinerary to follow, browse our road trips guide or book a tour.
Source: VisitScotland