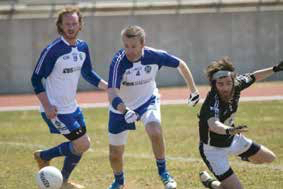 On May 1st, 2016, history was made on Prince Edward Island when the newly formed PEI Celts played the Halifax Gaels (Eastern Canadian Champions), in their inaugural Gaelic Football tournament for the Island Cup. The game took place at the University of Prince Edward Island.
Wearing the colours of County Monaghan, the PEI Celts battled hard and were victorious over the Eastern Canadian Champions with a score of 4 – 13 to 1 – 06 at fulltime.
"Our team consists of eight lads from Ireland who all played great on the day, however we have to take our hats off to the ten Canadians who have never played a match before. They were fantastic and played with a lot of heart and pride," said Shane O'Neill, P.E.I. Celts GAA Chairman. "It was a fantastic day."
Brandon O'Keefe, from Souris, Prince Edward Island was named player of the game.
The Peter Connaughton – coached Celts had practised approximately 10 times before hitting the field against the defending Eastern Canadian Champs. "They're hard working young lads." He said of the team. "They're quite competitive and the love playing the sport."
The PEI Celts GAA will have rematches with the Halifax Gaels in a warmup to the Eastern Canadian Championship, in July and August.
"It was a great start and a wonderful way to introduce Gaelic Football to the Island. We would like to also thank the Halifax Gaels in making this happen and look forward to building a good rivalry with our neighbouring province." said O'Neill
Teams:
PEI Celts: Peter Connaughton, Thomas Flynn, Cian O'Morain, Mason Boertien, Shane O'Neill, Garry Tassell, Joesph McElwee, Simon Robichaud, Ken Maher, Cody Coffin, Mark Dolan, Marcellus Campbell, Gavin Shipley, Brandon O'Keefe, Lucas McCormack
Halifax Gaels: Paul Brummell, Gavin Meehan, Joe MacKinnon, Brian Walsh, Alex MacDonald, Colin Dorgan, Lee Kelly, Jeff Donohue, Michael Flanagan, Jeff DeCoste, Shuvojit Paul, Mark Heavey, Oisin Heavey, Pearse McCarron, Eugune McCabe, Ciaran Faherty.