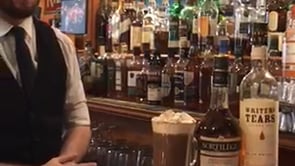 How to make the perfect Irish Coffee just in time for Christmas
Everyone loves an Irish Coffee, but it has to be perfect – especially at Christmas time, when friends and family are gathered around you! Here we have a step-by-step video on how to make it just right.

The recipe used is straight from Foynes, where this deliciously warming drink was invented! This decadent drink was invented in County Limerick in 1942 by Chef Joe Sheridan at Foynes Port, where planes on route from Europe to America would stop to refuel. Whipped up one cold winter's night as a warming treat for passengers who were delayed due to bad weather, the late night tipple went on to become a classic.

According to legend, a hush came over the crowd as the group took the first taste. "Is this Brazilian coffee?", someone asked. "No," replied Joe, "that's Irish Coffee." Get that story and more at the Flying Boat and Maritime Museum in Foynes.


Fast Facts:
1.A true Irish Coffee has only four ingredients: Irish Whiskey (the extra 'e' confirms it's from the home of great whiskeys), sugar, strong coffee and cream.

2.There's something about sipping an Irish Coffee in Ireland that's extra special – not only is the whiskey made here, but the cream used is fresh and straight from dairy farms who feed their cows with lush green grass, which we have a lot of. You'll know the difference when you taste the Irish Coffee here.

3.Some places make it their duty to ensure an excellent Irish Coffee is served up to whoever visits: Well, the Flying Boat and Maritime Museum, of course, then there's  O'Donoghue's in Dublin, Harlem Café in Belfast, Rob Roy Bar in Cobh, County Cork, and Garavan's in Galway.

4.Fancy raising a glass to the island's Irish whiskey distilleries? Then we've got a trip idea that might suit you perfectly! Just don't forget to park up the car if you're tasting the wares! 

For more information about Irish Coffee and other liquid legacies from Ireland, go to www.ireland.com.