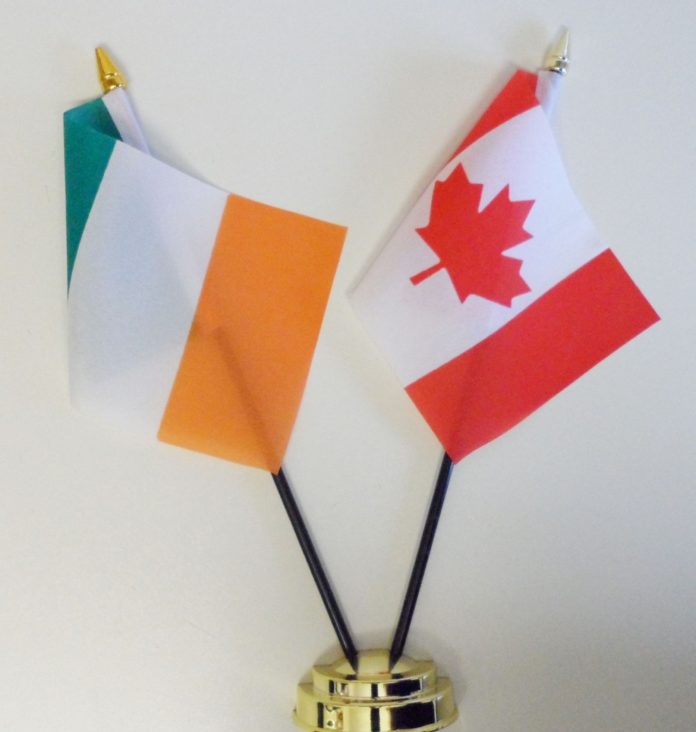 OTTAWA – Star political power, boldfaced business names, and a bit of morning TV personality thrown in, made for quite the potent cocktail during the recent Irish trade mission to Canada. 
The business summit was held at the residence of Jim Kelly, the Irish ambassador to Canada, in Ottawa's upscale Rockcliffe Park neighbourhood on Friday, June 2. The event was sponsored by the Embassy of Ireland, the Ireland Canada Chamber of Commerce's Ottawa chapter, and the Ireland Canada Business Association, and was one of the final stops after a visit to Toronto.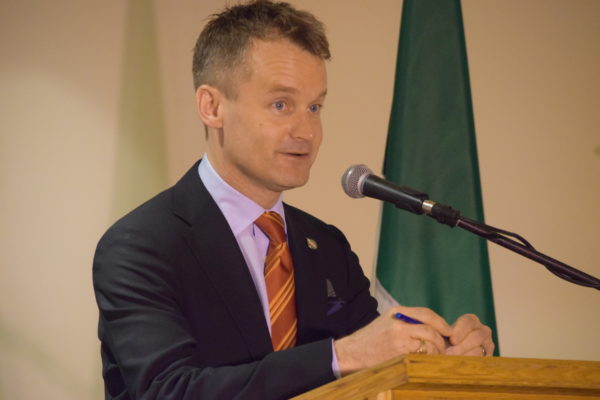 The first half of the morning was moderated by Seamus O'Regan, the Liberal MP for St. John's South-Mount Pearl in Newfoundland, who also heads the Canada-Ireland Interparliamentary Group, but who may be better known to some apolitical Canadians as the long-time co-host of Canada AM. 
He attended University College Dublin but, it was as a senior policy advisor to Newfoundland and Labrador's premier that he got a taste for just how different Irish politics can be from Canadian politics. In 1996, while on a visit to the government member's bar in Leinster House in Dublin, then-Taoiseach John Bruton went behind the bar to serve O'Regan a pint of Guinness. 
Fast forward 21 years later, and the world is a very different place. On that very day, U.S. President Donald Trump had announced that America would be pulling out of the Paris climate change accord. Across the ocean, the fallout from Brexit was still being felt, with just under a week to go in the snap British general election, and there was continuing confusion about the future of NAFTA. 
"It really is times like this that we appreciate loyal friends and allies," said O'Regan of the Irish-Canadian relationship. Just as in politics, business too "really is about people. So much of how we do business…is about people." 
While O'Regan has been involved in journalism, broadcasting, politics (both backroom and elected) he noted that "at the end of the day, we all have to make money." 
Now Ireland, after the Great Recession, is starting to make money again – and branching into fields of competition with his native Newfoundland. O'Regan pointed out that Newfoundland is "more dependant on oil and gas royalties than Alberta…some would say too dependant." Across the sea, Ireland too now has a "burgeoning" oil and gas exploration sector. 
One business sector that both Newfoundland and Ireland have both profited from is tourism. 
"We (in Newfoundland) continue to learn from Ireland," when it comes to tourism, he said. 
During his 1990s visit to Ireland, he recalled attending a meeting with members of Bord Failte. 
"We are here to learn from you about tourism," O'Regan told the tourism bigwigs on behalf of the Newfoundland delegation. 
At this, O'Regan scrunched up his face in confusion, imitating his Bord Failte hosts, in a quite convincing Irish accent: "(You have) icebergs and whales and you're here to learn from us?" they said incredulously.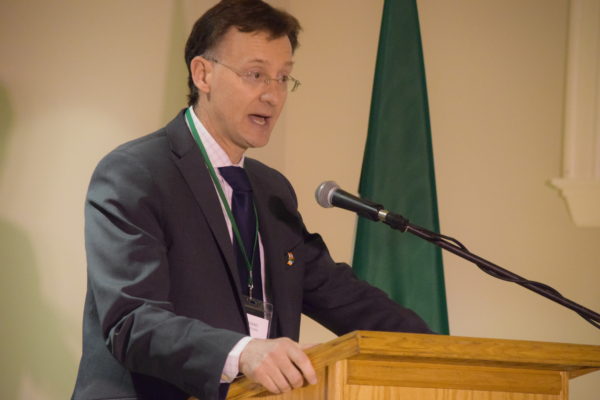 Many happy returns 
For Leo McAdams, the director, international sales and partnering for Enterprise Ireland, the numbers speak for themselves, when it comes to Canada-Ireland trade: 
* Canada is Ireland's seventh largest trading partner outside of the European Union. 
* Ireland's estimated trade surplus with Canada is valued at 1.59 billion euros. 
* The value of Irish exports to Canada is measured at 2.35 billion euros. 
* The value of Irish imports from Canada is measured at 763 million. 
* Foreign direct investment in Canada stands at 2.2 billion euros. 
* Canadian foreign direct investment in Ireland stands at 1.6 billion euros. 
But for McAdams, whose agency is tasked with growing exports and jobs, "there are choppy waters ahead." With Brexit and NAFTA and other challenges, Ireland needs "to look at diversification of (their) companies." That is why Enterprise Ireland is looking to expand its footprint in Canada and expand its resources. 
Kelly agreed that while Brexit came with challenges, it also provided "opportunities…for export diversification," with Canada being an obvious choice, and vice versa, since Ireland will be an "English-speaking country with a welcoming environment," along with "a shared, common law tradition."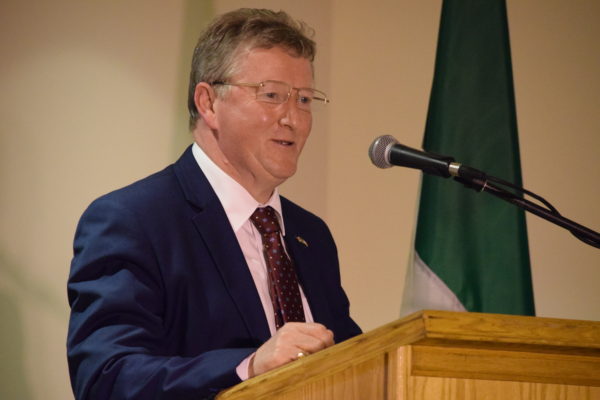 The Irish trade delegation was headed by Sean Canney, an Independent Alliance TD from Galway East who, as part of Enda Kenny's outgoing administration, is the Minister for State at the Office of Public Works and Flood Relief Management. 
Canney echoed O'Regan's statements about business being "driven by people coming together." He reminded his audience that Ireland now has the "fastest growing economy in the European Union," with more than two million Irishmen and women working again, a growth rate of about five per cent in 2016, and an unemployment rate of about 6.2 per cent. 
"Canada is an increasingly important market for Irish companies," he said. As the seventh largest trading partner for Ireland outside of the European Union, it looms larger on the horizon than countries like China, Russia, Brazil, and India. The Canada-Europe Trade Agreement (CETA), which came to life last October, will give both sides "preferential access to each other's markets…(to) break down barriers and provide new opportunities." 
While admitting that "Brexit poses challenges for Irish companies," he reminded his business audience that "au open global trading environment works," and that, during and after the Great Recession, exports "played a key role in our economic recovery." 
For Jacqueline Gilna, the chamber's Ottawa president, she recalled that Canada does not just have a good business relationship with Ireland, but a more humanitarian one too. 
"Canada opened its doors to Ireland when it was most needed, during the down times," she said, not only during the famine, but more recently, during the Great Recession.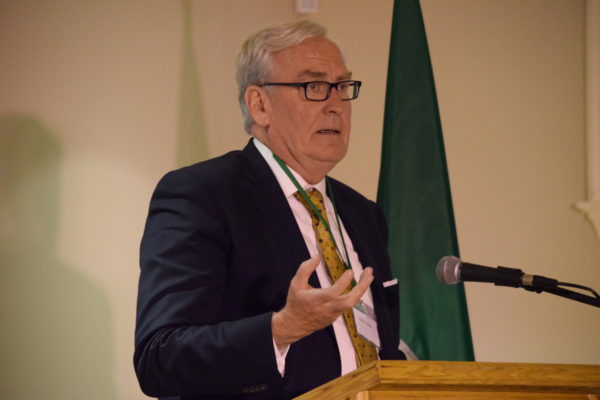 Our man in Dublin
With the summit coming days after the suicide bombing that killed 22 in Manchester, and the London Bridge attacks that occurred that Saturday night, the name Kevin Vickers on the roster that morning was a welcome sight, as he had come face to face with a terrorist, and stopped it dead in its tracks. 
Now, the longtime RCMP officer, who confronted the Parliament Hill shooter who had killed Corp. Nathan Cirillo moments earlier, is Ottawa's man in Dublin. Vickers' posting to the Irish capital has given him a unique perspective on the "marked increase in activities between both countries." 
Not surprisingly, tourism is a top game, with more than 200,000 Canadians visiting Ireland in 2016. At the embassy, southeast of Fitzwilliam Square in Dublin, "we are overwhelmed. We had to hire additional staff to deal." 
Aer Lingus has had to bring larger aircraft into rotation for their Canadian flights, partly because "they needed extra capacity," for cargo. Air Canada has also upgraded its Toronto to Dublin service from an Air Canada Rouge service to mainline service. 
The airlines cannot fly without gas, of course, which is where Calgary-based Vermilion Energy Inc.'s significant investment in the Corrib gas project in Bellanaboy, County Mayo, an investment in which "their share price has doubled." Further south, the New Brunswick-based Irving Oil has purchased the Whitegate oil refinery at Midleton, County Cork, which, he has been assured, is part of Irving's hoped-for "Atlantic basin strategy." 
In the financial industry, Winnipeg-based Great-West LIfeco has acquired Irish Life, while filmmakers, animators, and documentary makers continue to collaborate on joint Irish-Canadian projects. While the now famous "Vikings" TV series is produced in County Wicklow, the production company uses more than 300 IT people in Toronto for its productions. 
Already, Canadian politicians are taking a page from Canney's visit, and are planning their own trips to Ireland. Ontario's International Trade Minister, Michael Chan, asked Vickers (according to Vickers) to ask his boss, Premier Kathleen Wynne, if it was possible to have an Ontario trade mission to Dublin. (Vickers appeared in support of the idea.) 
But Vickers said that Canada's trade relationship with Ireland was not without its own issues, especially in relation to CETA. 
"It's really going to take leadership," he said, when it comes to implementation. "The fishers are very concerned," he said, especially because the price of lobster is being impacted by "over-fishing, because of Canadian fishers." Meanwhile, dairy farmers in Ontario and Quebec "can very very sensitive" to how CETA will impact their market position and subsidies. 
 By: Desmond Devoy NCR Correspondent Celtic Canada