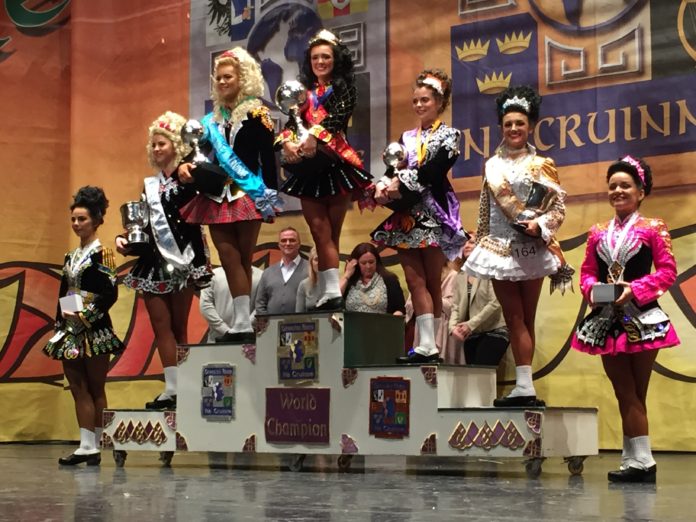 It was five months before the World Irish Dance Championships and, like every other day I was in the dance studio, working away. I was alone, getting in the last days of practice before the Canadian Championships where I was to defend my title for the 12th time.
I was working on my hard shoe dance and in the middle of a Spring! That is something we do in the air! As I landed my foot hit the ground in an awkward way I fell and I saw my ankle bone hit the floor with such a force….. I don't remember falling….I just remember opening my eyes in pure pain and in tears, in shock! Off to the Doctors and X-rays showed that I had fractured four bones in my foot. A few days later I received the news from a sports medicine doctor that I had to withdraw from the competition. This was devastating for me but I wasn't going to give up that easily. My goal was to win my 6th World Championship in Glasgow, Scotland, 2016. It was really important for me to compete. At this point I already held the record for the youngest winner ever. If I achieved the win this year I would be the only Canadian and the first girl in the North American Region with that many titles to her name.
My journey to recovery began with SWAT, the number one Canadian physiotherapy clinic in Mississauga, Ontario. Together with Dr. Dave Giannone and Dr. Jason Pajaczkowski, I worked numerous hours a day for four months, rehabilitating my ankle, in the hope that I would make it back to the world stage.
During the first month of rehab I was not allowed to dance. This set me back a month's preparation for the Worlds. My SWAT team set me on a training routine that helped me stay in proper condition. Then, with two months to go, we hit crunch time. I spent four to five hours a day with my coach Rose Fearon, perfecting every move. She is one of my biggest role models. She believes in me and always pushes me to be the best I can be.
Sometimes it's really tough. The life of a dancer is demanding. You able to live a normal life like your friends do but somehow, with a lot of help, I make it all work. For the months of my recovery, however, I dedicated all of my time to dance, school and rehab. I knew it was the only way for me to retain my world title. This dedication paid off. Before I knew it, I was on the plane heading to Scotland.
As soon as I arrived, I headed straight to the Royal Concert Hall where the World Championships were being held. I was very excited; looking forward to getting my new dancing costume, as well as seeing my friends from all over the world. The atmosphere was fantastic as usual.
Waking up on competition day, I always feel nervous, and this time was no different. I have learned to use that nervousness and turn it into positive energy. A good routine is part of it. On competition mornings I get up and try to eat a little something to get my energy going. Then I begin to get ready. I start by doing my make up, and then I do my wig. This year, before heading over to the hall, I face timed with my mom. She couldn't attend the Worlds with me for medical reasons. Being at the competition without her wasn't something I was looking forward to. She is the only one who can keep me focused and calm. However, I was lucky enough to have an amazing support team with me in her place and they helped me get through.
With time moving on, I headed off to the Royal Concert Hall. My next routine is to warm up an hour and a half before the competition starts so I know that I am prepared physically, and in the right mindset to take to the dance floor. On this occasion all the preparation was worth it.
After my first two rounds, I felt good and my dance teachers were delighted with how I danced. Now it was time to wait for the recalls to come out. Only the top 30% of dancers in the competition go through to perform in the third and final round. I had to be in that group in order to win. When recalls were called and my name was announced, I prepared for my final dance. This would be my last chance to impress the judges. I put my heart and soul into my performance.
Once this round was done, we reached the worst part of the day; waiting for the results. Sitting around with my closest friends we anxiously watched the scoreboard. Finally, the marks were revealed. All the hard work had paid off. You can imagine my excitement as I was crowned world champion for the sixth time, also gaining the coveted highest number of world titles any North American girl has accomplished in this region. I can't thank my teachers, family and friends enough for all the love, support and belief they gave me. It was a long and tough journey getting to this competition. I wouldn't have got there without them. One thing I am certain of, it will be a day I will never forget.