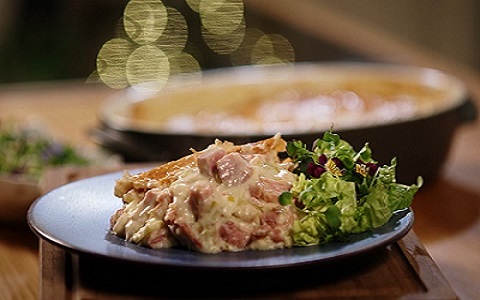 Who's got leftovers?
Try this delicious Turkey, Ham and Leek Pie
Ingredients
1tablespoon oil
1 tablespoon butter
1 red or white onion sliced
3 leeks finely sliced
2 large potatoes, peeled and cut into small cubes
2 tablespoons plain flour, plus extra for dusting
300ml chicken stock
¼ pint/100ml low fat crème fraiche
1 teaspoon wholegrain mustard
1 teaspoon Dijon mustard
8 oz/ 200g cooked turkey, cubed
8 oz/ 200g cooked ham, shredded
1 bay leaf
375g puff pastry ready rolled (frozen variety)
1 egg beaten, to glaze
1 tablespoon chopped parsley or 1 teaspoon of dried parsley
To Cook
Heat oven to 220°C/fan 200°C/Gas Mark 7
Heat a large frying pan, melt the butter and oil, and then add the sliced onion and leeks. Cover and cook very gently. After 5 minutes, add the cubed potatoes and cook for a further 10 mins until the onion, leeks and potatoes are soft.
Stir in the flour, turn up the heat, then gradually add the stock, stirring until the mix thickens a little. Take off the heat, then stir in the crème fraîche, mustard and add the cooked turkey and ham. Season to taste, then cool (if you have time) Spoon the mix into a large pie dish, add a bay leaf and the chopped parsley. This mix can be made up to a day ahead and kept chilled.
Trim pastry to fit the top of the dish and brush around the edges with a little water to help it stick, then press down along the sides to seal. Cut a few slits to let the steam escape, then brush all over the top with beaten egg. Bake for 30 minutes until risen and serve hot with a tossed salad.