Scotland is full of surprises – whether you're visiting for the first time or holiday here every chance you get, you're never far away from an exciting new discovery. In the Year of Young People 2018, the annual Doors Open Days gives visitors the key to some the country's best-kept secrets, offering access to places that are often closed to the public.
Organised by the Scottish Civic Trust, this month-long festival sees hundreds of architectural gems, fascinating museums, historic sites and other hidden treasures open their doors to the public on Saturdays and Sundays throughout September, with different regions revealing some of their finest buildings each weekend. You'll also find expert tours, guided walks, exhibitions and other activities on offer, all completely free. Please note, booking in advance is recommended for many of the guided tours, and opening dates and times should be checked before you go.
Here are a few highlights to look forward to:
WEEKEND ONE: 1 – 2 SEPTEMBER
Areas: Dumfries & Galloway, East Renfrewshire, Fife East, Highland: Inverness and surrounding area, West Lothian and West Dunbartonshire
Plan a walk along a section of the Fife Coastal Path and make a visit to the pretty St Monans Windmill where you'll learn about former salt production in the area, and more. but also about how sailors are made safer off this coast, from the volunteers of the Coastwatch St Monans team doing extra duty today for Doors Open Day.
Join Roger Guthrie of the Alexander Thomson Society for a guided walk around Cathcart Cemetery in East Renfrewshire to see gothic tombs, Egyptian temples, and Greek, Romanesque and art nouveau designs.
Enjoy a day trip on the banks of Loch Lomond and climb aboard the Maid of the Loch, a historic paddle steamer ship which dates from the 1950s. Located at the family-friendly Loch Lomond Shores, it's a great place to take the kids. Visit the engine rooms of both the boat and the slipway winch room.
Standing on the site of the medieval castle close to the banks of the River Ness is Inverness Sheriff Court. Get a glimpse inside and see the impressive central stair, which sits under a panelled vaulted ceiling, and original furnishings, including a Tudor gothic canopy.
Learn all about a Dumfriesshire-born hero of the American Revolution at the John Paul Jones Museum. See the cottage where he was born and raised as a boy, which retains styles, personal items and features from the 1700s. Step into the magnificent replica of his cabin from his most famous ship, the Bon Homme Richard.
WEEKEND TWO: 8 – 9 SEPTEMBER
Areas: Aberdeen City (Saturday), Angus, Ayrshire, Dundee, East Dunbartonshire (Saturday), Fife Central, Highland: Black Isle and Easter Ross, Inverclyde, Midlothian, North Lanarkshire and Renfrewshire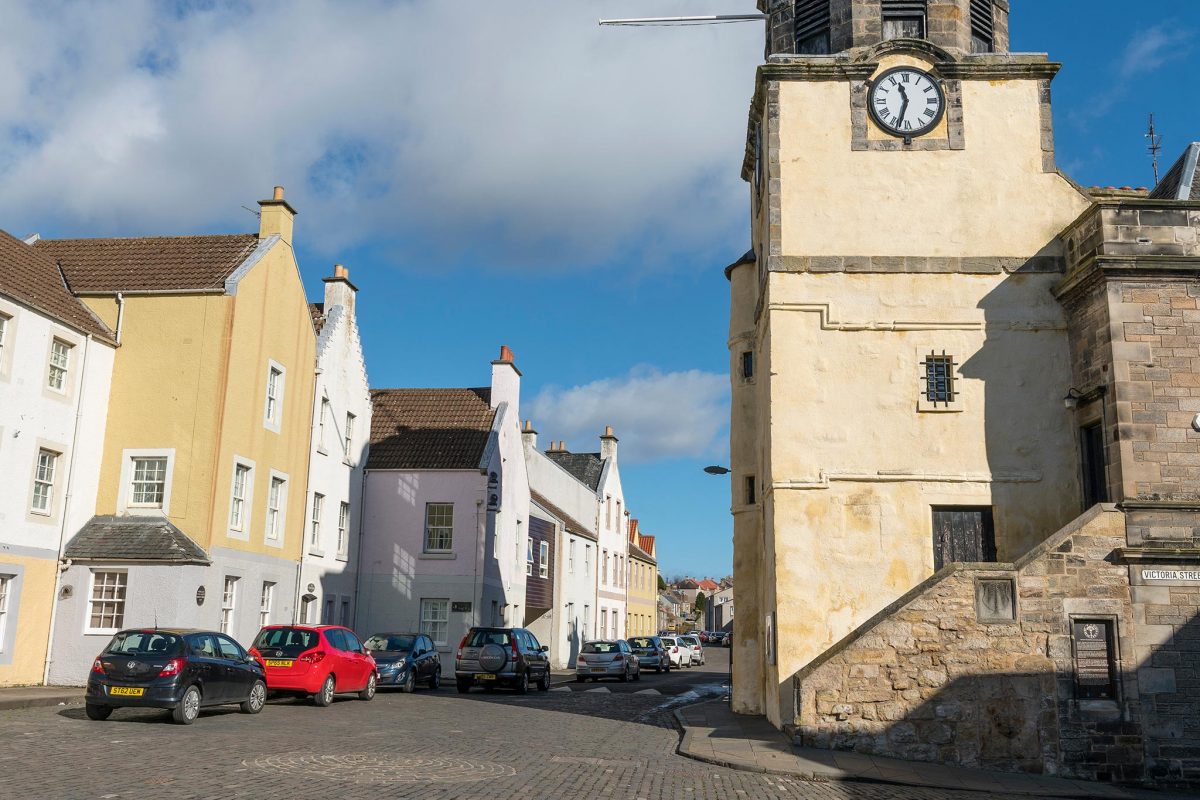 Dysart Clocktower and Town Hall, Fife
See the historic Dysart Town Hall and Tolbooth in Fife and find out about the village as it was in days gone by, including its former industries, and its harbour which has featured in the hit TV series Outlander.
Want to know what happens day-to-day in a fire station? Then head to the state of the art Kilmarnock Fire and Rescue Station in Ayrshire to see vehicles, training facilities and more. The site has a fascinating history; the fire station was built on the spot where Riccarton Castle once stood, which is where Alan Wallace, father of William Wallace, was born!
Oil & Gas Technology Centre in Aberdeen is opening its doors to let visitors see the Innovation Hub and give an insight into how this forward-thinking organisation is working towards transforming the North Sea oil and gas industry.
The Tobacco Warehouse in Greenock is a large five-storey building, which also stored whisky from Greenock whisky distillers and other products, as well as providing shelter for American soldiers during World War Two – graffiti and messages from back then can still be seen inside.
Built in 1590 on a cliff edge, Ballone Castle was left a roofless ruin after the Jacobite rebellion, but was restored as a family home by the Stewart family. Step inside this three storey tower house and grasp a rare opportunity to see an incredible restoration project, and an insight into living in a castle.
Climb into Skelmorlie Secret Bunker in Ayrshire. Built in 1965, the facility was designed to report on nuclear explosions and fall out in the Firth of Clyde.
Did you know guide dogs have been trained in Forfar for over 50 years? At the Guide Dog Centre in this Angus town, take a look at the kennels and learn about how these hard working, helpful pooches are trained.
See one of Dundee's oldest and most treasured buildings, Dudhope Castle. In the 1680s it was home to John Graham of Claverhouse, Viscount of Dundee, a key figure in the first Jacobite uprising of 1689.
In East Dunbartonshire, discover the beautiful Cadder Parish Church and its wonderful stained glass windows. In the graveyard, you can see a mort safe and a watch-hut, designed to discourage grave robbers.
GLASGOW DOORS OPEN DAYS FESTIVAL, 10 – 16 SEPTEMBER
Glasgow's doors are open for a week with special exhibitions, guided walks and places to explore as part of Glasgow's Doors Open Days Festival.
Get a look inside the projection box and hear fascinating talks at the Glasgow Film Theatre. Dating from before World War II, it's considered to be Scotland's original independent cinema.
A fine example of Victorian architecture, see inside the Arlington Baths Club, a private members club and a peaceful retreat for busy citizens of Glasgow. See the unique Turkish Suite and stylish members lounge, reading room and billiard's room.
Discover over 800 years of history at the beautiful, medieval Glasgow Cathedral, built over the burial place of St Mungo, the patron saint of Glasgow. Another key building to check out is the Glasgow City Chambers, a gorgeous building you might have admired in the past, but step inside to see a wonderful civic palace in George Square.
Grab a cup and learn more about Glasgow's coffee-making history during a tour of the Dear Green Coffee Roasters (Saturday 15) or perhaps beer is your beverage of choice? There are special 30-minute tours over the weekend of the Drygate Brewery too – both are in the East End.
WEEKEND THREE: 15 – 16 SEPTEMBER
Areas: Aberdeenshire, Falkirk, Fife West, Highland: Caithness and Sutherland, Perth & Kinross: Eastern and Highland Perthshire, Scottish Borders and Stirling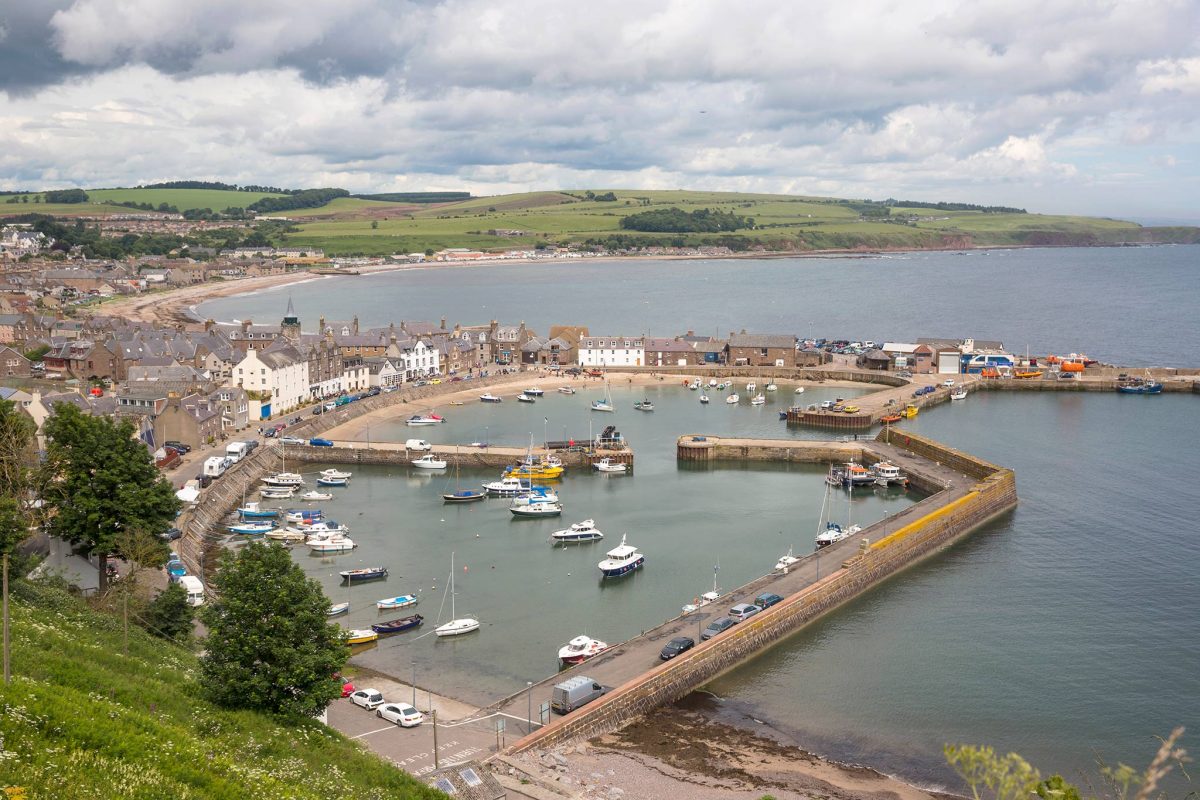 Stonehaven Harbour, Aberdeenshire
Explore the lovely harbour at Stonehaven with a visit to the town's oldest building The Tolbooth, a former courthouse and prison. Or, take a wander to admire the Clock Tower – look above the doorway to see the large barometer (dating back to 1852) that fishermen would have relied upon to predict the weather forecast.
Making beverages from locally cultivated and foraged fruits, leaves and flowers is Perthshire's Cairn o'Mohr Winery. Their site includes old farm buildings dating back 140 years ago and there's a vibrant ranch style shop, café, and play area to explore.
See an early 19th century mill, complete with working water wheel, at the Mill of Benholm, Kincardineshire, as well as the former miller's house, former byre, old grain store and community garden.
Founded to treat the poor members of Stirling society, Cowane's Hospital Stirling is a fascinating 17th century alms-house. Learn about the strict rules for people living here back in the difficult days of the 1600s.
Constructed to house the town's bell and clock, as well as containing temporary lockups, is the Falkirk Steeple. Ascend the stairs and see the two original prison cells, complete with their original reinforced doors.
WEEKEND FOUR: 22 – 23 SEPTEMBER
Areas: Argyll and Bute: Dunoon and surrounding area, Highland: Badenoch and Strathspey, Highland: Wester Ross (Saturday), Moray (Saturday) and Perth & Kinross: Strathearn & Kinross-shire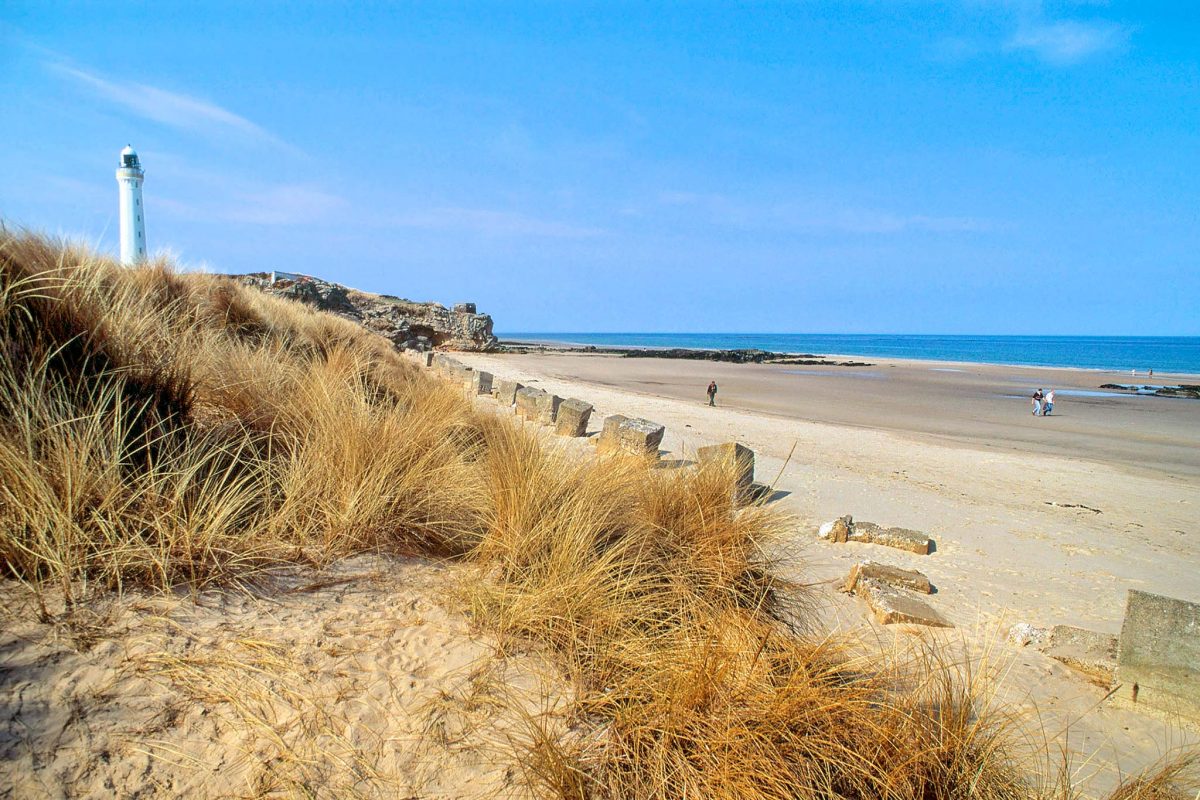 Covesea Lighthouse, near Lossiemouth
Dating back to 1846, the Covesea Lighthouse was manned by light keepers until 1984, since then it has been controlled remotely from Edinburgh. Join a guided tour and see the ins and outs of a working lighthouse, and enjoy amazing views of the Moray Firth.
Keen to learn more about green living? Visit AES Solar in Forres for an insight into the only company in the UK that manufactures solar thermal collectors, and find out more about how you could benefit from solar energy.
Considered to be the oldest masonry fortification in Scotland, Castle Roy near Nethy Bridge in the Highlands is nearing the conclusion of a 24-year of consolidation project. The site is almost ready to welcome the public, but this is a unique chance for a sneak preview!
The Argyll Papers are housed in the farm offices at Cherry Park, Inveraray. These documents relate to the archaeological discoveries made by the dukes of Argyll. Over the weekend, there will be a tour of Inveraray and a second tour which delves into the contents of the archives and the discoveries held inside the stores.
WEEKEND FIVE: 29 – 30 SEPTEMBER
Areas: Clackmannanshire, East Lothian, Edinburgh, Highland: Fort Augustus, Perth & Kinross: Perth City and South Lanarkshire

Perth Museum & Art Gallery
In Perth, go behind the scenes of the fascinating Perth Museum & Art Gallery, an age-old building dating back to 1784 and its Library Room to see some rarely seen exhibits and volumes from the library and museum stores.
Step inside the once-forgotten Leith Theatre in Leith, Edinburgh. Unused since the 1980s, the theatre is being brought back to life and will become a vibrant cultural centre for performance, visual arts and community events.
Leith's important shipping history can be discovered at Custom House, an impressive building once used to oversee the payment of duty for importing and exporting goods through the Port of Leith.
See where amateur actors have tread the boards at The Coach House Theatre in Alloa. Home to the Alman Dramatic Club, the 63-seat performance venue was originally built in the early 1900s as a coach house for the Patons of Inglewood. It later became a garage for the family's cars and stood empty for a number of years.
Chill out in Alva Ice House in Clackmannanshire, restored as part of the Ochils Landscape Partnership programme. Dating from the early 1800s, the ice house is of an elaborate design, with its long entrance passage and heptagonal corridor.
Sutherland & Co.'s architect's studio, in the charming seaside town of North Berwick in East Lothian, invites you to explore their amazing art-deco inspired creative space, dating back to the 1940's and measuring 45 m deep and just 3 m wide.
Of course, there are many more amazing places opening their doors across Scotland, with events taking place during the whole month of September. Please always check the Doors Open Days website for further details and always check dates before you visit.