Halloween isn't your typical celebration. And, Halloween food isn't exactly 'normal' either.
Fact: we owe Halloween to Ireland. This is the autumn festival when, as my ancestors believed, the ghosts of the dead returned to the land of the living. Spooky.
Really, though, that's why we like Halloween. It's not 'normal'. It's scary, it's unpredictable and it's a little bit weird.
Just look at the food.
Barmbrack
Caution is required at this time of year when biting into a slice of warm barmbrack.
This traditional Halloween bread/cake could contain any number of items, ready to tell the future of the person lucky (or unlucky) enough to find something in their slice.
Within your slice of brack you may find: a ring (married in a year); a stick (a walking stick indicating future travels); a thimble (a spinster forever); a button (a bachelor forever); a coin (a lifetime of wealth); and a piece of cloth (a lifetime of poverty).
Years ago, religious medals could also be found in bracks, predicting a life in the Holy Orders.
For those of you unfamiliar with barmbrack, this recipe from The Moody Boar in County Armagh is a winner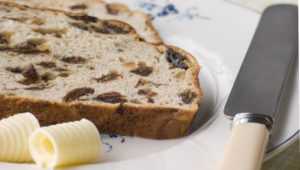 Ingredients
For the fruit mix:
•350g (1½ cups) sultanas
•50ml (¼ cup) Bushmills whiskey
•Warm tea (enough to cover the sultanas)
•1 lemon, juice and zested skin
For the dough:
•450g (2 cups) strong bread flour
•A pinch of salt
•15g (1tbsp) dried yeast
•280ml (9.5fl oz) milk, at room temperature
•50g (3½tbsp) butter, softened
•50g (3½tbsp) sugar
•1 egg, beaten
For the topping:
•1tbsp butter
•1tsp ground cinnamon
•½tsp ground mixed spice
Method:
1. Soak the sultanas in the whiskey, warm tea and lemon juice for 30-45 minutes, then drain off the liquid.
2. To make the dough: put all the ingredients into a mixing bowl and bring together with a wooden spoon.
3. Knead on a floured surface with your hands for 5 minutes.
4. Put the dough in a bowl, cover with a damp tea towel and leave for about 1 hour, until the mixture has risen and fills the bowl.
5. Knead dough again on a floured surface, adding soaked fruit until evenly spread throughout.
6. Place in a 20-23cm buttered cake tin and cover with a damp tea towel.
7. Leave in a warm place for about 20 minutes until the mixture rises up to the top of the tin.
8. Bake for 50 minutes in oven preheated to 200C.
9. For the topping: cream the butter and spices together until soft.
10. Remove the barmbrack from the oven. Immediately spread spiced butter on top. Leave to cool.
The way to a man's heart is through his stomach. Literally.
Food, they say, is the quickest way to a man's heart. In Ireland, especially around Hallowen, they took that literally. Some still do.
Traditionally in Ireland, many believed that colcannon could be the key to success for single women seeking a husband. Varying versions of this mashed potato dish passed through generations seeing rings (marriage), thimbles (spinsterhood), and coins (wealth) added to the finished recipe.
One legend has it that unmarried women would put the first and last spoonful of their colcannon into a sock and hang it on the door. The first man that passed through the door would then be their husband.
Others say unmarried women would go blindfolded into their garden to handpick the cabbage they would use for their colcannon. A batch of colcannon would be made with the chosen cabbage and a ring would be added. The woman who was first to find the ring in their portion would also be the first to marry.
Finding a spouse may not always be that easy, but making colcannon is with this recipe from Café Rua in County Mayo.
Ingredients
•1kg (2.2lbs) peeled potatoes
•2 handfuls of chopped curly kale (cabbage)
•60g (2oz) butter
•250ml milk
•A bay leaf
•Salt and pepper to season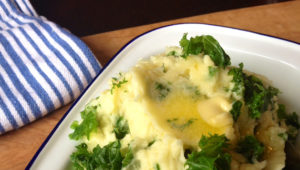 Method:
1. Steam potatoes for about 15-20 minutes until tender.
2. When tender, drain water, and let the potatoes dry in their own steam for 5 minutes before mashing.
3. While potatoes are cooking, prepare the kale/cabbage. Remove the very stalky bits, wash the remaining leaves, and boil in a little boiling water until tender – this should take no more than 3-4 minutes. Drain, season and dress the kale/cabbage with some of the butter.
4. Reserve the kale/cabbage, and in the same pot, bring the milk to the boil with a bay leaf.
5. Mash the hot potatoes whilst still hot with the butter first, and then gradually add the milk so you have a delicious creamy mashed potato.
6. Season to taste, fold in the kale/cabbage and serve in a warm dish with a knob of butter on top.
And there you have it. Your Halloween will be spooky, scary and weird . But at least you won't go hungry.
Happy Halloween from Ireland!
Source: Ireland.com