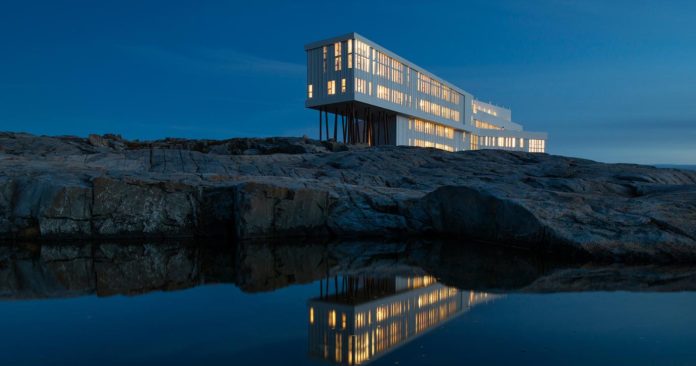 On Fogo Island, an island off the island of Newfoundland, Canada, the Irish heritage runs four centuries deep. Fogo Island Inn's neighbouring community of Tilting is where families with Irish surnames such as Foley, Dwyer, Burke, Greene and McGrath reside. There are no strangers on the island, only friends you've yet to meet.
Family names, place names and the lilting local dialect are not the only ways in which this heritage can be seen and felt. Amidst the rugged natural beauty of the land, the tiny coastal community is home to fishers, storytellers and musicians whose ancestral knowledge harkens back to the Emerald Isle.
Outside of Ireland, herself, there may be no place on Earth more Irish than Tilting. Situated on the very northeast tip of Fogo Island, she may be an ocean away but she's just the next parish over from Inishmore.
In honour of the St. Patrick's Day weekend, Fogo Island Inn will be commemorating its neighbours in Tilting with celebrations in the Parish Hall, a traditional Irish supper, a variety of outdoor activity and a special screening in the Cinema.
Leading up to the March 17 weekend, be sure to keep your eyes peeled as the friendly leprechaun, Jiggs, spreads his luck throughout the Inn.
For those wishing to join in the merriment, and to meet Jiggs in person, click here for an itinerary.
"Fogo Island Inn is a place like no other, with a people who know how to squeeze beauty out of a life at its extremes." – Washington Times
"Rocky and windswept Fogo Island may look like nowhere you've ever been before, but spend a day on this far-eastern edge of Newfoundland, and you'll feel like you've come home."– National Geographic
Can't make it to Fogo Island for St. Patrick's Day, during Pack Ice Season?
Leprechauns may be found in our other six seasons too.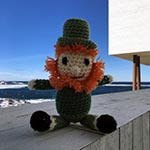 reservations@fogoislandinn.ca or 1-855-268-9277
Access to Fogo Island, Newfoundland, Canada:
Gander, Newfoundland is the international gateway to Fogo Island. Commercial flights from Toronto, with connections in St. John's or Halifax, can bring travellers to Gander in just over four hours.  The Inn offers a land-and-ferry house-car pick up and return service to Gander for $600 (1-4 person capacity). Travel from Gander to Fogo Island takes two hours by car or around 30 minutes by charter plane or helicopter. All transfer logistics and accommodations can be arranged by the Inn's reservations team at:
 reservations@fogoislandinn.ca or 1-855-268-9277