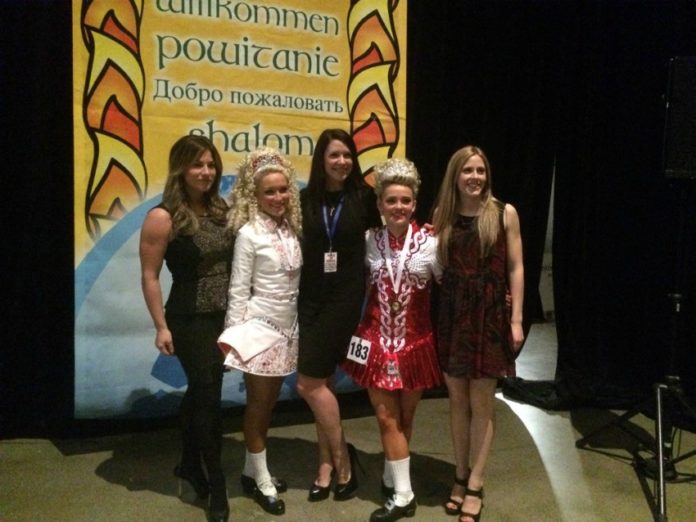 The team at KelownaNow.com was privileged to interview Rochelle Hoffmann of Blakley Okanagan School of Irish Dance.
KelownaNow: What is your name?
Rochelle: Rochelle Hoffmann
KelownaNow: If you could spend one whole day with anyone in the world who is currently alive, who would you select and why?
Rochelle: Ciara Sexton. She is a five time World Champion of Irish Dance and the star of many Irish dance stage productions and the 3D Lord of the Dance movie! I would love to be in her "shoes" someday.
KelownaNow: If you were to receive any existing public award, what award would you like to win?
Rochelle: Kelowna Outstanding Athlete Award, because Irish dance is a Sport as well as an art!!
KelownaNow: Who inspires you?
Rochelle: My friend, Mackenzie, because I don't know anyone who works harder than she does. She even came seventh at world's last year with a crack in her spine!
KelownaNow: What are three things on your bucket list?
Rochelle: Achieve my competitive potential in Irish dance and dance with Riverdance; Travel to more of Europe; become an excellent Interior Designer.
KelownaNow: If you had an enormous yacht, what would you name it?
Rochelle: Dancer
KelownaNow: If you could foresee a single day of your future in its entirety, what date would you select?
Rochelle: 2022 when I've toured with a dance show finished my Irish dance professional designation and ready to start my Interior Design career!
KelownaNow: What are you passionate about?
Rochelle: Irish dance, Interior Design, my family and my dogs.
KelownaNow:What has been your favourite day of your life, up to this point?
Rochelle: The day we went to airport and picked up Buddy, my dog.
KelownaNow: What has been your proudest accomplishment?
Rochelle: When I achieve 26th at the World Championships.
KelownaNow: Where is your favourite place to dine in Kelowna? What do you like about it?
Rochelle: Original Joe's – because they serve lots of great food!
KelownaNow: What is your favourite activity or event in Kelowna? Why?
Rochelle: WildPlay Kelowna – I love climbing and the zip lines!.
KelownaNow: What is the name of your dance school?
Rochelle: Blakey Okanagan School of Irish Dance
KelownaNow: What does your business/organization do?
Rochelle: Teach Irish dance and perform locally and for benefits and fundraisers.
KelownaNow: Where can people find you or your business online?
Rochelle: blakeyschool.com
KelownaNow: Where can people find your business on Facebook?
Rochelle: Blakey Irish Dance
KelownaNow: What is your mission?
Rochelle: To be the best Irish dancer, Interior Designer and human being I can possibly be!
KelownaNow: If you could achieve one thing within your field, what would it be?
Rochelle: I would love to become a World Medal Holder.
KelownaNow: IWhere do you want to be in five years?
Rochelle: Living in Kelowna and achieving my dreams! I love it here!
KelownaNow: Who do you consider to be a forerunner within your field?
Rochelle: Michael Flatley
KelownaNow: What three qualities do you feel that you exemplify?
Rochelle: Hard work; perseverance; common decency/community service.
KelownaNow: What would you like to say to your dance mates?
Rochelle: Work hard and keep your eyes on your goals! With a lot of hard work and perseverance, and a little luck, you can achieve them.
KelownaNow: How does your business/organization impact the community?
Rochelle: I like to think that we entertain and provide support where we can. We also provide a good way to exercise and have fun.
KelownaNow:If you were trapped in an elevator with several wealthy investors from any field, which field would you want them to be experts in? What would say to them/talk about?
Rochelle: I would love for them to be experts in the arts, and in particular dance and I would talk to them about making Irish dance a more recognized vocation, like ballet or hip hop.
KelownaNow: If I could change one thing about Kelowna, it would be:
Rochelle: I would create more bike paths.
What do you think makes Kelowna great?
Rochelle: The climate, lake and mountains.
KelownaNow: My choice for the Kelowna In Focus spotlight is:
Rochelle: Brandt Fralick
KelownaNow: Some general comments I would like to share are:
Rochelle: I am a very fortunate person and I am so happy I've been able to pursue my dreams, live in peace and help in the community. I see so much opportunity in the Okanagan and hope to be able to come back here after my education and continue to contribute.
Irish dancing accomplishments: Since I started dancing at the Championship level at the age of 10, I have been the Western Canadian Champion four times and have been top 10 in North America three times. I am about to attend my 8th World Championships in Glasgow, Scotland and hoping that I will again recall as I have the past three times, placing 26th last year. I have also attended other major overseas competitions and have recall medals from each one. A dream of mine is to someday tour with a professional show and so last summer I attended an Irish dance camp called Studio2Stage for nine days, along with Lauren from our school. We put together a full professional-style show in that time and it was a most amazing experience, so much so that I am attending again this year. One of the highlights of the whole experience was that I created my own audition! I also love creating choreography and hope to do that and teaching someday. I am so fortunate to have wonderful teachers and peers in my dance school – thanks for your support and friendship everyone!