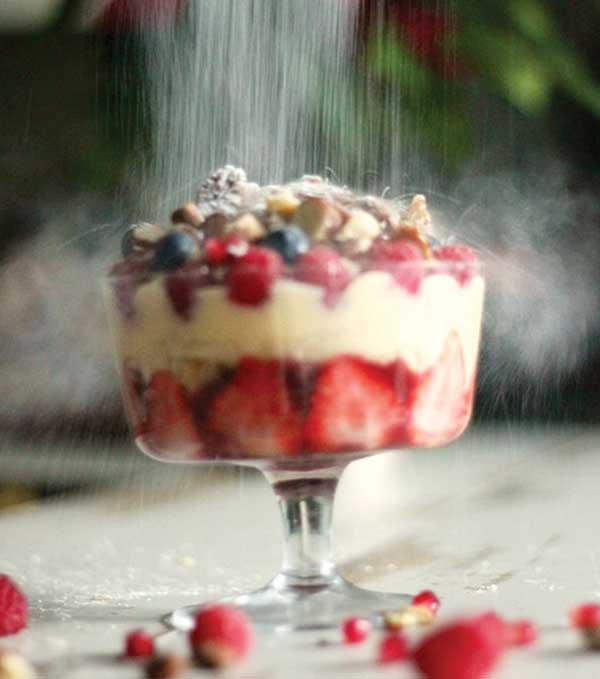 The Perfect… Trifle
So my favourite part of Christmas Day is my perfect boozy trifle.  The jelly must be set but still a little wobble & marinated fruits in the jelly always work for me soaked in cassis of course.
Ingredients – Serves 12
Jelly
100ml Fruit purée 
(raspberry is best)
100ml water
100g caster sugar
40g mixed fruit
2 1/2 Leaf gelatine 
(soaked cold water)
30 ml cassis
Sponge
85g self raising flour
85g Caster sugar
85g butter (soft)
1 egg
Custard
200ml Whole Milk
200ml Cream
4 Egg yolk
80g Caster sugar
1 Vanilla pod (deseeded)
1 tbsp of Custard powder
25g Butter
Candied Nuts
50g Mixed Nuts
250ml Water
100g Sugar
Creme Chantilly
50ml Double cream
50ml Whipping cream
1 tbsp Icing sugar
1/2 Vanilla pod (deseeded)
Jelly and Sponge Method
• Place sugar & butter into a mixing bowl and whisk until creamed.
• Add egg and mix well, now gently sift in flour, fold in until a 
smooth batter.
• Put into a non-stick baking cake tin.
• Bake @180˚C in oven 15-20 minutes, cool before cutting into squares
Custard Method
• Place milk,cream & vanilla into a pot and bring to a gentle boil.
• In a separate mixing bowl place yolks, sugar & custard powder and mix well.
• Now add half the boiling milk/cream mix to the sugary paste 
in bowl.
• Return pot to a low heat and with a spatula stir until thick custard consistency and finish with butter.(the butter gives the custard a real yummy gloss)
• Cool custard before using.
Candied Nuts Method
• Place water & sugar into a pot and bring to boil, now add nuts and reduce until water solution is nearly gone. (now drain well).
• Set a deep fat fryer @170˚C, now deep fry nuts for 1 minute 30 seconds until crisp and then allow to cool on a non-stick baking paper.
Creme Chantilly Method
• Simply whisk the ingredients until stiff and chill in fridge.
Building the Trifle
I start with my yummy sponge jelly on the base, surrounded with a layer of fresh fruit  then add Home-made custard & Lightly whipped Chantilly cream on top.  Finished with loads of fresh berries and pomegranate seeds on top & my secret ingredient (candied nuts). All you need now are friends, family and a big spoon and mouthful of sublime trifle followed by a sleep in front of the fire.