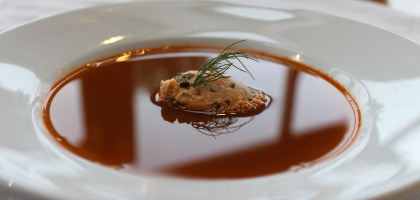 Ireland has a rich heritage of harvesting and eating all sorts of "sea vegetables", as leaders in the recent culinary revival of seaweeds prefer to call them.
Carrageen was a traditional base for wobbly, jelly-style puddings. Sleabhac (nori) was known as a powerful folk tonic, an aphrodisiac and a treatment for gout, and pickled sleabhac was sold by 20th-century fishmongers as a Lenten alternative to dairy products for seasoning potato dishes.
Duileasc (dulse) was baked in breads and scones; fried and added to potato champ; or dried and eaten as a popular crunchy snack, particularly in less fertile coastal areas where it was valued as a source of nutrients.
Today's chefs are rediscovering the versatility of these wild superfoods as natural thickening and gelling agents, or for adding vibrant colour and savoury flavour (from beefy or nutty to spicy, peppery or salty) to traditional and contemporary dishes.
Shrimp bisque with shrimp & alaria pâté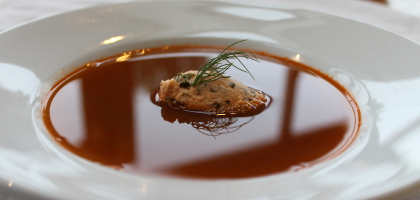 Alaria pâté
| Quantity | Ingredients |
| --- | --- |
| 500g | shrimp |
| 3 slices | dried alaria |
| 50g | cream cheese |
| 50g | butter |
| 2 | lemons, juiced |
Cook the shrimp in boiling salted water. Remove and shell, saving the heads and tails for the bisque.
Soak the dried alaria in water to reconstitute, remove the centre spine and again save for the bisque.
Chop the alaria and blend with the shelled shrimp tails, (reserve some of the shrimp and roughly chop) cream cheese and lemon juice.
Fold in the reserved shrimp to the cream cheese mixture, stir and season.
If serving as a starter, don't add the extra chopped shrimp, and put the mixture into small ramekin dishes and seal with clarified butter. Serve with dillisk bread or melba toast.
Shrimp bisque
| Quantity | Ingredients |
| --- | --- |
| 2 | onions |
| 2 | carrots |
| 2 sticks | celery |
| 2 cloves | garlic, chopped |
| 100g | tomato purée |
| 1 pinch | fennel seeds |
| 2 | bay leaves |
| | Salt and pepper |
| | Shrimp shells and alaria spine |
Heat a large pot and add some olive oil, then add the shrimp shells, onion, garlic, celery and carrot, cook until slightly toasted all over.
Add the tomato purée, fennel seeds, bay leaves, alaria spine and water and bring to the boil.
Simmer for about an hour.
Strain, taste and season
To serve, place a quenelle of the shrimp alaria pâté in the centre of the heated soup bowl and pour the bisque around it. Garnish with a little fennel or dill.
"Alaria – Atlantic wakame –  is delicious in many recipes and is very high in calcium, B vitamins and trace elements. It can be used uncooked in salads if marinated in lemon juice."
---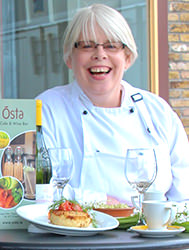 Brid Torrades
Osta Café and Wine Bar, Co Sligo
Source: Failte Ireland