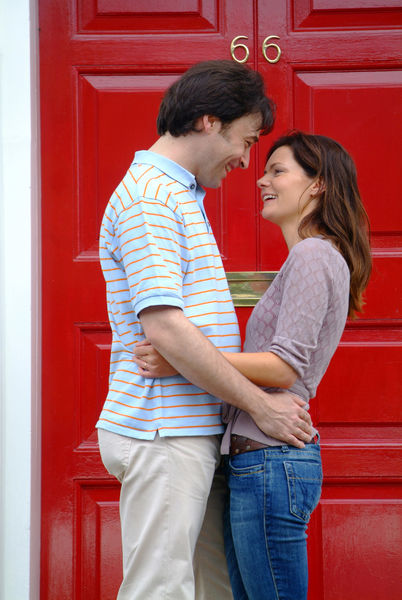 February is when the world celebrates romantic love. This is the month when we see red roses and pink hearts everywhere. We don't expect green to surface until March. February is for St. Valentine, and March is for St. Patrick and shamrocks, right? Well yes, but February is also the season for Ireland's other patron saint, Brigid and this island is actually extremely romantic. It isn't the smooth, polished sort of romance. We'll leave that to Paris, the city of love. But Dublin is home to relics of St. Valentine, and Ireland has a romance of its own. Whether you are simply celebrating the patron saint of romance or using the occasion to propose, you can do it with an Irish twist.
If your beloved is more at home in a pair of jeans than a little black dress, if she prefers a pint of plain to a cosmopolitan, she might enjoy a simple piece of jewelry to celebrate her Irish heritage. She might think exploring ancient sites such as Newgrange or Clonmacnoise hand in hand is incredibly romantic. And who doesn't think curling up together in front of a blazing turf fire in a cozy cottage is more romantic than a formal restaurant? Irish romance is full of drama and humor. It's watching the Atlantic pound the Cliffs of Moher together. It's sly wit and self-depreciation instead of bravado and swagger. An Irish person in love will slag you and tease you without mercy to your face and fiercely defend you without hesitation behind your back.
Symbols of Irish Romance
Irish jewelry is steeped in romantic symbolism. You can find Irish jewelry with simple heart designs, but traditional motifs are much richer than that. If you are looking for a gift of jewelry that symbolizes your love, Celtic jewelry designs give you some beautiful and meaningful options. The most famous and beloved are the Claddagh and Celtic knot work, but those are not the only options.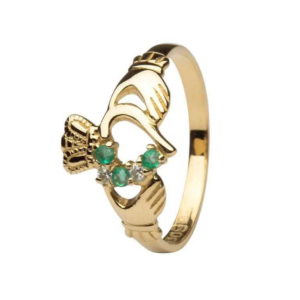 The Claddagh ring features a heart representing love held in hands that symbolize friendship with a crown above it for loyalty. This design is popular for both engagement and wedding rings. A beautiful love story is behind this gorgeous design. Long ago, a fisherman from the Claddagh village in Galway was captured at sea and enslaved to a goldsmith. In his years of servitude, he developed this design and when he at last earned his freedom, he returned to Galway with the Claddagh ring he had created for his beloved. And yes, she was waiting for him and they did live happily ever after. And if this is the time of year which you're thinking of proposing, take a look at ShanOre's Celtic engagement rings and wedding bands sets which are stunning. They also have a free and helpful Celtic Engagement and Wedding Planning guide.
The trinity knot is one of the most stunning examples of Celtic knot work de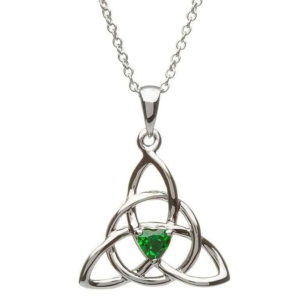 signs used in Irish jewelry. It features three points, and like all Celtic knot work, it has no beginning or end. This is very deliberate. It symbolizes eternity. If you want to tell your beloved that you feel you've always loved her and always will, this is the perfect motif to express that feeling.
Trees, particularly the Celtic tree of life, are another popular motif in Irish jewelry.
The tree of life represents communication between heaven and earth. If you want to tell her you think she's divine or that you'd move heaven and earth for her, the tree of life is perfect. Trees also represent nature and family history. Take a look at the Tree of Life in green peridot stones, the birthstone for August.
All of these designs come in almost endless variations from simple silver to dazzling gems. Whether your feelings and budget have reached the stage where you want to shower her with emeralds or whether a simple, elegant gold or silver piece is more fitting, you can find an Irish alternative to the generic hearts and flowers options this Valentine's Day.