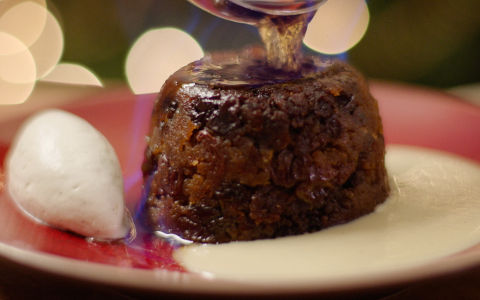 Christmas Plum Pudding
It is hard to believe that Christmas is almost upon us, and nothing beats the flavour of homemade Christmas pudding, so start stirring now. It is very important to get good quality fruit. The advance preparation now will make things easier at Christmas but, apart from that, the tastes will be so much better if made now. I love plum pudding – hot or cold – with lashings of cream but the brandy and rum crème analgise is even more special. I always look forward to it. A big thank you to Auntie Maureen.
Serves 2 x 1.2 litre (2 pint) puddings
Ingredients
Auntie Maureen's Plum Pudding
50g (2oz) plain flour
½ tsp ground mixed spice
¼ tsp ground nutmeg
½ tsp ground cloves
175g (6oz) fresh white breadcrumbs
175g (6oz) light muscovado sugar
175g (6oz) raisins
50g (2oz) currants
225g (8oz) sultanas
50g (2oz) candied mixed peel
50g (2oz) blanched almonds, chopped
½ apple, grated (core discarded)
½ small carrot, grated
finely grated rind and juice of 1 lemon
175g (6oz) butter, melted, extra for greasing
1 egg, lightly beaten
300ml (½ pint) stout
fresh redcurrant sprigs and icing sugar for dusting, to decorate (optional)
Spiked Almond Custard
Makes about 400ml (14fl oz)
5 egg yolks
3 tbsp caster sugar
1 heaped tsp cornflour
½ vanilla pod, split in half and seeds scraped out
300ml (½ pint) milk
300ml (½ pint) cream
50g (2oz) ground almonds
about 1 tbsp brandy, plus extra to serve
about 1 tbsp dark rum
about 1 tbsp Amaretto
To Cook
Sift together the flour, mixed spice, nutmeg and cloves. Add the breadcrumbs, sugar, raisins, currants, sultanas, mixed peel, almonds, apple, carrot, lemon rind, lemon juice and melted butter and mix until well combined. Gradually add the beaten eggs, stirring constantly followed by the stout. Mix everything thoroughly and cover with a clean tea towel, then leave in a cool place overnight.
Use the fruit mixture to fill 2 x 1.2 litre (2 pint) greased pudding bowls. Cover each one with a double thickness of greaseproof paper and tin foil, then tie tightly under the rim with string. Store in a cool, dry place.
To cook, preheat an oven to 130C (250F), Gas ½ and stand each pudding basin in a large cake tin three-quarters full of boiling water, then cook for 6 hours (or you can steam for 6 hours in the usual way). Cool, re-cover with clean greaseproof paper. Again, store in a cool, dry place.
On Christmas Day, re-cover with greaseproof paper and foil. Steam for 2-3 hours until completely cooked through and tender. Decorate with the redcurrant sprigs and a light dusting of icing sugar, if liked.
To serve, cut the plum pudding into slices and arrange on serving plates or for individual puddings, microwave the slices then pack into small individual pudding moulds and turn out on plates. Have a separate jug of the spiked almond custard so that everyone can help themselves.
Spiked Almond Custard
This is an old-fashioned recipe that seems to have been forgotten about. If you are nervous about the custard curdling you could also make this in a heatproof bowl set over a pan of simmering water but I don't normally bother. You can wash the vanilla pod and use it again or just stick it into a bag of caster sugar and leave it to infuse for a week or so to make vanilla sugar. Alternatively use a teaspoon of vanilla extract for a similar result. It will keep happily in the fridge for 2–3 days.
Place the egg yolks in a large bowl with the sugar, cornflour and vanilla seeds. Whisk with an electric mixer for a few minutes, until pale and thickened.
Place the milk and cream in a medium pan with the almonds and vanilla pod and bring to the boil, then immediately remove from the heat and leave to infuse for 15 minutes. Strain into a jug, discarding the almonds and vanilla pod.
Gradually whisk the heated milk and cream into the egg yolk mixture until smooth, then pour back into the pan with the brandy and rum and place over a gentle heat. Cook gently for 6–8 minutes on a medium heat, stirring constantly, until the custard coats the back of a wooden spoon. Serve hot or transfer to a large bowl. Press a sheet of clingfilm directly onto the surface of the custard to help prevent a skin forming and leave to cool, then chill until needed. It can also be put into a squeezy bottle depending on how you want to use it. Best served warm and use within 3-4 days. Flambe with extra brandy to serve, if liked.
Source:BordBia