A Co Meath skijoring duo are set to defend their title at a tournament in Canada for the unusual snow-based equestrian sport.
Skijor is a winter sport where a skier is pulled along a course by a person on horseback.
Childhood friends Barry O'Brien Lynch and Susan Oakes, who are based in Navan, will compete at the Skijordue Festival in Calgary this weekend.
In 2020, the first-time competitors won the sprint race over a 2.5 furlong course and also competed in a time-trialled obstacle course.
The winter sport is an unusual interest for the pair, whose day jobs could not be further removed from this daring endeavour.
Susan is a dental technician, while Barry works as an estate agent, and skijoring is a suitable challenge for the adrenaline junkies.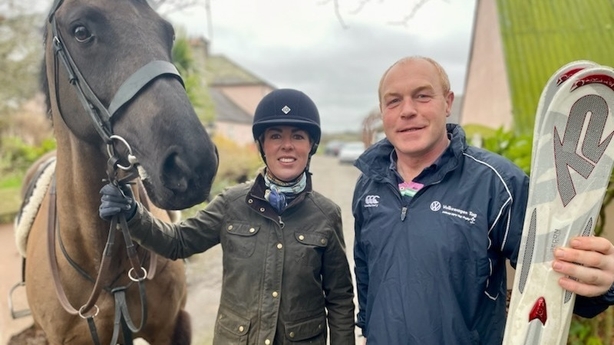 However, Susan is an accomplished equestrian, having competed in show jumping, point-to-points and she holds the Guinness World Record for side-saddle high jumping.
"As I say, I was born on the back of a horse, it's been a huge part of my life all along. I've competed in many different disciplines all over the world", she said.
Susan said she has "done it all"- that was until she heard of Skijor.
"2020 was my first ever experience of skijor, but it really suits me because I am an adrenaline junkie so it really was up my alley."
Barry has been described as an "amateur but ambitious" skier, with his experience mainly coming from ski holidays.
The pair are hoping to replicate their success from three years ago, to beat off competitors from the US and Canada and they have been training hard for the event.
But Meath is hardly comparable to Calgary when it comes to snowy conditions, so Barry and Susan have had to get inventive when it comes to their training regimen and it is what Barry described as a "'give it a lash Jack' kind of job".
Back in 2020, instead of being pulled by horseback on a set of skis, they improvised by using a 1940s Massey Ferguson tractor to tow Barry along a length of carpet on a sledge.
"We had no experience, we were doing our best to get to grips with what the feeling might be like, so we played around with it, where the body position should be, where is the pull going to come from", he said.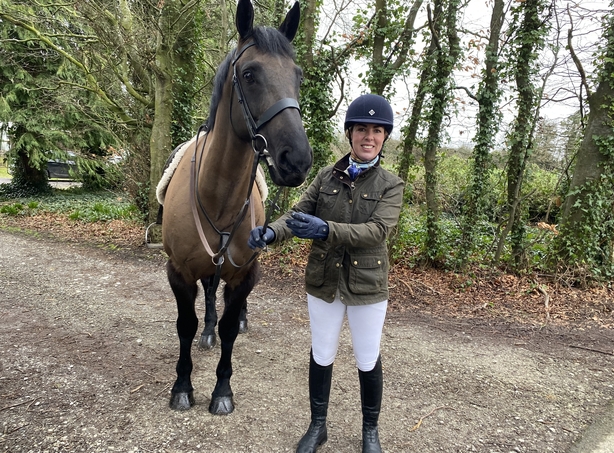 As well as riding the horse through snow, Susan also has to contend with keeping a tight grip on the rope pulling Barry along behind.
"There's a rope between Barry and myself. I'm riding a western saddle, so I wrap the rope around that three times and then I have the rope in my hand.
"I have to pull it across my thigh as tight as I can, and once we take off there's serious pressure. If I let go of the rope, the game is over."
This time however, having had experience of the real thing, they came up with an even more unorthodox method.
"Now we've done it, we know there's not as much resistance as with the sledge on the carpet. So this time, we said we'd go for wheels on tarmac," Susan said.
While Susan got back in the saddle, Barry hooked his skis up to a pair of skateboards to try to replicate the skijoring sensation.
"It's been going OK, we've very agriculturally strapped a skateboard to a ski, that's given us that sensation of the pull," he said.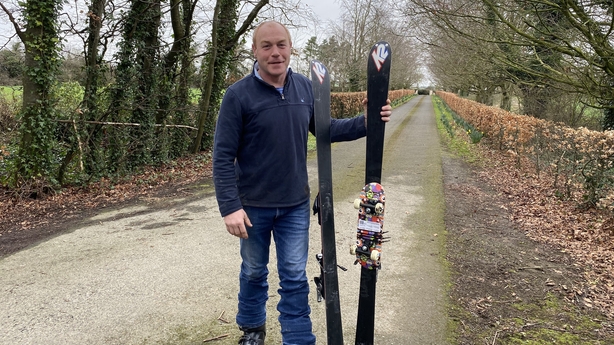 The Skijordue Festival hosted 150 competitors and 4,000 spectators in 2020 and the annual event has been postponed since then due to the pandemic.
Organisers say it is the "fastest growing winter sport in North America".
The main event will take place in Calgary this Saturday and Barry and Susan are going for gold again in the sprint race.
Barry said there will be a target on Team Ireland's back next weekend.
"We shocked ourselves, we shocked a lot of Canadians and Americans that we'd never done it before and won the big race. There'll be a target on our backs this year", he said.
"It's an absolutely amazing buzz. It's just a crazy sport. You've married skiing with horse riding, in the snow, in an adrenaline pumped sport. It's good fun", Barry said.
It's a lot of preparation and a long way to go for a super fast race that could last just 20 seconds.
This article first appeared on rte.ie written by Laura Hogan