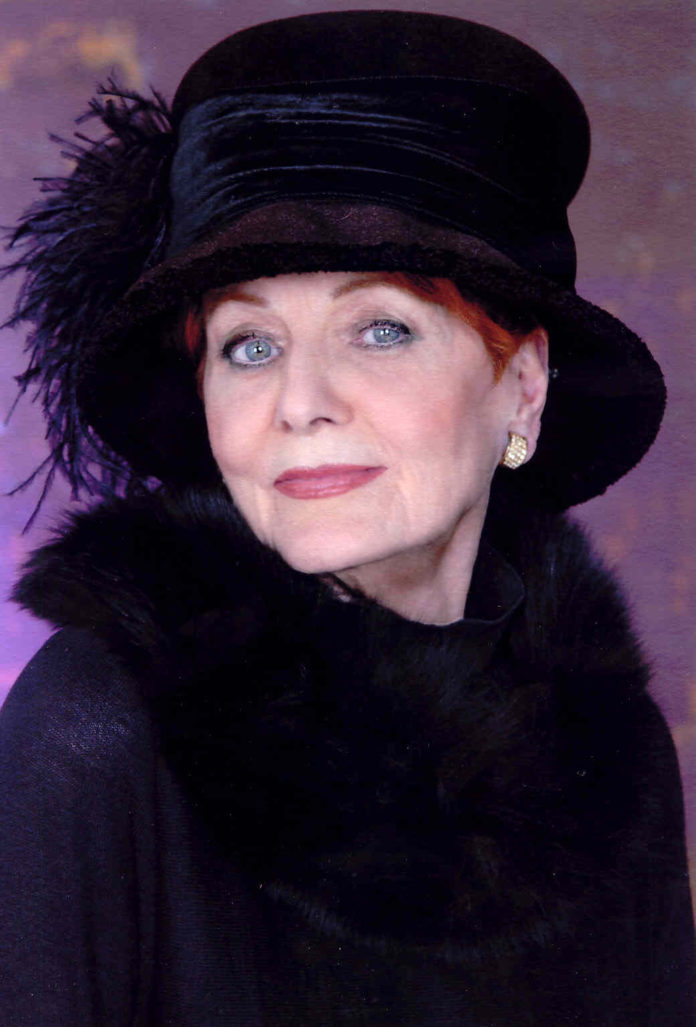 For Toronto's Irish community the name Peggy Delaney was, and still is, synonymous with grace, energy, class, tenacity, compassion, generosity & spirit.
Although gone 6 years now, it is her lively spirit that remains with us and continues to bring a smile or make one laugh out loud in recounting stories of her. And with close to 86 years on this plane she had her share of triumphs and tribulations. How she dealt with the good as well as the bad is what made her an inspiration.
She'd be the first to share accolades with people around her, lifting them into a spotlight they may not have experienced otherwise. Peggy was proud of accomplishment but never gloated or lauded successes. Yet kudos never came cheaply. They were all hard-won.
As for challenges and disappointments through her colourful life, she managed to rise above adversity in ways that showcased her strength of character. She was masterful in applying a brave face when the chips were down. Yet she'd dust herself off. And look like a million bucks after doing so.
While she was widely regarded as the matriarch of Toronto's Irish diaspora she transcended the Irish community and reached out to any and all that needed assistance, support or guidance.
A very special person who touched lives too numerous to count. A life force that left many in awe at the ease in which she carried herself with magnificent charm, grace and a true sense of self – easily leading to her to being a mentor and inspiration to numerous young women over the years. Some of her famous lines included "I can do any job two men can do" and "I'm not always right. But I'm very seldom wrong."
She also possessed an uncanny fortitude to be reckoned with.
It is for these attributes – as well as her tireless contribution to numerous causes – and for enriching the cultural landscape of Toronto, from art exhibitions to theatre productions – that she will be recognized by the city on Sunday, September 25th with a lane in her name from a motion passed at city hall last May.
The lane, to be christened 'Peggy Delaney Way', connects Lee Avenue with Leuty Avenue just south of Queen Street East in the heart of Toronto's Beach community.
This specific lane is a fitting tribute, for as it connects two avenues – so too did Peggy make meaningful connections in many avenues in life.
It's close proximity to Queen Street seems logical since she was widely regarded the queen of Toronto's Irish community.
The lane's location near the water conjures the city of her birth as Lake Ontario's waves could remind her of Dublin Bay.
The lane, on its western fringe, looks upon Kew Gardens – reminiscent of Dublin's St. Stephen's Green – with the Beaches Library beside it – the starting point for the annual Bloomsday walk. Peggy was a great supporter of the tribute to James Joyce's literary masterpiece, Ulysses.
The lane is adjacent to a parking lot. A 'Green P' parking lot. How perfect.
Lastly, a lane in her name seems fitting since there's literally a lane in her name: De-lane-y.
Peggy was born in Dublin on June 1st, 1924. She had two younger sisters who would both become nuns. Peggy was an energetic, gregarious and talented child. At the age of seven she became the youngest performer to appear on Radio Eireann's Children's Hour, eventually winning 'The Golden Voice of Ireland' contest – for broadcasting – from the Irish Press. Auspicious milestones as she went on to become one of Ireland's first female radio newscasters and would delight thousands in the decades to come at corporate events, weddings and private functions with her beautiful singing voice.
In 1939, spinal meningitis left her totally blind for nearly a year. After regaining her sight at age 16 she started assisting local hospital nurses and underprivileged children.
1941: Graduated from Holy Faith Convent (Dublin) – Received Honours distinctions in Irish, French & English languages.
1942: She was awarded scholarships from the Royal Irish Academy of Music and the Abbey Theatre School of Acting.
1945: At age 21 she became the Helena Rubenstein cosmetics representative for all Ireland. And just one year later, in 1946, due to her fluency in Irish, was invited to become personal flight hostess to President Eamon de Valera. As a result, she worked as Head Hostess for Ireland's national airline, Aer Lingus, for three years.
In 1949 she married professional violinist, Cormac O'Shea. The following year, 1950, the first of four children was born, Maria; followed by son, Patrick, 18 months later.
1954 – Cormac's career dreams took him across the Atlantic and Peggy joined him – emigrating to Toronto, Canada.
She planted her feet firmly on Canadian soil and with those feet she walked 26.5 miles for the United Way in 1956. She soon was an integral part of not only the local Irish community but the broader Toronto community as a champion of the arts while also teaching etiquette and elocution.
In 1957 her third child, Colm, was born; and her fourth, Rory, arrived in 1962.
In 1963 Peggy became District Sales Manager for AVON Cosmetics (5 years).
She revisited her early acting roots and returned to the stage in 'Ulysses in Nighttown', and was subsequently chosen by Marshal McLuhan to appear as the production's emissary on Elwood Glover's popular TV program, 'Luncheon Date'.
1967: The Irish Immigrant Aid Society was formed with Peggy becoming a lifelong contributor and eventually elected president – a position she held for 5 years.
1971 – She traded her high heels for running shoes once again to complete the 26-mile walk-athon 'Miles for Millions' to raise money for the impoverished of Africa & South Asia.
1972 – she joined Sacred Heart Children's Village in Scarborough, by night, as a treasured caregiver for emotionally disturbed children; while by day she was Director of The London of England Modeling Academy in Toronto's Yorkville district.
1974 – she accepted the position as manager of Toronto's exclusive women's club '21 McGill Street'.
1975-1980: Consulting Curator for Timothy Eaton Company, orchestrating art exhibitions at O'Keefe Centre, Pauline McGibbon Centre and School of Celtic Studies at St. Michael's College.
During that same period – 1977 – elected Mayor of Irish pavilion for Toronto Caravan Cultural Festival.
Also 1977 – became founding member and first Executive Director of Ireland Fund of Canada – to date raising millions of dollars and strengthening ties between Canada and Northern Ireland and the Republic.
1980s – Manager of Salvatore Faragamo plus Sales Consultant with Berger Christianson. Also involved with Inner City Angels for almost 10 years, raising funds and awareness for Toronto's underprivileged inner city kids.
Alongside Mount Everest's summit champion Sir Edmund Hillary she scaled her own heights by bringing attention to the Canadian Rhett Syndrome Society. Rhett Syndrome is a neurological disorder affecting girls.
1990s – excelled as Executive Consultant with Cellex-C Centre (a position she held for the next 15 years)
Produced Toronto's Rose of Tralee Festival for seven consecutive years. During that tenure a Toronto Rose won the international competition in Ireland.
1996: Launched annual Autumn Hooley social event in Toronto – bringing Irish Canadian community together. (4 years)
1997: established & organized Toronto Irish Community Awards recognizing excellence in all fields. (4 years)
Also in '97, Peggy was christened Grand Marshal for Toronto's St. Patrick's Day parade – leading the procession on horseback at age 72!
1997: coordinated visit of Ireland's Special Olympics team to Toronto & Collingwood. The team returned to Dublin with 14 medals!
Assisted fundraising efforts in Irish community to ensure supplies were airlifted to Madagascar to build a new school.
1998: Honoured by her peers as 'Irish Person of the Year'.
1999: Awarded 'Golden Rose' distinction by Rose of Tralee International Committee in Ireland – acknowledging extraordinary work done on behalf of the organization.
2002: Elected President of 'Toronto Irish Players Theatre Group' (re-elected twice). Organized semi-annual fundraisers TIP for over 5 years and produced their sold-out galas.
2004: Peggy's 80th birthday celebration at Toronto's Liberty Grand venue. A grand night with over 300 friends and admirers in attendance!
2006: Peggy was invited to sit on board of directors for Ireland Park Foundation. The park, established on Toronto's waterfront, commemorates the 40,000 Irish famine victims who arrived in Toronto in the 1840s.
Peggy played a role in the TV documentary 'Death or Canada', a co-production that aired in Ireland and Canada.
Featured as one of 150 prominent Irish emigrants to Canada since the 1950s in the book 'A STORY TO BE TOLD'.
2010: With Ireland's Ambassador to Canada in attendance, she raised the Irish flag at Toronto City Hall to commemorate St. Patrick and all things Irish in the month of March.
Over the years Peggy would become a figure of tireless devotion to numerous causes and fundraising efforts.
She expanded her horizons and passion for the arts through theatre, fashion, aesthetics, etiquette, elocution, music & art.
Most of all she was a caring, compassionate soul with a love of laughter and life.
The christening of 'Peggy Delaney Way' will commence at 1:00 pm on Sunday, September 25th at the Lee Avenue side of the laneway south of Queen Street East.
Councillor Mary-Margaret McMahon and other dignitaries will be on hand. Reception to follow.
All are welcome to join in the celebration of a lane in her name.
Peggy Delaney * 1924 ~ 2010 *