Nominated for Hair Salon of the Year category in the Toronto Region and under the Salon Design & Ambiance of the Year
The Cellar Salon in Yorkville was created to give a high-end service with a reasonable price tag. With a highly skilled team and cool decor the salon creates the perfect combination of a fun, cosy, environment with the added benefit of having the best hair in the city. 

The Cellar Salon's team consists of experts in the field, creative and innovative, transforming your image.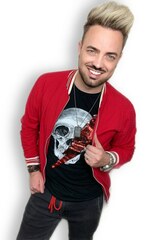 Salon Owner, Aaron O'Bryan has been in the hair-styling industry for more than 17 years.  He first began his career in Dublin, Ireland and trained in every aspect of hair-styling, specializing in both Color and Cutting. He moved to Canada in 2011.
Aaron has many skills in the art of hair, but is well known for his hand painted Balayage throughout Toronto. One of Aaron's biggest and most exciting ventures was competing on "The Search For The Next Marilyn Hair Expert" on CTV's The Marilyn Denis Show. With hard work and determination, he came out on top and is now a regular Hair expert on the number 1 show in Canada. Not only does Aaron work on air but he is part of Marilyns Style Team where he does all the behind the scenes hair everyday on the show creating fun and fabulous looks every day on many Canadian celebrities and models.
To add to the list Aaron is busy working photo shoots and works with many television personalities giving him an extensive knowledge of everything current and on-trend. He has also worked as brand ambassador and is a well known influencer across his social media platforms. Aaron is also the CEO of AOB products delivering nothing but the best in haircare coming to you in 2019.
His core belief is to give a client what they want but with positive direction and to make them love their hair again. Being the owner of The Cellar Salon he can deliver his belief in fabulous hair and excellent customer service spreading a warm Irish cheer.
It is our goal to make you feel good, look good and give you that hop in your step when you leave the salon. All of our stylists have extensive experience and we pride ourselves on complete honesty in creating your look without any illusions. We are here to listen, guide you and make you feel at your very best.
The Toronto Hair and Beauty Awards 2019 an exclusive celebration of the hair and beauty gurus that operate in the town.
The glamorous ceremony will take place on Sunday, May 26 at the Sheraton Parkway Toronto North Hotel and will welcome meritorious contenders who have gone above and beyond in the workplace with their talent and dedication to the hair and beauty industry.
The glitzy awards seek to acknowledge and honour the tireless individuals, teams and salons, whose sole aim is to provide their customers with impeccable services and treatments, leaving them look and more importantly, feel fantastic.
Top beauticians, hairstylists, freelancers, nail technicians and barbers amongst others will gather together to celebrate their achievements and their efforts that put in daily to leave their costumers with the best of impressions. The black-tie ceremony promises to be one of the most memorable celebrations in the industry's calendar this year, with many accolades ready to be presented to the deserving winners.
A Spokesperson for the Toronto Hair and Beauty Awards 2019, said: These awards endeavour to showcase those who have shown great commitment, professionalism, creativity and care for the client.