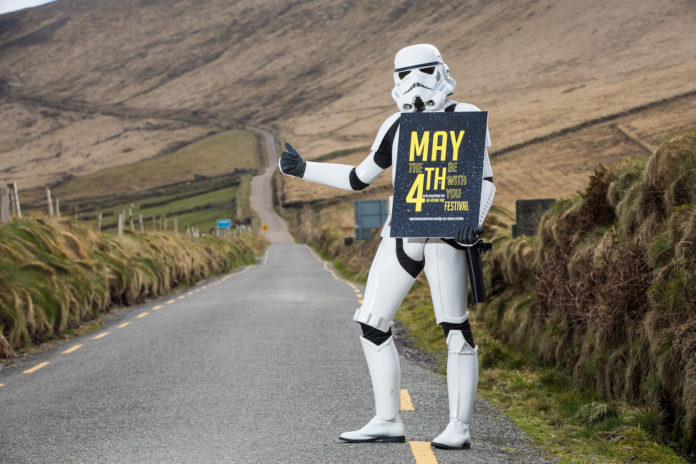 A fun-filled festival on Ireland's stunning west coast makes a return on the most significant day of the Star Wars lovers' calendar.
Running from 3–5 May, this year's 'May the 4th Be With You' festival will welcome Stormtroopers, Darth Vaders, members of the Rebel Alliance and anyone else who wants to dust off their lightsabre and celebrate the magnificent Star Wars universe.

With an interstellar line-up of events, the festival this year takes place in counties Kerry and Donegal whose otherworldy landscapes provided breath-taking backdrops to key scenes in the last two Star Wars movies.

County Kerry, home of the famous sixth-century, beehive stone huts on Skellig Michael, where Luke Skywalker made his long awaited reappearance in Star Wars: The Force Awakens, will kick off its festival activities in Portmagee.
The pretty fishing village on the Ring of Kerry was the hub of production for the Skellig Michael shooting and locals still remember the buzz of Hollywood come to Kerry.

The dramatic Inishowen Peninsula in Donegal will also celebrate its connections to the blockbuster franchise. Malin Head, the most northerly point in Ireland, welcomed the crew when it returned to film Star Wars: The Last Jedi.

Farren's Bar hosted the cast and crew for a pint or two, and the pub now sports a mural of Yoda on its gable wall.

This year's festival will have fun activities for all ages including a geodesic space marquee, where fans can immerse themselves in a galaxy far, far away with interactive activities from panel discussions to video game competitions.

Meditation Rock, Co. Kerry
There will be a display of Star Wars themed sand sculptures, an augmented reality treasure trail, behind-the-scenes exhibitions, an epic lightsabre battle, tours and tastings.

There will also be a chance to enjoy exclusive screenings of Star Wars: The Last Jedi against the backdrop of actual film locations, and the opportunity to train in the ways of the Jedi.

And all set along the cosmic coastline of the Wild Atlantic Way.

Filming for most recent Star Wars episodes took place in locations across counties Kerry, Donegal, Cork and Clare, giving the Wild Atlantic Way, whose beauty Mark Hamill said was "indescribable", a starring role in the epic movies.

So head to the galactic expanse of Ireland's west coast and walk in the footsteps of Jedi.

And May the 4th Be With You.

www.ireland.com
wildatlanticway.com/may-the-fourth