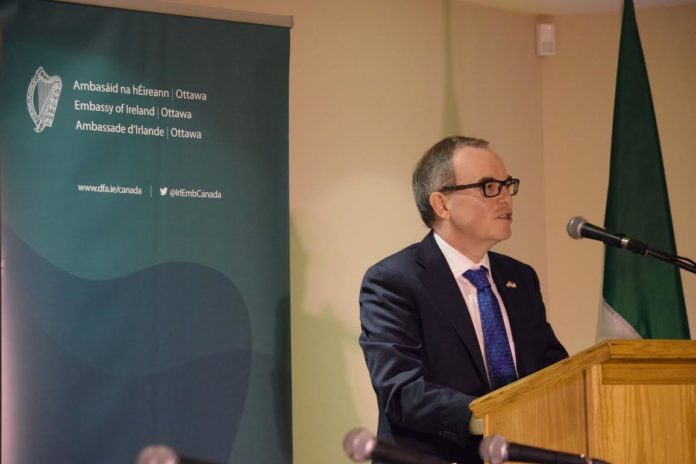 Ireland will be opening a new consulate in Toronto as part of a wider strategy to bring the two countries closer together by 2025.
During remarks to Ottawa's Irish community on Thursday, March 21, the first full day of spring, Ireland's ambassador to Canada, Jim Kelly, welcomed his guests to his Rockcliffe Park residence. He was capping off a busy St. Patrick's Day season, attending events, shepherding Irish government ministers across the country, and dropping in to Ireland's newest diplomatic post, the consulate in Vancouver, the republic's first new such post in Canada since the embassy opened in Ottawa in 1939. The Vancouver consulate opened last year.
Kelly recalled the speech given earlier this month in Toronto by Ireland's communications, climate action, and environment minister, Richard Bruton, in which Bruton said that Ireland wanted to "double our impact here in the country by 2025."
Kelly reminded the audience that IDA (Industrial Development Authority) Ireland had opened a new office in Toronto, and the Enterprise Ireland and Tourism Ireland were also expanding in Canada.
"We are putting our money where mouths are, we are putting resources where the opportunities are," said Kelly. Seeking to double Ireland's investment in Canada in the next six years, "that strategy will chart our way forward," said Kelly.
Kelly noted that "we are both open, outward facing countries, strongly supportive of international trade, welcoming of new talent."
Over the last two years, there have been 19 visits by members of the Irish government, which, Kelly said, goes to show that "we are very serious about the relationship," pointing to the rise of Canadian investment in Ireland since CETA (Canada European Trade Agreement) came into being. As just one example, the Bank of Montreal had announced that it would be moving its European operations to Dublin, if Britain leaves the European Union sometime this year, as it is planning to.
Flying visits
Few relationships are strictly business, and that too is the case between Canada and Ireland. Kelly stressed that the friendship is "founded on the people-to-people links between our two countries."
Keeping those social lines open involved a flying visit on a seaplane to Victoria, BC to visit the premier there, John Horgan, and marching down Canada's cold streets for St. Patrick's Day parades in Montreal and Ottawa.
"The 'day' in it is a bit of a misnomer. It's more like a month," Kelly chuckled, noting that his first St. Patrick's event took place on Feb. 22, for the St. Patrick's Society of Montreal ball.
To keep the camaraderie going, Kelly had invited Canada's environment minister, Catherine McKenna, to that night's reception – however, she was caught up in marathon 31-hour voting session on the budget. He said he had politely declined the idea put forward by one party-goer that he host an "all-night reception," to accommodate her.
He said that it bore repeating that one in seven Canadians can claim some Irish heritage, which was, he said, a "higher percentage than you'd find in the United States."
Brexit looms
While McKenna's visit to the residence was cancelled because of outside political moves, both Canada and Ireland continue to watch Britain's ongoing Brexit saga warily.
Kelly noted that the United Kingdom is leaving the European Union "regrettably, in our view, but it's their choice," but he promised that "Ireland is committed to remaining at the heart of the EU. It is a home that we helped build." A lot of the social and economic progress that Ireland has made over the last 40 years was because of EU membership, he noted.
"It's indispensable to our future prosperity," he said of EU membership. He hoped for an "orderly Brexit," one that respected the Good Friday Agreement of 1998, but, just in case, "we have been preparing…for the worst-case scenario, a disorderly Brexit," since Britain voted to leave in 2016. "If it happens (a no-deal Brexit) we think it would be a lose, lose, lose outcome for everybody…We hope that sense will prevail and that an orderly Brexit will take place."
No matter what shape Brexit takes, Ireland is still seeking the "closes possible relationship…in all scenarios."
He closed his remarks with the words of famed Canadian inventor Alexander Graham Bell, to show that even though "we live in turbulent times," there was still hope. The Edinburgh, Scotland-born inventor said: "When one door closes another door opens, but we so often look so long and so regretfully upon the closed door, that we do not see the ones which open for us."
"We're looking for that open door," added Kelly.
Desmond Devoy is Celtic Canada's National Capital Region correspondent.