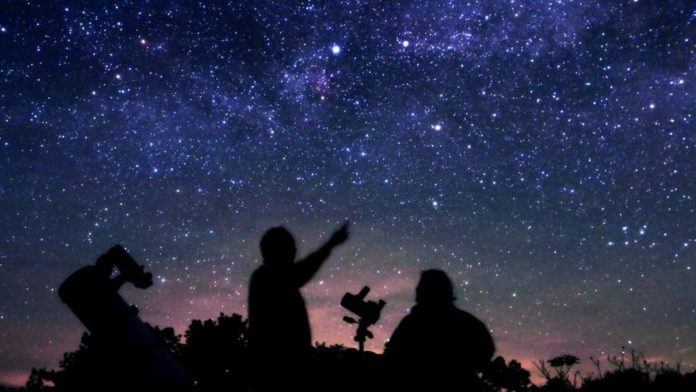 From the waxing and waning moon to stars, constellations, galaxies, bright planets and even the spectacle of the Northern Lights (Aurora Borealis), Mother Nature puts on the greatest star-studded show at night.
Lennox & Addington Dark Sky Viewing Area | Terence Dickinson
Stargazing in Ontario is incredible throughout the year, especially in winter. The crisp air, low humidity and early nights of winter make for perfect dark sky viewing and photography conditions. Here are the best places in Ontario for stargazers, night sky photographers and astronomy buffs.
The Royal Astronomical Society of Canada (RASC) has designated eight Ontario destinations as dark sky preserves for their absence of artificial light pollution and great stargazing visibility with a telescope, binoculars or even to the naked eye. Ontario also is home to several space centres, observatories and planetariums where budding and avid astronomers can witness and learn about the beauty of the universe above.
Follow the Ontario Park's Eyes on the Skies blog each month for stargazing news and check the aurora forecast before heading to a designated dark sky viewing reserve.
Note:
A daily vehicle permit is required for each park you visit. If available, purchase your pass ahead of time and make your camping reservations well in advance
Overall, weekends are much busier than weekdays at Ontario Parks, so plan a mid-week visit
Clean footwear and equipment prevent the spread of invasive species and staying on trails and boardwalks and a zero-litter policy helps reduce the destruction of sensitive habitats
Stargazing etiquette includes minimizing artificial light, so switch off vehicle headlights and use the red light setting on your flashlight or headlamp
Ontario's Dark-Sky Sites, Parks & Preserves
Awarded dark sky preserve status in 2012 by the RASC, the Bluewater Astronomical Society is a non-profit organization that promotes astronomy education and the joy of stargazing. Special public viewing events are held on select dates at the ES Fox observatory at the Bluewater Outdoor Education Centre using the club's powerful Webster 28" Dobsonian reflector telescope.
Location: 3092 Bruce Road 12, Oliphant
This is a photographer's dream destination. Over 4,000 acres of fully preserved conservation reserve on crown land ensures this precious spot is well protected from urban light. The smooth granite bedrock at the main observing area allows for easy gear set up, while open landscapes provide unobstructed night sky viewing opportunities. Check the park's night sky visibility forecast in advance of your trip.
Location: Southwood Road, Gravenhurst
Nearby: Stay at Muskoka Bay Resort with dining onsite and every imaginable outdoor activity at your fingertips.
Visitors flock to this spectacular national park for the postcard-perfect Georgian Bay views and vistas, but at night, the main attraction is above. There are two designated observing areas, the first is near the facilities by Cyprus Lake and the second is a coastal site southwest of Highway 6 called Singing Sands. Enjoy amazing night skies on a backcountry camping or winter yurt excursion. Be sure to make reservations and secure permits well in advance.
Location: 469 Cyprus Lake Road, Tobermory
Nearby: If you crave creature comforts after your stargazing outing, check out the waterfront Tobermory Princess Hotel, overlooking Little Tub Harbour.
A relatively recent addition to Ontario's dark-sky preserve list, Lake Superior received its designation in 2018. Perched on the eastern shores of Lake Superior and far from urban light pollution, this is one of the darkest dark sky preserves in the world, thus one of the best places to admire the night sky and even catch sight of the Aurora Borealis. The designated observation site is on the beach at the Agawa Bay Campground, not far from the Visitor Centre, and offers a magnificent skyscape over the lake. Check online for dark sky programming and events at the park.
Location: 96 Broadway Avenue, Wawa
Nearby: There are several welcoming accommodation options in and around Wawa.
Although not an officially designated dark sky preserve, this is one of the most southerly dark sky sites in Ontario that offers an unmatched night sky experience. Located off highwayHighwayt south of Kaladar, the site provides parking and a concrete pad for your tripod or telescope and admission is free. It's open year-round, while laser-guided and astrophotography-focus events are offered from May through September.
Location: 7980 County Road, Erinsville
Nearby: For the ultimate, out-of-this-world experience, book a couple of nights at Black River Retreat, a luxurious, secluded cabin that caters to one (or two) couple at a time.
An important spring and fall migration destination for birds and Monarch butterflies, this national park located in Canada's southernmost region is also a great spot to admire the starry wilderness at night. Point Pelee was the first national park to be recognized by the RASC, receiving its designation in 2006. Join members of the RASC – Windsor Centre for Dark Sky Nights, magical evenings of stargazing. Bring your own binoculars or look through one of the special telescopes on site for the evening.
Location: 1118 Point Pelee Drive, Leamington
Nearby: The quirky-chic Grove Hotel in Kingsville is brimming with character, charm and delicious craft beer brewed onsite.
Just south of the community of Plevna, about two hours drive west of Ottawa, the Dark Sky Observation Pad of North Frontenac was Canada's first municipality to be awarded with the Dark Sky Preserve Designation. Equipped with a Fred Lossing Telescope as well as picnic benches, parking, electrical services and accessible washrooms, it's a comfortable spot to witness the magic of the skies. Check for upcoming public events.
Location: 5816 Road 506, Plevna
Nearby: Sharbot Lake Country Inn will treat you to genuine hospitality, comfortable rooms with gorgeous lake views and all your favourite comfort food and live music at The Crossing Pub.
One of Ontario's most prized provincial parks, Killarney hugs the northern shores of Georgian Bay and its distinguishing features include the white quartzite hilltops of the La Cloche mountain range, pine and hardwood forests and smooth pink-coloured granite coastline. Killarney was the first Ontario park to be awarded the preserve designation and one of only two parks with an observatory. Killarney is a great destination for year-round camping or book a roofed accommodation in one of the six cozy yurts or two cabins.
Location: 958 ON-637, Killarney
Nearby: For the full-service resort experience, make Killarney Mountain Lodge your home base.
The DarkSky Preserve at Manitoulin Eco Park is a communal, wide open space offering 360-degree sky viewing, perfect for stargazing. In fact, Manitoulin Eco Park was Canada's first RASC designated commercial Dark Sky Preserve and continues to provide exceptional dark skies showing 7.5+ magnitude stars. Beyond the preserve, the park extends into the hardwood forest and offers rustic, earth-friendly accommodations. Check for upcoming astronomy events and presentations.
Location: 18777 ON-6, Tehkummah
Nearby: Manitoulin Hotel and Conference Centre is another great option for your Manitoulin home base, with outdoor and Indigenous themed activities plus onsite dining.
Located about two hours drive west of Thunder Bay, Quetico was recognized as an International Dark Sky Park by the International Dark Sky Association for its exceptional pollution-free night skies. Classified as a wilderness park, there are year-round camping opportunities as well as roofed accommodations available to rent.
Location: ON-11, Atikokan
Nearby: Experience true Northern Ontario hospitality at a resort or camp accommodation in and around Atikokan.
Observatories & Astronomy Centres
Opened in 1935, this Richmond Hill observatory is home Canada's largest telescope and hosts special programs, including kid-friendly events, and educational talks throughout the year.
Location: 123 Hillsview Drive, Richmond Hill
In addition to supporting the astronomy program at York University in Toronto, this facility promotes public interest in astronomy with programs, tours and viewing sessions, both in-person and online.
Location: Life Sciences Building, 6 Thompson Road, North York
Fellow astronomy buffs are invited to join students and staff at the Cronyn Observatory at Western University for Astronomy Public Nights on select evenings to view the skies using telescopes.
Location: 1151 Richmond Street, London
Bayside Astronomy is a public outreach program hosted by the Bruce Peninsula Biosphere Association, a community committee dedicated to the preservation and education of the UNESCO Biosphere. Join local astronomers for discussions and sky viewing.
Location: 1 Bruin Street, Lion's Head
McMaster University's planetarium was the first in Ontario to invite the public to events showcasing their Digitarium Alpha 2 system, a digital projector. Look for upcoming events and shows and reserve your tickets in advance to avoid disappointment at the door.
Location: Burke Science Building B149, McMaster University, 1280 Main Street, West, Hamilton
Choose from two different stargazing experiences at the Long Point Eco Adventures observatory in Turkey Point. The one-hour Family Stargazing program keeps kids enthralled with lessons in astronomy and stories from mythology. The Observatory Dome Experiences allows you to view the night sky through a 16 inch telescope.
Location: 1730 Front Road, St. Williams
Dedicated to the wonders of science and space, the Ontario Science Centre should be on every budding astronomer's bucket list. The interactive Space Hall exhibit invites kids to experience meteorites, black holes and cosmic rays as they explore and learn about space.
Location: Level 4 Space Hall, 770 Don Mills Road, North York
Unique Stargazing Experiences & Accommodations
Reconnect with nature at this dark-sky-friendly eco-destination located on the edge of Algonquin Park. Designated as an "observatory" site, you'll be provided an official night-sky forecast with data populated from the Canadian Meteorological Society, as well as tips and tools to make the most of your night sky experience. Accommodation options include glamping, camping, tiny houses and even bubble tents—one of the best ways to truly sleep under the stars. Ask about their summer "Dark Sky Astronomy Tour" guided by an astronomy expert.
Location: 29924 ON-60, Whitney
Yours Outdoors hosts memorable night sky viewing sessions on select dates in summer and fall in the Haliburton Forest and Wild Life Reserve. The absence of light pollution allows fantastic viewing of stars and galaxies. And guests are treated to an inspiring presentation of stories, fables and myths relating to astronomy. Choose from camping and cabin options in Haliburton Forest or more accommodations nearby.
Location: 1095 Redkenn Road, Haliburton Forest
Nestled on Central Ontario's Bruce Peninsula, you're surrounded by gorgeous nature at Evergreen Forest Resort. Unique accommodations include a woodlot suite with a clear roof for the ultimate stargazing and rooms with massive skylights to fall asleep under the stars.
Location: 381135 Concession 17, Georgian Bluffs
There are almost 100 local amateur astronomy clubs across Canada, many of which are in Ontario who passionately share their interest in stargazing and night sky appreciation. In addition to members-only meetings, they often host events and stargazing parties for the public to join and enjoy.
Discover some of the best places, conditions and ways to see the Northern Lights, or Aurora Borealis, in Ontario.
Source: Destination Ontario