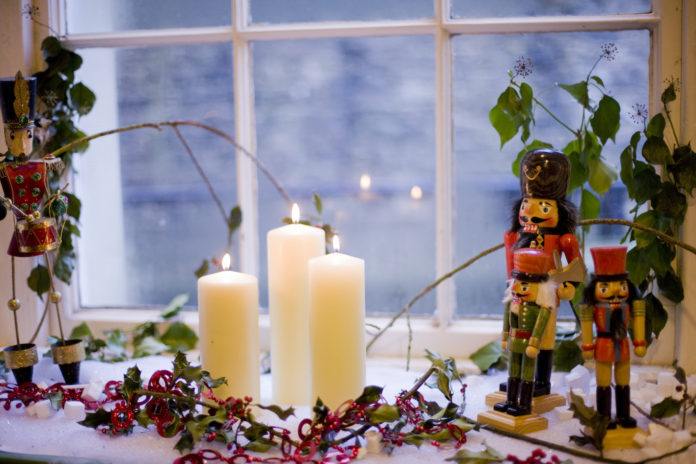 The island of Ireland is always a magical place at Christmas, and while festivities may look different this year, the season is still going to be a special one.
Even Scrooge himself would be warmed by the wide range of Irish Christmas customs and traditions.
Most still steeped in the Gaelic and religious heritage of the country, these key elements of Christmas in Ireland will help you capture the spirit of the season.

The Christmas candle
Placing a candle in the window during the festive period is surely one of the most iconic images of an Irish Christmas. The candle represents a welcome to Mary, Joseph and the baby Jesus. It's also a sign of welcome for anyone, friend or stranger, who might be passing on Christmas Eve.

The holly and the ivy
The Irish have been 'decking the halls' with boughs of holly for centuries. Nowadays, holly, ivy and mistletoe are hung inside and outside Irish houses a few weeks before Christmas. A ring or wreath of holly will be on most front doors, and the mistletoe hanging in doorways offers the chance for an affectionate or even a cheeky kiss.

St Nicholas and Father Christmas
Many Irish people believe that the remains of Father Christmas himself lie in an abandoned medieval village at a working farm called Jerpoint Park in County Kilkenny. Local legend has it that St Nicholas – the inspiration behind Father Christmas and our present-day Santa – is buried within a cracked, carved tomb in the grounds beside the ruins of St Nicholas' Church.

Coins in the Christmas pudding
Putting a silver coin in the Christmas pudding is an age-old Irish custom that is said to bring health, wealth, happiness and good luck to the person that finds it. With 13 ingredients to be used (to represent Christ and his Disciples), traditionally everyone in the household stirs the mixture for good luck as it is being prepared.


Sea Swimming at Dun Laoghaire, County Dublin
Midnight Mass
Irish churches are normally packed to the rafters on Christmas Eve as families dress up and go to Midnight Mass. That custom will likely be adapted this year, with families gathering around their computers for live streamed services. But afterwards a must-do in every Irish household will remain – leaving out some mince pies and Guinness for Santa, and a few carrots for Rudolf and co.

Christmas Day swims
A bracing Christmas Day dip is longstanding tradition in Ireland, and is particularly strong at the Forty Foot swimming spot on Dublin's coastline. In more recent times the popularity of a cold morning swim has soared in coastal towns and villages around the country. The custom now stretches right through the Christmas holiday period, and complete with Santa hats and costumes the brave swimmers raise much needed funds for charities.

Traditional Christmas dinner
In Ireland the whole family, and often the extended family, traditionally gather for a feast on Christmas Day. This year families may have to get together in social bubbles or it might be on smartphones, tablets and iPads. But with everything from mailed-in presents, North Pole breakfasts, Zoom dinners and online games at the ready, the Irish will get creative and celebrate in style.

The Wren Boys
On St Stephen's Day, or Boxing Day, parts of the country still keep the ancient tradition of hunting the wren. 'Wren Boys' – groups of mostly boys and men dressed up in old clothes and with painted faces travel from door to door singing, dancing and playing music demanding money to 'bury the wren'. Various stories lie at the root of the tradition. One says it's because the tiny bird betrayed St Stephen, the first Christian martyr, by flapping its wings to attract his pursuers when he was hiding.

Little Christmas
Also referred to as 'Women's Christmas' or Nollaig na mBan, the Feast of the Epiphany on 6 January marks the last day of Christmas. Traditionally it's the day when Irish women must avoid all housework while the men of the household stay home, take down the decorations (it's bad luck if you don't!) and prepare all the meals.

www.ireland.com