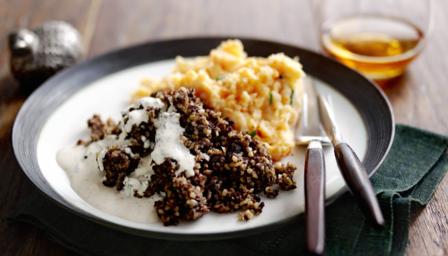 Haggis…Serve up a Scottish supper to remember the essential Haggis, Clapshot & Whiskey Sauce! Celtic Canada shares a favourite dish…
Ingredients
Clapshot
500g floury spuds, peeled, chopped
500g yellow turnip or Rutabagas as we know in Canada, peeled, chopped
50g butter
75ml  double cream
Salt & pepper
1 tbsp chopped fresh chives
Whiskey Sauce
500ml  double cream
2 tsp wholegrain mustard
1 tbsp dijon mustard
2 or 3 tsp whiskey
sea salt and freshly ground white pepper
1/2 tbsp chopped fresh chives
½ of a lemon the juice only
How to make.
Preheat the oven to 350F/Gas 4

Wrap the haggis in foil and place onto a baking tray. Bake in the oven for 45 minutes to one hour, or until cooked through.

Meanwhile, for the clapshot, boil the potatoes and rutabaga in separate saucepans of salted water for 15-18 minutes, or until tender, drain and combine both to a nice mash then add butter & cream and mash again until smooth.. Season, to taste & Stir in chives. Set aside and keep warm.

For the whiskey sauce, heat the double cream in a pan over a medium heat. Add the wholegrain mustard, Dijon mustard and whiskey & stir to combine. Increase the heat until the mixture is simmering and continue to cook for 1-2 minutes.

Remove the pan from the heat and season, to taste, with salt and freshly ground pepper. Stir in chives & whisk in the lemon juice.

To serve, divide the clapshot equally among four serving plates. Place a spoonful of steamed haggis alongside each. Spoon over the warm whisky sauce. Magic Enjoy!!