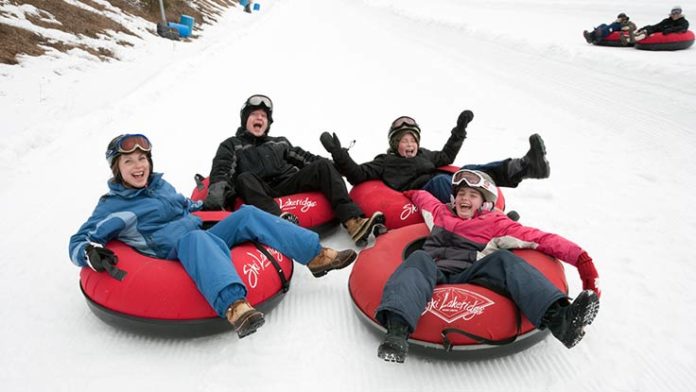 Snow tubing is the 2.0 version of the quintessential Canadian sport, tobogganing.
Like tobogganing, snow tubing involves rocketing down a snow-packed track without breaks and with the added element of spinning in an inner tube. The best part? It's no skill, all-thrill fun.
Check out these action-packed places to snow tube in Ontario.
Horseshoe Resort hosts Ontario's longest snow tubing hill. With the magic carpet lift back up, this is one thrill ride that needs to be on your winter bucket list. This resort is where you can stay and experience outdoor adventure year-round.
Location: 1101 Horseshoe Valley Road West, Barrie
The three tube runs at this adventure park tower ten stories high and allow riders to reach speeds of up to 70 kilometres per hour—that'd get you a speeding ticket on most Ontario streets! Tip: pre-purchase tickets online to avoid disappointment.
Location: 689 Griffith Street, London
Fulfill your tubing fantasy with two hours of unlimited snow tubing at Lakeridge Ski Resort's Tube Park. Admission includes snow tube rental and lift.
Location: 790 Chalk Lake Road, Uxbridge
This park is dedicated to the thrill of tubing, with a massive, multi-lane tube run, a large log chalet with a café and a licenced lounge complete with an outdoor viewing deck overlooking the snow hill. Can't get enough? Stay at the Radisson Hotel Kitchener Waterloo (a four-minute drive away) to make it a weekend of pure tubing delight.
Location: 1600 River Road East, Kitchener
Located in Ontario's famed "snow belt," Snow Valley offers some of the best tubing terrain in the province. Fly down one of 14 chutes over ten stories high and serviced by three lifts to whisk you back to the top. Relax between runs in the tube chalet or go watch tubers-in-training at the adorable Kidz Zone.
Location: 2632 Vespra Valley Road, Minesing
Not one to be left off a snow-related list, Blue Mountain Resort is Ontario's mecca for year-round family fun, but it really heats up in the winter. Add tubing to the extensive menu of snow activities offered with a hike up and zoom down back to base camp.
Location: 150 Jozo Weider Blvd, The Blue Mountains
What's better than hurtling down an icy hill in a whirling innertube all day? Tubing all day … and into the night. Check out the evening hours and ticket options at this exhilarating tube hill.
Location: 5050 Kamiskotia Road, Timmins
Find adventure in York Region at this multi-activity playground, which includes a thrilling four-lane tube hill complete with carpet lift and snowmaking capabilities.
Location: 26479 Civic Centre Road, Keswick
Located in Donald M. Gordon Chinguacousy Park, this ski facility features a fun tube hill with a magic carpet ride to get you back to the start. The on-site ski chalet welcomes with a warm fire and great view of the hill.
Before heading out (up, down and over), be sure to check with each facility to learn more about any helmet requirements and height restrictions. Then hang on and enjoy the ride!
Location: 9050 Bramalea Road, Brampton
Nature's Harmony Ecolodge is a complete winter destination for families looking for snow-based fun. In addition to an outdoor obstacle course, skating pond, and extensive trails, they offer seven unique snow tubing lanes.
Overnight guests have full access to activities. Day passes are also available on the weekends and holidays, including March Break.
Location: 574 Snake Creek Road, Mattawa

Source: Destination Ontario