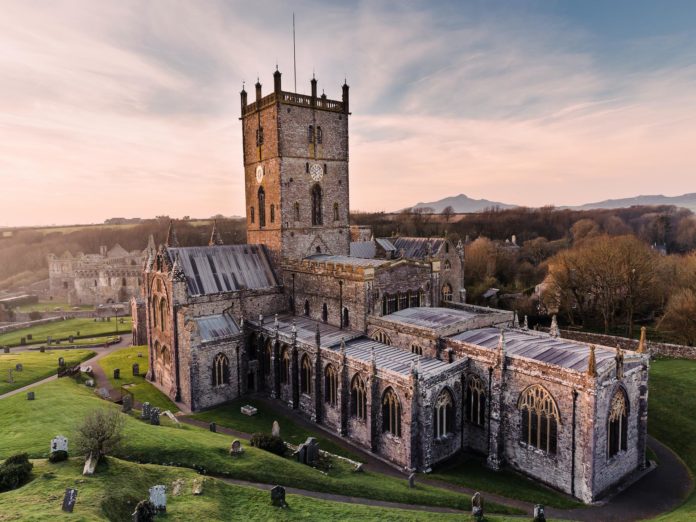 St Davids is one of the great historic shrines of Christendom. Nowhere in Britain is there a more ancient cathedral settlement, for it reaches back fourteen centuries and survived the plunder of the Norsmen in the 'Dark Ages'.
St David chose this wild, beautiful region as the site of his monastery in the 6th century and you will find his shrine in the purple-stoned cathedral, which nestles inconspicuously in a grassy hollow beneath the rooftops of the tiny city.
Tower Gate House and Bell Tower
The 15-foot high Close Wall, built in the 14th century enclosed the original cathedral city. The wall was pierced by four gatehouses. The Tower Gatehouse, is the only survivor and was used by the medieval town council. Also housed in the Tower Gate House is the lapidarium (where there is a display of religious stones) and below is the bishop's dungeon. Next to the gatehouse stands the 13th century Bell Tower which now has a Royal ring of ten bells.
St Davids Catherdral Exhibition
The Gatehouse contains an exhibition designed to introduce the pilgrim/visitor to the history and life of the Cathedral today including its daily worship.There is information about St David himself, about mediaeval pilgrimage to St Davids (two trips to St Davids was equal to one to Rome itself), and the importance of St Davids. In mediaeval times St Davids occupied a strategic position at the junction of major land and sea routes between England, Wales and Ireland and therefore the monarch took an interest in St Davids, William the Conqueror visiting in 1081.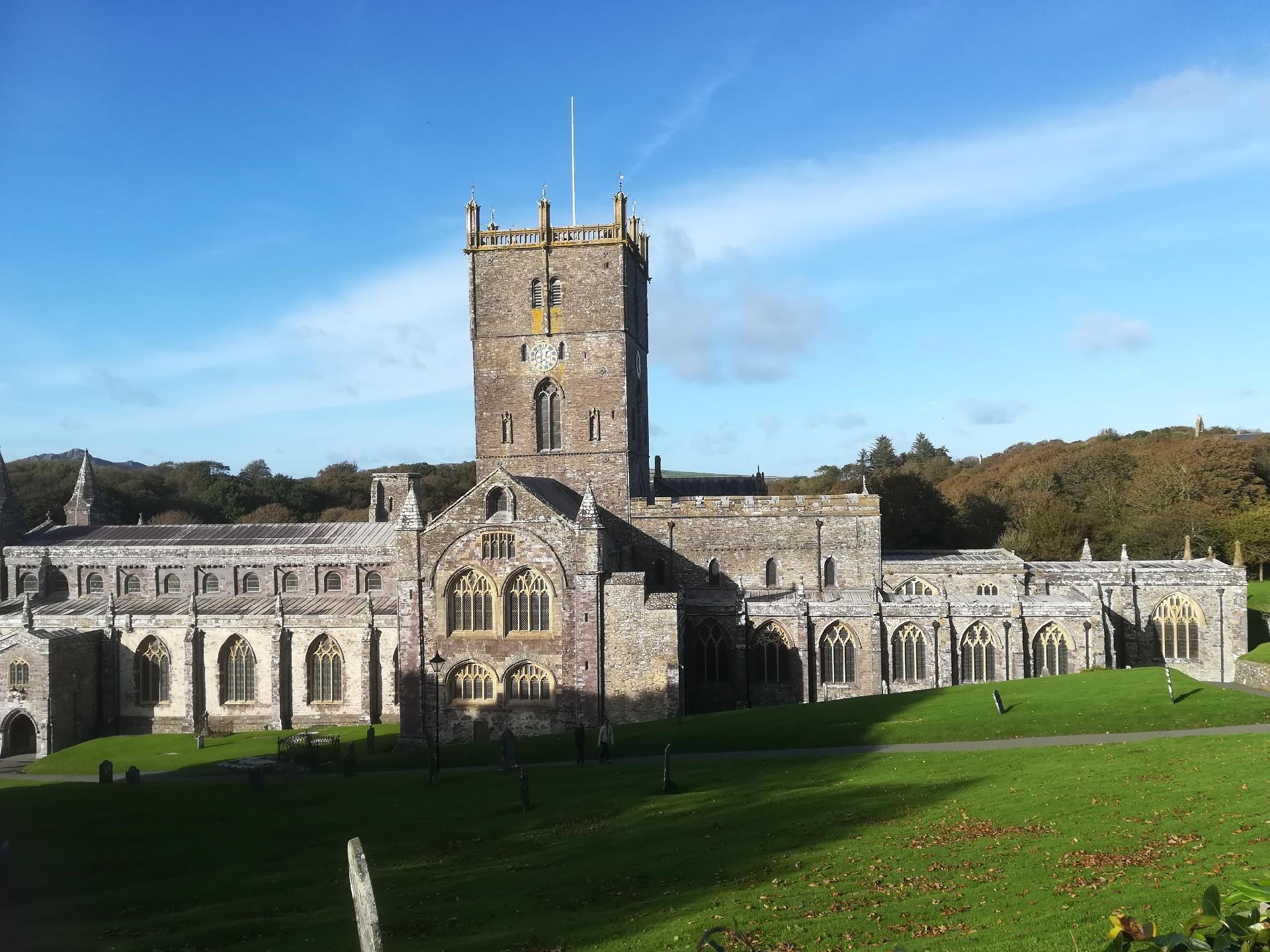 St Davids CathedralThe exhibition then considers Reformation and Revolution and the impact of these on the Cathedral when in the Civil War, Commonwealth troops did severe damage to the cathedral and destroyed manuscripts in the library.
The last phase covering the last two centuries has been a time of renewal and rebuilding culminating in the restoration of the gatehouse and the recreation of the mediaeval cloisters.
Also housed in the Gatehouse is a Mediaeval Bell and the Abraham Stone, which is the gravestone of Hedd and Isaac, sons of Bishop Abraham, killed by the Vikings in 1080. The decoration reveals a blend of insular Celtic and intrusive styles. Amongst other items on display is the carving from above the door of the West Front designed by Nash.
The Treasury
The Cathedral Treasury provides a safe home for treasures which tell the story of Christian worship and scholarship at St Davids that began 1,500 years ago and which continues to the present day.
The Library
The Library has collections belonging to Deans, Bishops and Clergy dating back to the 16th century.Books and other material are constantly being added and the subject matter is St. David, St Davids, Wales, and Church in Wales history. The library also holds a collection of local and cathedral photographs dating back to the 19th century and the Parish Registers.