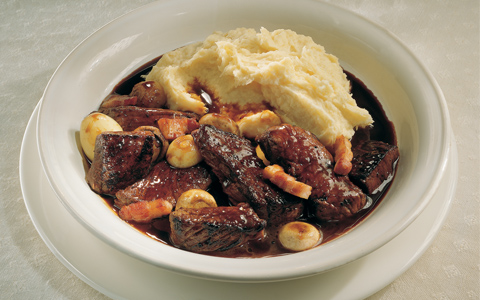 The best recipe available using beef and stout.
Ingredients
1kg shoulder beef, cut into thin slices
1 tablesp. olive or rapeseed oil
1 onion, chopped
2 leeks, 2 carrots, 2 celery sticks, chopped
2 cloves garlic
250ml well reduced beef stock
125ml stout
Salt and black pepper
50g butter
75g streaky bacon, diced
100g wild mushrooms, if available, sliced
50g small onions, peeled
25g flour
Heat the oil in a large pan, brown the meat well. Remove to a pot.
Next sauté half an onion, leeks, carrots and celery. Add to the meat along with the garlic.
Pour in the stock and stout, season. Simmer gently for approximately 1½ hours.
Remove the meat from the pot. Strain the liquid. Discard the vegetables. Place the meat back in a clean pot, plus the liquid.
Sauté the bacon, mushrooms and remaining onion in 25g of butter. Add to the pot. Reheat the lot.
Blend the flour with remaining butter. Stir it into the sauce, stirring well. Taste for seasoning.
Serving Suggestions
Serve in a deep dish with buttery mash.
4-6 persons 1.5hr cooking time