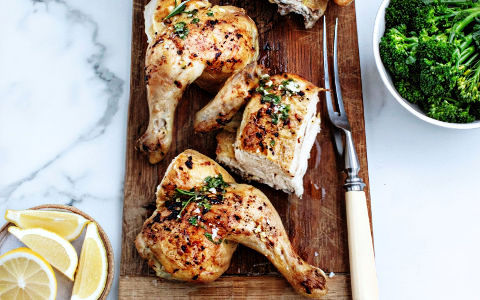 This is a great way to get a juicy roast chicken, bursting with flavour.
Ingredients
1 chicken, approx. 1½kg, spatchcocked
1½ tablesp. olive oil
Zest and juice of 1½ lemons
3 garlic cloves, peeled and crushed
½ tablesp. rosemary leaves, chopped
Salt and freshly ground black pepper
Potatoes

1.2kg potatoes, washed and thinly sliced
1 onion, peeled and thinly sliced
½ tablesp. rosemary leaves, chopped
2 tablesp. butter, melted
200mls stock or waterHerby Oil Dressing

100mls olive oil
Zest of 1 lemon
1-2 cloves garlic, finely chopped
Handful of finely chopped flat leaf parsley
Salt and lots of black pepper
Preheat oven to Gas Mark 4, 180°C (350°F).
Prepare the marinade by mixing 1 tablespoon olive oil, lemon zest and juice, garlic, rosemary and black pepper.
Place the chicken in a large dish and brush over the marinade. Marinate in the fridge overnight if possible.
To cook: Place the potatoes, onion, rosemary leaves, butter, and seasoning in a large bowl and mix well. Spread them over the base of a large roasting tin.
Pour over the stock or water. Place the chicken on top, skin side up. Season with salt. Drizzle the remaining ½ tablespoon oil over the chicken.
Roast in the preheated oven, uncovered, for 1 hour or until the juices run clear. Remove from the oven, cover with foil and allow to rest 10 minutes.
While the chicken is cooking combine all the ingredients for the dressing. Taste and adjust the seasoning if necessary.
Serving Suggestions
To serve:, quarter or carve the chicken and drizzle over some dressing. Serve with the potatoes, some tender stem broccoli and remaining dressing.
4 people1 h 15 min