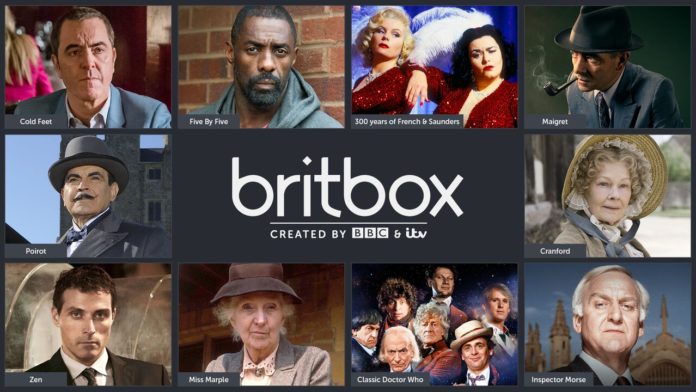 The Bletchley Circle and In The Dark highlight this month's program releases
BritBox, the subscription streaming service from BBC Studios and ITV offering the biggest collection of streaming British TV, will bring a long list of intriguing dramas and mysteries in the month of July. BritBox will also celebrate the early career of Benedict Cumberbatch, and cap off the month with the first two seasons of The Bletchley Circle.
Screeners and assets are available upon request for select programming.
• July 1: The Village – (North America Premiere) – The Village is a BAFTA nominated historical drama written by Peter Moffat (The Night Of) set in the rolling hills of the beautiful Peak District in England's Derbyshire, through which we see the story of twentieth century play out. Historical events, change, progress and shifts in national identity are all refracted through the story. Starring John Simm (Doctor Who).
• July 3: The Last Leg Season 14 – (North America Exclusive Premiere) – Joining the slate of amazing shows in BritBox's Panel Channel is The Last Leg a news chat show that lampoons the headlines and puts a satirical spin on current affairs. Adam Hills, Josh Widdicombe and Alex Brooker along with celebrity guests take on the news every week direct from the UK.
• July 4: Doctor Blake Mysteries – (BritBox Premiere – Season 4) – In this hit BBC1 crime drama, mysteries, murders and deceit take place in the fascinating sub-cultures of 1960s Ballarat ranging from the boxing ring to vineyards and from Gypsy camps to the Debutante Ball.
• July 4: Doctor Blake Mysteries – (North America Exclusive Premiere – Season 5) – The follow up and final series of this crime drama takes place in post-war Ballarat and tackles cultural subtext such as discrimination against aborigines and the continuing problems of assimilation faced by post-war European migrants.
• July 7: In the Dark – (Canada Exclusive Premiere) – A gutsy detective in her mid-thirties, Helen Weeks is drawn into the two most testing and personal cases of her career – just as she begins her journey towards motherhood. When the husband of an estranged school friend is accused of abduction, Helen must return to her hometown and confront her painful past. When a brutal tragedy drags her into Manchester's dark criminal underbelly, she is forced to question even her closest relationships. Adapted by Bafta-winner Danny Brocklehurst from the books of bestselling novelist Mark Billingham.
• July 11: BBC Three's Murdered By… – BritBox features a collection of BBC Three's multi BAFTA award winning true story drama films based on real life British events.
• Murdered By My Boyfriend – (North America Exclusive Premiere) – BAFTA-winning drama telling the true story of what happens to a teenage girl when she falls in love with the wrong man. The everyday story of young love turns dark and sinister when the handsome and charming boyfriend seeks to dominate every aspect of the young woman's life. A tale of contemporary Britain that every young person should watch.
• Murdered By My Father – (North America SVOD Premiere) – Every parent wants the best for their kids, and Shahzad is no exception. Ever since his wife died he's been trying to keep his two children Salma and Hassan on track. Salma is growing up quickly, and Shahzad wants to make sure she's set up with the right guy. But what does Salma want? Unbeknownst to Shahzad, she's caught up in a whirlwind romance with charismatic charmer Imi. Salma knows Imi is not what her dad is expecting, but can she find a way to make everyone happy? A hard-hitting, BAFTA-winning drama with a devastating finale, this is a story about the power and the limits of love in communities where 'honour' means everything.
• Murdered For Being Different – (North America Exclusive Premiere) – Real-life drama about the murder of 20-year-old Sophie Lancaster who was kicked to death in a park by a gang in 2007. Her boyfriend, Robert Maltby, was also severely beaten and ended up in a coma. The two of them were attacked because they were dressed as goths.
• Killed By My Debt – (North America Exclusive Premiere) – In January 2015, Jerome Rogers, a popular nineteen-year-old from a council estate, finally got what he'd been working for – a new motorbike and his first real job as a courier. But in the hands of bailiffs, two minor traffic fines rose exponentially. Under the pressure of his debt, Jerome went to the woods where he had played as a kid and took his own life. This is his story.
• July 19: "CumberBATCH To The Future" event – Celebrating Benedict Cumberbatch's birthday
• Fields of Gold – (North America Premiere) – Benedict Cumberbatch's first role, this intelligent and gripping drama delves deep into the topical and controversial issue of what we eat. Press photographer Lucia and world-weary journalist Lodge find themselves investigating the sinister connections between government, big business and biotechnology.
• Van Gogh: Painted With Words – (BritBox Premiere) – Benedict Cumberbatch portrays Vincent Van Gogh in this powerful and critically-acclaimed docudrama. Based on years of painstaking research, with every single word of dialogue sourced from his original writings, this is the artist's story in his own words.
• July 27: The Bletchley Circle – (BritBox Premiere – Seasons 1-2) – The Bletchley Circle is a code-breaking murder mystery based on the lives of four extraordinary and brilliant women with razor-sharp intelligence skills. These four women become unlikely investigators, set against the backdrop of post-war London.
BritBox is now available to Canadians for $8.99 per month, after a 7-day introductory free trial period, through web, iPhone, iPad, android phone & tablets, Apple TV, Chromecast, and Roku®.