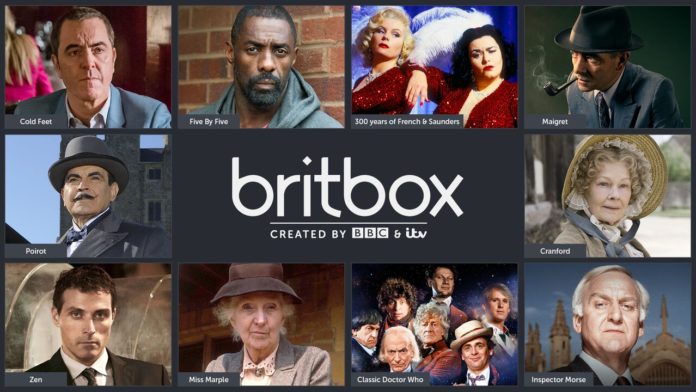 Grab your cozy spot on the couch and watch the Telly!!
New Streaming Service BritBox Offers Canadians Access to
Largest Collection of British Content
Exclusive Canada Premieres Include Compelling Dramas Five By Five, Produced by and Starring Idris Elba, and Little Boy Blue, Featuring Stephen Graham
Exclusive SVOD Premieres Include Maigret, Starring Rowan Atkinson
"Now" Feature Brings British Shows to Canada Within Hours of Their UK Premiere
Exclusive Home to Classic Doctor Who, Keeping Up Appearances,
Torchwood, and Poirot
The subscription video-on-demand (SVOD) streaming service will bring Canadians the very finest and largest collection of British TV available in the market today.
Five by Five, produced by and starring Golden Globe® winner and Oscar® nominee Idris Elba (Luther), and Little Boy Blue, a four-part factual drama featuring Stephen Graham (Tinker Tailor Soldier Spy) make their exclusive Canada premieres and Maigret, starring iconic international actor Rowan Atkinson in his first drama series, makes its exclusive Canada SVOD premiere. Alongside Maigret, BritBox will exclusively present "Rowan Rewind," a curated selection of the actor's previous works, including Canned Laughter, which features an early iteration of the beloved Mr. Bean character.
Fans will be able to watch the classic shows they love while discovering new hit series available shortly after their UK broadcast with the "Now" feature – which has an amazing selection of dramas, news programs, and soaps, including Ant & Dec's Saturday Night Takeaway, The Papers, PMQ (Prime Minister Questions), and much-loved titles Emmerdale, Holby City, and Casualty.
Soumya Sriraman, President, BritBox North America, said, "We know that Canadians have a deep affinity for British culture and the extraordinary television programs produced in the UK, so launching BritBox in Canada has always been at the top of our list. The fact that we can also, for the first time ever, premiere some of the most popular British programs and big special events such as Trooping the Colour as soon as 24 hours after their UK premiere is – hopefully – the cherry on the sundae."
The streaming service is also home to Canadian premiere series such as:
• Silent Witness, one of the longest-running procedural dramas starring award winner Emilia Fox (The Pianist) and David Caves (Jackie)
• Reg, Jimmy McGovern's International Emmy®-nominated and RTS-winning drama starring Tim Roth (Twin Peaks) and Anna Maxwell Martin (Philomena)
• Cold Feet, starring Golden Globe-nominated James Nesbitt (The Hobbit: An Unexpected Journey) and BAFTA-nominated Helen Baxendale (Friends)
And timeless gems exclusive to BritBox include:
• Classic Doctor Who, the largest digital catalogue of the long-running series featuring William Hartnell, Patrick Troughton, Jon Pertwee, Tom Baker, Peter Davison, Colin Baker, and Sylvester McCoy as the Doctor
• Torchwood, the Doctor Who spin-off starring BAFTA Award-nominated John Barrowman (Arrow) and created by BAFTA Award winner Russell T Davies (Doctor Who)
• Keeping Up Appearances, written by BAFTA Award winner Roy Clarke (Last of the Summer Wine) and starring Patricia Routledge (To Sir, With Love)
• Poirot, the BAFTA Award-winning series adapted from the books by Agatha Christie and starring Emmy winner David Suchet (Doctor Who)
BritBox is now available to Canadians for $8.99 per month, after a 7-day introductory free trial period, through web, iPhone, iPad, android phone & tablets, Apple TV, Chromecast, and Roku®.