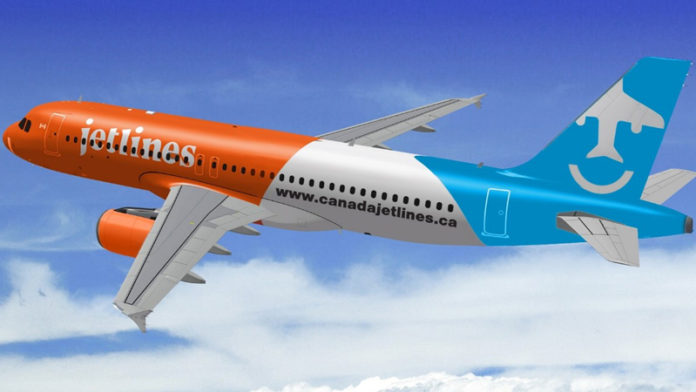 Canada Jetlines Operations Ltd. (NEO: CJET) ("Canada Jetlines") is proud to announce that its first aircraft, an Airbus 320 registered under C-GCJL, landed at the Kitchener/Waterloo airport (CYKF) at 14:33 ET on Saturday February 26, 2022. The aircraft was flown from Shannon, Ireland where it recently underwent painting and interior refurbishing. The flight was operated by Captain Randy Howe (Canada Jetlines' Chief Pilot) and Captain Colin Forrest, both pilots having recently completed their Canada Jetlines' A320 pilot training and simulator check ride monitored by Transport Canada.
"This is a very special day for Canada Jetlines," said Eddy Doyle, CEO of Canada Jetlines. "I am very proud of the hard work completed by the entire Canada Jetlines team which made this day possible. The amazing aircraft livery and interior represent the new, fun, and exciting Canada Jetlines. This is an important milestone for our airline as we continue on the path to obtain our Air Operator Certificate from Transport Canada. We are looking forward to operating our first revenue flights and welcoming our first guests following the receipt of regulatory approvals."
Please visit www.jetlines.com to learn more, sign up for email updates, and follow on all social media platforms to join the Canada Jetlines family. You can also CLICK HERE for footage of the airplane arrival and a discussion with Canada Jetlines CEO, Eddy Doyle.