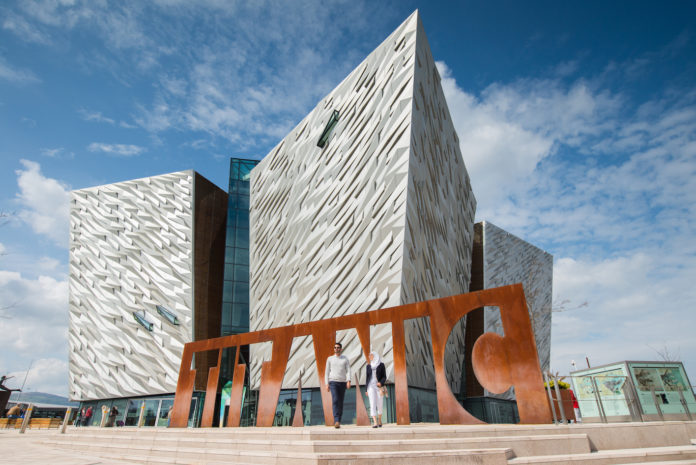 Voted the World's Leading Tourist Attraction and recognised as one of Northern Ireland's most iconic landmarks, Titanic Belfast is getting ready to mark its tenth birthday.
To mark its 10th anniversary on 31 March, the world-leading attraction is inviting people to share their favourite 'Titanic Memories' from over the last decade for the chance to be included in a special show-reel.

Perhaps you popped the question to your partner, enjoyed a special trip away with family, celebrated a big birthday or bumped into your favourite celebrity – if you have a Titanic Memory then Titanic Belfast wants to hear from you.

If you are one of the over six million people from around the world who have enjoyed a trip to Titanic Belfast since it opened, joining VIP guests such as Her Majesty The Queen, Titanic director James Cameron and celebrities including Adele, Sir Rod Stewart, The Backstreet Boys and Michael Bublé, then don't miss the chance to be part of the milestone anniversary.

You can share your Titanic Memories by emailing your photograph and a short blurb telling the story to digital@titanicbelfast.com.

The best movie-magic moments will be selected to star in a 10th birthday show-reel, alongside some of Titanic Belfast's staff's favourite moments. The short film will be premiered during the birthday celebrations and will also be available online for people to watch around the world.

First opened on 31 March 2012, the spectacular Titanic Belfast building sits on the water's edge beside the original Harland & Wolff Drawing Offices, the Hamilton Graving Dock and the Titanic Slipways – the very spot where the mighty RMS Titanic was designed, built and launched.

Over six floors and nine interactive galleries, the stunning attraction tells the story of the legendary liner from her conception, through her construction and launch into Belfast Lough, to her fateful maiden voyage and subsequent place in history.

There is no bigger story and no better place to discover it than in Titanic Belfast, which has not just captivated millions in the last ten years but has also spawned a plethora of maritime heritage attractions in the surrounding urban waterfront.
Titanic Discovery Tour
Titanic Belfast is the centrepiece of the Titanic Quarter, a bustling destination within the city's Maritime Mile. Everywhere around this iconic waterfront, you can feel and connect to the spirit of Titanic, Belfast's rich maritime and industrial history, plus a huge range of excellent experiences.

From the River Lagan and the old Clarendon Docks and Sailortown areas to the Titanic Studios, one of Europe's largest film studios, the area is packed with exhibitions, historic buildings, a public art trail and endless Instagram moments and opportunities to delve into authentic Belfast stories.

You can take self-guided or escorted walking, cycling, tram and boat tours of the Maritime Mile in a few hours, or linger longer for a wonderful extended Belfast waterfront experience in its first-class hotels, restaurants and bars.

Board SS Nomadic, the world's last remaining White Star vessel and Titanic's original tender ship. She is now restored to her original glory and back home in Belfast's Hamilton Graving Dock.

Check out the vast Thompson Dry Dock, the 'footprint' of the Titanic and the place she last sat on dry land, or take the Glass of Thrones Trail, a series of six stained-glass installations that celebrate Northern Ireland as the home of Game of Thrones®.

Relax over a cocktail or afternoon tea in Titanic's remarkable drawing offices, once the nerve centre of the largest shipyard in the world and now the luxury Titanic Hotel.

As evening falls, watch the 130-year-old Great Light illuminate the old and new. Head to a concert, the cinema, or to some fine-dining, or just chill and watch the ships sail by.

You can also check out We Are Vertigo in Titanic Park for a spot of indoor skydiving, an inflatable park and a ninja master course, or head to W5, a recently revamped and much-loved science and discovery centre in the Titanic Quarter that will excite and inspire.

Whiskey lovers should look out for the new Titanic Distillers due to open later this year. Housed in historic Titanic Pump-House, a listed building in the heart of Titanic Quarter.

But make sure to start – or cap – it all off with a visit to the shimmering Titanic Belfast, the biggest and best experience of the most famous ship in the world.

The self-guided Titanic Experience inside Titanic Belfast will uncover the sights, sounds, smells and stories of the ship, as well as the people and city that made her, while the outdoor Discovery Tour will reveal the hidden symbolism of the iconic building as you walk in the footsteps of the designers and shipbuilders who brought the 'ship of dreams' to life.

www.ireland.com