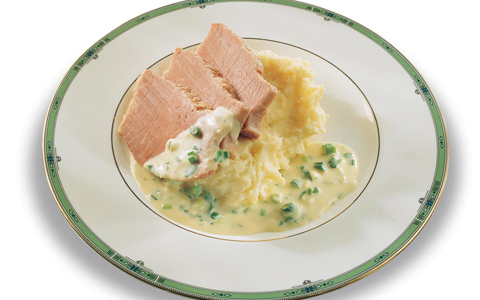 This is a traditional favourite and much enjoyed worldwide….
1½ kg silverside or brisket corned beef
1 carrot
2 celery sticks
2 leeks
1 teasp. peppercorns
250ml dry cider
Parsnip Mash
½ kg potatoes, peeled and chopped
½ kg parsnips, peeled and chopped
125ml mixture of milk and cream
Knob of butter
Salt and black pepper
Irish Mustard and Cider Sauce

50g butter
25g flour
1 tablesp. mustard
250ml mixture cooking liquid and dry cider
Dash of cream
2 tablesp. scallions (spring onions), chopped
Place the joint in a large saucepan. Add the chopped vegetables, peppercorns and cider. Add enough water to cover the joint. Bring to the boil, then simmer for approx. 40 mins per ½ kg or until the meat is tender. Leave in the liquid until ready to serve.
While the meat is cooking, place the potatoes and parsnips in a large pot. Cover with water. Season, bring to the boil, then simmer until both parsnips and potatoes are cooked. Drain well, then mash really well with the milk, cream and butter. Whip in the scallions, season well. Keep warm.
To make the sauce: Melt the butter, stir in flour. Cook for a minute or two. Add mustard, whisk in the cooking liquid and cider. Bring to the boil, then simmer for 3-4 minutes.
Stir in the cream and scallions and taste for seasoning. Serve the corned beef sliced with the parsnip mash, sauce and buttery cabbage.
Serves 6 – 2.30 hrs