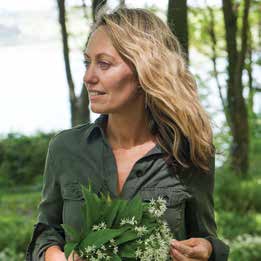 As an Irish chef Clodagh is the author of five best-selling cookery books, which include 'Clodagh's Irish Kitchen' and 'Homemade'. Clodagh has filmed four television series entitled 'Fresh From the Farmers Markets', and 'Fresh From The Sea', which have aired in Ireland, UK, Europe, New Zealand, Australia, Canada and in the US 'Clodagh's Irish Food Trails' which aired on PBS and Create TV reaching audience levels of over 15 million. Clodagh is a regular Food Presenter on The Marilyn Dennis Show and joins us in this issue!
Clodagh has been working in food for 19 years. She studied in France and New York- trained and worked at Ballymaloe Cookery School and House in County Cork and worked for three years developing farmers markets across Ireland, which she is very passionate about. Her work in Slow Food Ireland brought her to work at the Slow Food University in Italy, where she stayed for 3 years. She has a restaurant in Dublin and creates the menu with Aer Lingus onboard European and Transatlantic flights. Her food ethos is simple, local, seasonal with a fresh take on Irish cooking. Clodagh has many influences in her cooking, having lived in Italy and France, but the bases of her passion for food is Irish. Clodagh would describe her cooking as a fresh modern take on Irish food with a focus on seasonal and local produce. She also does Clodagh's Irish Kitchen pop ups, including one at The Whitney Museum (NYC), Selfridges (London), and Fortnum and Mason (London).
CRUNCHY SPICED CHICKEN WRAP WITH SUMMER PEA GUACAMOLE & RED PEPPER RAITA
My guilt free indulgence as seen on NBC Today Show on Friday 22 July. Aromatic chicken with creamy pea guacamole and cooling and sweet roast red pepper raita, all wrapped in a crunchy romaine lettuce. This is delicious… and it's great for your waistline.
Ingredients – Serves 2
6 romaine lettuce leaves
sea salt and freshly ground black pepper
For the Chicken
2 small fillets of chicken
½ teaspoon ground cumin
½ teaspoon ground cinnamon
¼ teaspoon paprika
juice and zest of 1 lemon
2 tbsps olive oil
For the Summer Pea Guacamole
8oz peas (fresh or frozen)
1 avocado, peeled
1 tablespoon fresh mint, chopped
½ teaspoon chilli flakes
1 tablespoon of crème fraiche
juice and zest of 1 lime
For the red pepper raita
¼ cucumber
100g 0% fat Greek yogurt
½ roasted red pepper, diced
Method
• Pre-heat the oven to 350oF/gas mark 4.
• Start by making the chicken marinade: place all the spices in a bowl, along with lemon juice, 2 tbsps of olive oil, and season with sea salt and freshly ground black pepper and whisk together. Add the chicken breasts to the bowl and coat with the spicy marinade. Leave to marinade for 30 minutes in a fridge or overnight.
• Place a griddle pan over a medium heat and once hot, place the marinated chicken breasts on the pan and cook for 2-3 minutes on each side. Then transfer to the pre-heated oven for 10 minutes. Remove the chicken from the oven, and allow it to rest for 5 minutes.
• To make the summer pea guacamole: place all the ingredients in a food processor, season with sea salt and freshly ground black pepper and blend for a minute or until smooth. Then scoop into a bowl.
• To make the red pepper raita: grate the cucumber into a bowl, and mix in the yogurt and roasted red pepper.
• To assemble: Slice the chicken into thin strips. Take one romaine lettuce leaf, spoon a few slices of chicken, pea guacamole and fennel raita into the the leaf. I would serve 2-3 wraps per person depending on the sizes of the romaine lettuce leaves.
OAT AND IRISH HONEY PEACH CRUMBLE
Ingredients – Serves 4
60g whole hazelnuts
100g oats
70g butter
1 tsp fresh rosemary, finely chopped
2 tablespoons honey
4 ripe peaches
Method
• Preheat the oven to 190C/Gas 5.
• For the filling, roast the hazelnuts in a frying pan over a medium heat until golden-brown, remove and chop the hazelnuts finely.
• Place a saucepan over a low heat and melt the butter, then stir in the honey, follow by the oats, rosemary and chopped hazelnuts. Mix well and then remove from the heat.
• Slice the peaches in half, remove the stones and scoop a round spoonful of the filling onto each half.
• Place the filled peaches in an ovenproof dish, and bake for 15 minutes.
• To serve, place the baked peaches on to serving plates, with a scoop of whipped cream or ice cream.
LIME AND MINT GIN SODAS
Ingredients – Serves 6
For the syrup
1 ½ cups of sugar
3 cups of water
6 sprigs of fresh mint
zest of 4 limes
For the soda
Juice of 4 limes
Ice
Soda water
Gin
Method
• Start by making the lime and mint syrup. Place the sugar, water, sprigs of mint and lime zest in a saucepan over a medium heat and gently bring to the boil, stirring until the sugar is dissolved.
• Once the sugar has dissolved remove from heat, and leave to infuse for 1 hour.
• Once the syrup has infused, remove the sprigs of mint and stir in the fresh lime juice.
• When you are ready to serve your sodas, fill the glasses half way with ice, a slice of lime and ½ sprig of fresh mint. Fill the glass with ¼ way with the lime and mint syrup, ¼ gin and ½ way with soda water.
• Stir and serve.
BBQ CHICKEN BURGER
Ingredients – Serves 4
600g ( 1 1/3 lb)ground chicken meat
200g (1 ¾ lb) fine breadcrumbs
1 onion, finely diced
1 tsp Dijon mustard
1 tbsp lemon juice
4 burger buns
4 slices of Fontina cheese
sea salt and freshly ground black pepper
To Garnish (optional)
Sliced tomato
Sliced red onion
Lettuce
Mayonnaise
Dijon mustard
Pickles
Method
1. In a large bowl, combine chicken, breadcrumbs, onion, mustard, and lemon juice. Season to taste with salt and pepper. Shape into 4 equal patties, each about 175g (6 oz), cover and place in a fridge. Refrigerate for about an hour.
2. Grill the chicken burgers on a hot barbeque for about 4-5 minutes on each side. Place the cheese on top for the last minute to melt.
3. Slice and lightly toast the burger buns, put the patties in the buns and garnish as liked.
This recipe first appeared in Clodagh'