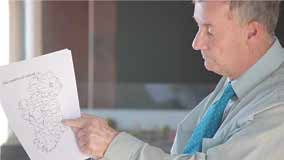 You can choose your friends but you cannot choose your family.
In the case of Smiths Falls, however, there may be a large family connection with Carnew, County Wicklow, Ireland, that would make that market town a perfect fit as a sister city.
A public meeting on the possibility of twinning with the Irish town was held at the Railway Museum of Eastern Ontario on Tuesday, July 26.
"Despite the name, I'm half-Irish," said Mayor Shawn Pankow in starting the meeting. The Irish connection is through his mother's side, which left County Wexford in 1814.
Another traveller from Ireland, historian Kevin Lee, visited Smiths Falls in 2015, who noticed the similarity in names found at local graveyards and those of families who were forced to emigrate from Ireland in the 19th century. On May 2 of this year, Ian Ashe, a volunteer representative from the Irish Embassy in Ottawa, met with Pankow "to try to see and understand this connection a bit more."
It turns out that, in the 1830s onward, according to a town press release, Earl Fitzwilliam, "landlord of the Coolattin Estate (outside Carnew), assisted many thousands of his tenants in finding a new life across the Atlantic. During the period 1847-1856 (the Potato Famine years, and their aftermath) there were roughly 6,000 people evicted from the Coolattin Estate. Fitzwilliam arranged for the passage of these tenants, many of whom settled in the Smiths Falls area, finding work on the railways and establishing farms in the area."
Those 6,000 Irish, "played a huge role in developing this town," said Pankow. Many millions of Irishmen and women fled Ireland during the famine in the mid-to-late 1840s that by the time of the 1871 census, 50.2 per cent of Smiths Falls residents were of Irish descent, compared with 19.5 per cent Scottish and 18.3 per cent English.
But the Irish did not settle in Smiths Falls exclusively. The same census data showed that as many as 62.8 per cent of Montague Township, in 1871, was Irish.
"Our council has embraced the whole concept," said Pankow.
"People are excited about the idea of celebrating Irish heritage," said Ingrid Bron, the Town of Smiths Falls' economic development and tourism coordinator. "Smiths Falls really is an Irish town at its roots."
She encouraged residents to let town hall know "what kind of events you'd like to see," to mark the twinning, to have a "homecoming of Irish ancestors throughout the area."
Ashe was on hand at the meeting to provide some more background on the Irish emgriation to the area, which began with a presentation he saw on the Coolattin Estate in Chelsea, Que.
"I was really struck by the story," the Irishman said.
"The famine, unfortunately, was (a story of) kill or be killed," he said. "The landlords were as hungry as the tenants. Landlords were brutal with the tenants. But Coolattin was an exceptional story. He (Fitzwilliam) could not house the tenants any more…there was no food. The potatoes were rotten in the field."
As it turned out, Fitzwilliam had invested in shares in Canadian railway companies, and so he sent many of his former tenants to Canada, "and there would be jobs for them on the railway."
He added that the Coolattin story stood out, in a good way, among the miserable backdrop of the famine years.
"The more you research this, the more extraordinary it becomes," he said, calling Fitzwilliam "The Good Landlord." He was not the only landlord with a heart, since "there were others, but none so distinguished…this is a story, a story about people, people in utterly desperate situations."
He said that the twinning was "building a bridge," and that there was another tie-in between the south Wicklow families and this region – the Rideau Canal. Many became labourers and ended up working under Col. John By to build the canal. "I congratulate you on taking it up," said Ashe.
Local historian Tony Humphrey agreed that there must be many Irish labourers buried along the canal, including right here in Smiths Falls, at the old graveyard now covered by houses in the Jessie Street and Aberdeen Avenue area. The graveyard fell into disuse by the 1870s.
"We don't know how many people are buried there," he admitted, since any bodies from Lombardy were brought in from the country and buried there too. "Most of the itinerant Irish labourers were buried with a wooden cross and a stone," as a marker. Because of "swamp fever…they were dying in droves. We lost many of them in building the canal."
Bron mentioned that she has been in touch with St. Francis de Sales Roman Catholic Church and "they are quite interested in this project and they will give us access to their records," to see what Irish Catholics were buried where.
Ashe returned to the conversation to say that with Ireland's ambassador to Canada, Dr. Ray Bassett, leaving his position this summer, a new ambassador will be sent by the Dublin government soon, likely arriving in Ottawa this September.
"He will know that Smiths Falls is in his future," said Ashe. "There is no doubt in my mind…that he (or she) would have to be here."
Later this summer, Pankow will be visiting Ireland, on his own dime, for his family vacation. From Aug. 20 to 26, the Coollattin Canadian Connection (CCC) will be hosting a week-long event entitled Homeward Trek, as part of the ongoing project, launched by Canada's ambassador to Ireland, Kevin Vickers, and local Wicklow TD (Gaelic for MP) Simon Harris this past February. The CCC, it is hoped, will "provide a forum through which the descendants of these immigrants can seek out knowledge on their family history, and return to the land of their forefathers with facilitated tours of the estate and region," according to the town's press release.