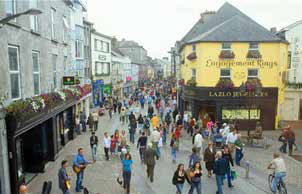 With a youthful population and a bohemian spirit, Galway's charms are best enjoyed by strolling the city lanes and soaking up the atmosphere. There's plenty to keep sightseers happy, too
1. Shop for some traditional Celtic jewellery
Call in and watch Jonathan Margetts tinkering with rings in Thomas Dillon's shop. He's an expert on the history of the Claddagh Ring, Ireland's most famous traditional ring. The rings were originally made in the shop, which date back to 1750.
2. Savor the tastes
From award-winning chips at McDonagh's to fabulous farmhouse Irish cheeses at Sheridan's – you'll find something to your taste in Galway. No visit is complete without calling in to the family-owned Griffin's Bakery (going strong since 1876 and now in its fifth generation) for their unbeatable breads.
3. Experience a musical medieval church
Packed with curious corners and ancient tombs, Ireland's largest medieval parish church, St Nicholas's Collegiate Church, was built in 1320. These days, the traditional 'Irish Tunes in the Church' feature the rector on his concert flute on summer nights. Don't miss the weekend Galway Market just beside it, too.
4. Explore the house of James Joyce's wife and muse
What looks like an unremarkable house in Bowling Green is now a museum. It was originally the tiny family home of Nora Barnacle, James Joyce's wife and muse. The couple had their first date on 16 June 1904. This date was immortalised in Joyce's most famous work Ulysses, and is now universally known as Bloomsday.
5. Kick up your heels at Monroe's Tavern
Take your partner's hand for the Siege of Ennis or the Walls of Limerick traditional Irish dances. Tuesday night is set-dancing night at Monroe's Tavern: "It's a great shindig," says bartender Catriona Gormally, "and once the tourists have watched for 30 minutes there's no stopping them getting up to dance, too".
6. Visit the Spanish Arch
The Spanish Arch Hotel on the bustling Quay Street is the perfect spot to enjoy a locally brewed beer and some people watching from its outdoor seating. Its nearby namesake, the actual Spanish Arch was once part of the city's 18th century walls.
7. Visit the Galway City Museum
Beside the arch is this museum with free admission and several permanent and temporary exhibitions. It celebrates the city's history from its humble beginnings as a tribe town to the buzzing bohemian place it is today.
8. The Bridge Mills
This mill was first built in 1562 and was owned by one of the original 14 tribes of Galway – the Martyns. However, it was demolished and rebuilt in the 19th century and that's the building standing today. Inside is a lovely restaurant and shop selling Irish crafts, so leave space in your suitcase!
9. Saunter down Shop Street
Shop Street can feel like the heart of Galway at times, with its packed restaurants, pubs and cafés, jewellers and bookstores. Come night-time, the streets are filled with revellers soaking up Galway's positive atmosphere and enjoying live music and buskers all through the night.
10. Festival fun
Galway is a festival town, there's no doubt about it. Literature is celebrated at the Cúirt Literature Festival; screens are filled during the Galway Film Fleadh; the Big Tent pops up for the Galway Arts Festival; the Galway Races gallop in at the end of July; and September sees thousands of oysters shucked and enjoyed. Bon appétit!