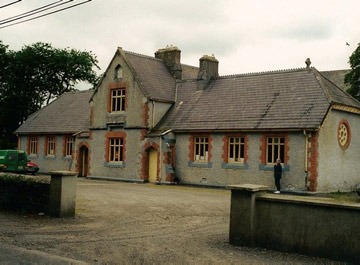 Cork-based professional archaeologist and photographer Enda O'Flaherty has a particular interest in the desolate beauty of abandoned spaces. As an archaeologist his work has taken him across Ireland and the UK and to projects as far afield as Jamaica, along the way developing a multi-disciplinary approach to landscape studies involving archaeology, physiographical studies and analysis of documentary sources.
Recently he has combined his love of photography with his professional discipline, and taken to documenting the architectural features and cultural significance of the many abandoned school houses dotted across the rural Irish landscape.
Up until the 1950s, small multi-grade schools were established throughout Ireland as part of the education infrastructure. But with an improvement in rural transport and the growing availability and popularity of motor cars, the need for small local schools that children could walk to was lessened, and larger schools covering greater catchment areas were favoured. During the period 1966-73, the number of one and two teacher schools was reduced by c.1,100. For this reason, small one and two room abandoned school houses are almost ubiquitous across the rural Irish landscape. They are often a mark of rural depopulation where communities dwindled as young people chose to leave the countryside for bigger cities and more prosperous lands.
For many who emigrated from Ireland at an early age, their days spent in these rural and isolated school houses often represented the last formal education they received before seeking a brighter future abroad. Although many of these buildings are now physically empty or approaching a point of collapse, the physical structures are cognitive stimuli for those who attended, and hold a wealth of memory and associations that shaped their understanding of the world around them at an early age. From these small rural school houses the children of Ireland took what they had learned and went out to find fortune and to explore the greater world.
O'Flaherty's Blog features some wonderful and evocative shots of these buildings, almost capturing a ghost-like presence of those who passed through their doors in the decades gone by. What makes this Blog special is that 'O'Flaherty has combined stunning imagery with documentary research, and has found original hand-written scripts from many of these schools dating from the 1930's –
In 1937 the Irish Folklore Commission, in collaboration with the Department of Education and the Irish National Teachers' Organisation, initiated a revolutionary scheme in which schoolchildren were encouraged to collect and document folklore and local history from the eldest or most knowledgeable members of their household. Over a period of eighteen months some 100,000 children in 5,000 primary schools in the twenty-six counties of the Irish Free State were encouraged to collect folklore material in their home districts. These first-hand stories, poems, recipes, phrases and local folklores were all written down by the school children who attended these schools in the 1930s, and represent a wealth of local first-hand knowledge that dates as far back as the mid -19th century. Many of the school houses featured in O'Flaherty's Blog have complimentary documents of stories from their locality, which are included in each Blog post.