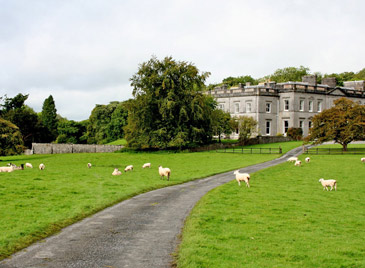 The Percevals came to County Sligo in the northwest of Ireland when George Perceval married Mary Crofton in 1665. Started 1760 and enhanced in 1825 and 1864, the Georgian-style Temple House remains one of the largest family homes in Ireland. Roderick and his wife, Helena, have opened up six rooms to paying guests. The Castle Room, has a magnificent view of the 5,000-year-old megalithic Carrowkeel tombs on a far hilltop and the lakeside ruins of the Knights Templar. Another room is the appropriately named Half Acre room with splendid parkland views. Helena is a talented interior designer and cook, a blissful combination of skills to bring to Temple House. Both she and Roderick are warm and thoughtful hosts, making their guests feel very much at ease staying in such a grand and elegant house.
At Temple House there is magic all around: the romantic ruins of an 800-year-old castle built by the Knights Templar, rising up through the morning mist like a panorama from Celtic mythology. In the evening light, the trees at Temple House are at the height of beauty, particularly a copse of beech planted in 1798. Behind the lakeside castle stands the remaining gable of a 40-foot tower, its ivy-encrusted walls built in the 14th century. It is views like this that inspired Irish poet W. B. Yeats, to write poems like The Lake Isle of Innisfree.
Temple House Lake is renowned for its coarse fishing, particularly its bream and monster pike. Dating back to 1915, there is a pike weighing 32Ib mounted above the mantle piece in the hall and in 2014 there was 46Ib specimen caught, photographed and released. This is a treasure of a place to enjoy a few days fishing and a trip that fisherman's 'other halves' may wish to join as staying in the house itself is an experience with blissful interiors and just a step outside, there are pretty strolls around the garden perfect for gentle exercise between novels by the fire and siestas before afternoon tea. Wellington boots and maps are provided!
On the romance front, Temple House is also approved for civil ceremonies and partnerships. This is a spectacular and beautiful space for guests where they mingle and sip champagne in the gardens or vestibule before moving beneath ornate ceilings to gather in the magnificent ballroom. Up to one hundred and forty guests can dine – for a larger wedding consider a buffet style house party up to 250. With Helena Perceval's culinary talents at the helm, Temple House provides its own catering and has been widely acclaimed by food lovers visiting from across the world. For additional guests, there is also a cottage on the estate that sleeps up to 8 people.
Whether you like to relax quietly with your thoughts, a game of golf (there are three championship courses within 45 minutes), a guided canoeing trip on the lake, a hike up the mountains or a stroll around the sheep pasture and natural woodlands, Temple House is a sanctuary filled with great character, huge beds, hot baths, fluffy towels, roaring fires and deep sofas along with delicious County House cooking. Not forgetting an enviable wine cellar.
Six rooms at Temple House, from $95 per person, including breakfast.
Dinner: $64
For enquiries, please email: stay@templehouse.ie
and for further wedding/party venue information, please visit www.templehouse.ie/weddings-sligo