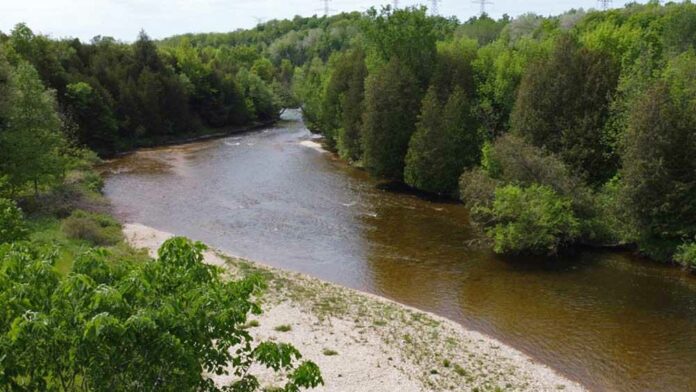 Throughout the province of Ontario, there are seemingly countless opportunities for anglers to target multi species fish with a fly rod in rivers.
These angling opportunities span from the southern-most tip of the Detroit River in Windsor to the rarely seen tributaries of Hudson's Bay to the north. Urban or rural, river fly angling is accessible to any angler with a fly rod.
Fly fishing seasons span the entire year in many areas for specific species with legal angling for specific species, such as steelhead permitted in some areas, while other species such as smallmouth bass have set seasons as determined by the Ministry of Natural Resources.
Check the fishing regulations before your trip.
Species to catch on fly
With the advancement of fly fishing technology today, every species of sportfish swimming in Ontario rivers can be caught on fly. Here are a few of the more popular species to catch on fly in Ontario rivers.
Brook trout: These spectacularly coloured fish are found in most rivers in Ontario, from the clean urban streams in the south to the massive watersheds of Ontario's north. Brook trout are considered an indicator species meaning if anglers are catching this species, they are fishing in a pristine environment. Brook trout can't tolerate pollution. They are extremely fly-friendly and can be caught and released easily.

Brown trout: This species of trout was introduced to Ontario in the early 1900's and are generally found in southern and central Ontario, with a few places on the north shore of Lake Superior where they can be angled. They are an aggressive species sought after by many fly anglers for their angry attitude and reputation to attack flies.

Steelhead / lake run rainbow trout: Steelhead, originally from the Pacific Ocean these fish inhabit Ontario's Great Lakes and are a worthy adversary for fly anglers. Entering Great Lake tributaries in both the spring, to spawn and in the fall, to feed, steelhead are very much sought after by fly fishers. Some fish will remain in Ontario rivers all year allowing for additional angling opportunities for fly anglers.

Salmon: All species of Pacific salmon have been introduced to Ontario's Great Lakes. They enter the tributaries of the lakes in late summer and fall to spawn. Species include Chinook, coho and pink salmon. These species are considered challenging for fly fishers since these fish are in the rivers to spawn and will rarely eat if at all.

Smallmouth bass: River smallmouth are considered by fly anglers to be one of the strongest fighting fish in Ontario. They readily eat flies and generally become acrobatic when hooked. They often jump multiple times during landing. Their distribution is throughout most Ontario rivers.
South/Central Ontario rivers for fly fishing
Northern Ontario rivers for fly fishing
Ontario is a big province with hundreds of rivers available for fly anglers looking for multi-species. Most Ontario rivers are accessible by foot, boat, train or plane and can be found in the middle of major Ontario cities or in the absolute remote wilds of this vast land. Ontario has the space, the numbers of fish and the rivers to make it a perfect destination for fly fishers.