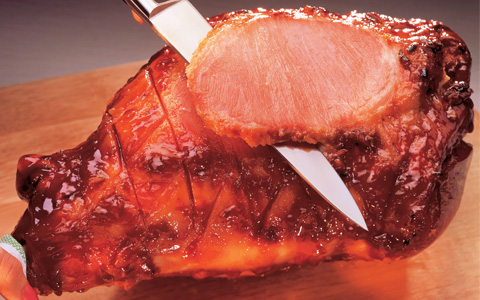 Any leftovers can be used in sandwiches or salads or in an omelette
Serves 20
Ingredients
1 whole ham
1-2 carrots, chopped
1-2 sticks of celery, chopped
1 onion, halved
1 tablesp. peppercorns
1 bay leaf
2 teasp. mustard
3 tablesp. clear honey
Rind of 1 orange, coarsely grated
1 tablesp. brown sugar
Cranberry Sauce
1 packet x 325g cranberries
225g sugar
125ml water
Simmer the lot together for 5-10 minutes.
To Cook
Honey Glazed Ham – Place the ham, vegetables, peppercorns and bay leaf in a large saucepan.  Cover with cold water.  Place a lid on the pan, bring to the boil then reduce the heat and simmer for approx. three hours.
When the ham is cooked the skin will peel off easily.  Remove the joint from the saucepan and place on a roasting tin.  Using a sharp knife remove all the skin and score the fat into diamonds.  Spread it with the mustard, honey, orange rind and sugar.  Bake the ham at Gas Mark 6, 200C (400F) for about 30 minutes until golden brown.
Delicious served with cranberry sauce.
Source: BordBia