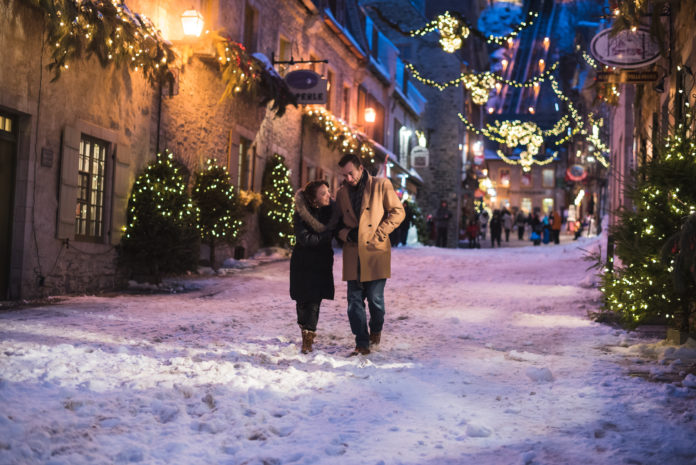 The illuminated streets of the Petit-Champlain district and Place Royale are an invitation to travel back in time to the founding of Québec over 400 years ago.
A little square with a whole lot of history
The site of the first permanent French settlement in North America, Place Royale is steeped in history. It was here that Samuel de Champlain chose to erect his "Abitation," which served as a fort, storehouse, trading post, and residence after his arrival in 1608. Place Royale is also home to Notre-Dame-des-Victoires, the oldest stone church in North America, built in 1688. With its enchanting surroundings, the square feels like a real-life time capsule!
Evocative architecture
The French influence is evident everywhere you look in Place Royale and along Rue du Petit-Champlain, one of the oldest commercial streets in North America. The two- and three-storey plastered stone homes with their dormer windows, gabled roofs, large chimneys and firewalls rising above the rooftops make it hard to believe you're not in France.
An original way to get there
There are several staircases leading to Petit-Champlain, but you can also get there via the funicular. In operation since 1879, it links Lower Town with the Dufferin Terrace and offers passengers a wonderful view of the neighbourhood and the St. Lawrence River. The lower entrance to the funicular is located in the home built in 1683 by Louis Jolliet, the man who discovered the Mississippi River.
Rue du Petit-Champlain was voted Canada's most beautiful street for its charm, authenticity, historic cachet and emphasis on local culture.
A neighbourhood that really shines
The Petit-Champlain district isn't just illuminated for the holidays—it stays decorated all winter long, much to everyone's delight. It's the ideal place to bundle up for a winter evening stroll in an enchanting atmosphere straight out of a Christmas fairy tale.
Larger than life
Only a few steps from Place Royale, the enormous Fresque des Québécois mural recounts the story of Québec City and pays homage to some fifteen historic figures and various authors and artists. A number of other frescoes dot the city for visitors to admire.