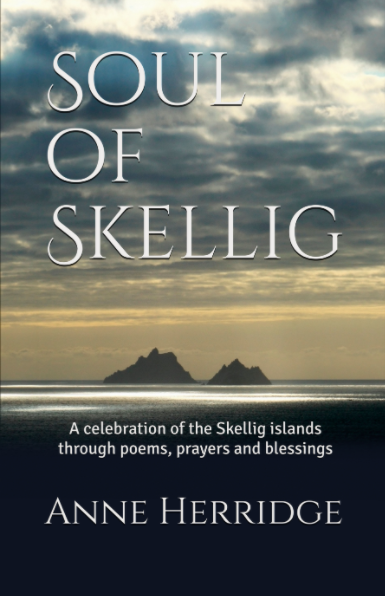 Anne Herridge is a poet and devotional writer with strong family roots in Co. Cork. She now lives in British Columbia where she recently published Soul of Skellig, a collection of poems, prayers and blessings to celebrate the Skellig islands off the southwest coast of Co. Kerry.
The islands were declared a UNESCO World Heritage site in 1996 and are steeped in history and mystery. The largest of the two islands, Skellig Michael, was inhabited for around six hundred years by small groups of monks who built a Christian monastery on the rocky peak between the 6th and 8th centuries, some 600 feet above sea level. The monastery, the stone 'beehive' huts the monks lived in, and a hand carved staircase to the peak remain largely intact and draw visitors, pilgrims, and archaeologists from all over the world. The islands are also known for their colonies of seabirds and the recent Star Wars trilogy which had some scenes filmed on the island.
As the first light of dawn crept across a clear sky one morning in early July, Anne found herself sitting spellbound, gazing through panoramic cottage windows in the tender silence, at a majestic scene unfolding before her eyes. Far out on the horizon, the Skellig islands appeared to be rising out of the sea mist in a halo of light, like a fairy tale illusion in what felt like a uniquely private and holy moment.
Having arrived the day before in low visibility, the horizon had been firmly hiding its secrets beneath thick cloud, but suddenly in the sacredness of this new morning, Anne had the most unexpected and mesmerizing introductions to the islands that one could ever imagine. In the absence of a notebook or tablet to hand, she grabbed an airline itinerary from the coffee table and started to write. Words came without prompting and flowed effortlessly onto the page as Skellig Song, her first Skellig poem was born there in the soft light of a new day on Kerry's western coast.
The book that followed was the culmination of many loving compositions from a soul that was truly captivated by the Skelligs from that first moment when the islands introduced themselves at dawn, and later when she encountered them more closely on a landed tour, towering majestically through a veil of mist once more like an ethereal vision. From those first precious moments, Anne's heart had been forever changed and Soul of Skellig was created.
Through the book, Anne seeks to capture the essence of the islands as she takes the reader on a magnificent journey through the written word, touching on the mystery and history of the ancient monastery, the birds and marine life, the flora and fauna, and the powerful moods of the seasons. The book is a delightful read for all ages, capturing the adventure, beauty, spirit and wonder of the islands in all their glory.
Anne believes that the islands are one of those places where the veil between heaven and earth is thin, "where an ancient spiritual call, coupled with a profound sense of peace, reverence and endurance wrapped in centuries of history, tugs at the soul and testifies to both the spiritual and physical legacy that has prevailed there for generations."
The book is available on Amazon worldwide and is being sold at The Skellig Experience Visitor Centre on Valentia Island, Co. Kerry where Anne will be presenting and promoting the book in May/June 2022. You can find more of her work at www.anneherridge.ca
The following are excerpts from her work.
Clochán
Enduring sentinels of strength and solace
Like woven baskets of stone, crouching together
As they cling to the clifftop, cluster of corbelled clocháns
Nestling on the edge of the world
Skellig's sacred shelters of seclusion, sanctified and set apart,
Like miniature fortresses on panoramic peak,
These domed drystone dwellings, deserted, desolate,
Retained on the tip of weathered terrace
Mysterious medieval monastery,
Like a nebulous, floating city amidst nascent cloud,
Place of retreat and reflection, remote and reverent,
Resting on the borders of heaven.
© Anne Herridge/Soul of Skellig 2021
Staircase to Heaven
Fashioned by the weathered hands of ancient godly men,
Was each tread laid with measured prayer for those who would ascend?
Stone staircase built upon an isle on Europe's western edge,
Climbs to misty monastery perched high on rocky ledge
Aged slate that saw the dawn a thousand years ago,
Witness to the countless days and ocean's sunset glow,
Steps that serve to lead the pilgrim safely to the peak
To heaven's sanctuary, place of peace, bathed in hushed mystique
Aged stone enduring storms through centuries of time,
Praying for the world beyond its rugged border lines,
Watching pilgrims come and go, as history progressed,
From men whose steps are numbered all, to seabirds in the nest
Narrow trail which curves and climbs above grey Atlantic scarf,
Twisting staircase pushing up the steepened skyward path,
Where oratory which views the world exudes a reverent peace,
A hand carved cross, and drystone rock, its only altarpiece
Silence reigns up on the peak, apart from whispered breeze,
Sea's breath below a distant hush as white waves swell and heave,
Here the sense of sanctity and holiness remains,
Here a light tread greets the soul; it's here that heaven reigns!
© Anne Herridge/Soul of Skellig 2021
Anam na Sceilige
Uaigneach, lonnrach, mealltach,
B'fhéidir dolbhaireacht mearúil do cheobhrán,
Neamhshaolta, dothuigthe, thar cuimse
Ar bhun na spéire radharc dhraíochtuil na farraige
Draíochtúil, seasamhach, spreagúil,
Ardeaglais i ngreim ag scamall gealbhruthach,
Maorga, muiníneach, do labhartha,
Spuaiceanna ag síneadh i dtreo na spéire isteach i solas loinnreach na gréine
Mealltach, díbhealaigh, dothuigthe,
Fillte i ngaoith aniar atá ag coraíocht agus ag olagán,
Dainséarach, dearóil, meadhránach
Riamh nochtaithe do chreimeadh na síne
Mistiúil, maorga, rúndiamhrach,
Iargúlta, fós soilseach i mórtas lonrach
Cúlráideach, naofa, ciúin,
Seo é anam na Sceilige.
Soul of Skellig
Lonely, luminous, alluring,
Perhaps a mesmerizing mirage of mist,
Unearthly, unfathomable, unparalleled
On horizon's haunting seascape
Enthralling, enduring, exhilarating,
A cathedral caught in incandescent cloud,
Imposing, inspiring, inexpressible,
Spires stretching skyward into spangled sunlight
Illusive, impenetrable, incomprehensible,
Wrapped in a westerly wind which wrestles and wails,
Dangerous, desolate, dizzying
Ever exposed to the erosion of the elements
Mystical, majestic, mysterious,
Remote, yet radiant in resplendent glory
Secluded, sacred, serene,
This is the soul of Skellig
© Anne Herridge/Soul of Skellig 2021
SPIRIT OF PEACE
Skellig,
Place of peace
Place of blessing,
Here where a thousand generations sought solitude,
The spirit of peace reigns
Home of order
Home of harmony,
Here where holy hands laboured through history,
The spirit of strength prevails
Place of prayer Place of petition,
Here where the penitent knelt for centuries,
The spirit of devotion whispers
Pinnacle of praise  Protector of  priests,Here where sacred songs echoed through the ages,
The spirit of worship resounds
Skellig,
Here where the spirit of peace reigns.
© Anne Herridge/Soul of Skellig 2021
The Secret Place
Old monastic ruins, long ago dismissed,
Unoccupied and lonely, abandoned to the mist,
Yet beneath the stone of ancient steps and buildings aged and scarred,
Beneath the feet of unsuspecting travellers from afar,
A secret habitat exists away from squall and strife,
The hidden nest of storm petrel, protecting brand new life.
The ruins now a sanctuary to smallest of seabirds,
Aged, stony structures ensure chicks are undisturbed,
Harbouring the secret of this precious colony,
Where the holy and the humble coexist in harmony.
Centuries old construction protecting nature's newest gifts,
In rudimentary burrows deep within the rocky rifts,
Seldom seen or viewed by man until the evening light,
When square black tails and pointed wings skim waves on inward flight,
Returning to small downy chicks in private, hallowed space,
The blessed ground that harbours life in hidden, secret place.
© Anne Herridge/Soul of Skellig 2021
Sea Campion
Whose fingers spread sea campion on wild and restless peak,
To grow and thrive on barren cliffs in elements so bleak?
Dense mats of natural beauty carpet Skellig's steep design,
Like snow in spring adorning slopes in scattered casual lines!
A floral mix of green and white with sea pinks looking on,
Cushion-soft perennials, both delicate and strong,
Adding natural splendour to the barren lonely rock,
To welcome all who make the climb to clocháin at the top!
Clusters of the hardy flowers hide seabird's nests below,
Blooming on the sharp inclines where little else can grow,
Bedecking ancient island with such bountiful expression
Scattered glory sown directly from the stores of heaven!
© Anne Herridge/Soul of Skellig 2021
Éireann
Sacred air fills the expanse, lingers
OverÉireann's shores, saturates
This enchanted isle with transcendent stillness, a
Spiritual heritage that permeates the land.
Here, where heaven's entrance stands ajar,
The ancient presence summons, drawing the soul
To an unspoken place of belonging, a place
Of knowing and being known.
A place of freedom, a place of tranquility,
Connecting the spirit to sanctified spaces
Weighted with peace, heavy with ancestral call, as
Realms combine and the hallowed meets humanity, as
The soul finds its true home.
Wild and untamed, mythical and mystical, this is
The holy heritage that is Éireann.
© Anne Herridge/Soul of Skellig 2021