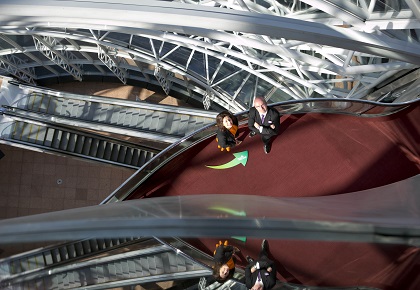 Dublin and Ireland are once again moving in the right direction according to the newly released 'International Congresses and Conventions Association' (ICCA) rankings which show the city rising five places to 13th in the world for hosting conferences and conventions and Ireland, overall, rising six places.
Welcoming the news Patrick O'Donovan TD, Minster of State for Tourism said –
"These impressive results reflect the hard work on the ground from everybody involved in Ireland's conference sector – from Fáilte Ireland's Business Tourism team to hoteliers and conference organisers. We are certainly punching above our weight with Dublin and Ireland ranking ahead of larger and much more established destinations.  Given how lucrative this sector is, I think we should all be pleased that Ireland is firmly on the map when it comes to hosting international conferences and events."
Based on the number of international association meetings which took place in 2016:
Dublin is in the top 20 cities worldwide – up five places to 13th having hosted 118 international association conferences;
Dublin ranked 10th in Europe rankings (up four places from 2015);
Ireland ranked No.26 worldwide (hosting a total of 157 conferences in 2016)  up six places from 32nd in 2015;
Ireland ranked 16th in the Europe rankings (up three places from 19th in 2015);
Regional venues in Cork, Galway and Limerick all featured in the rankings contributing to Ireland's overall solid performance.
Dublin's performance this year was particularly pleasing as it placed ahead of competitors such as Copenhagen, Brussels, Edinburgh and Glasgow. Access a copy of the ICCA statement here.
Business and events is an incredibly important component of the overall tourism industry, generating well above average yields, out-of-season visitation and regional growth. Last year, Fáilte Ireland's Business and Events team supported the conversion of over €150m worth of business for current and future years.  In addition, the team supported the conversion of €27.2m worth of business for Regional Ireland (including Regional Convention Bureau and non-Regional Convention Bureau areas).
Fáilte Ireland CEO Paul Kelly stressed the importance of continuing the drive for more delegates –
"To ensure this success continues, our team is working hard on growing the Business Tourism pipeline and, in 2016 alone, they successfully identified and generated over 575 international business tourism leads for business events due to take place over the next 5 years.  We are still hungry for more business and have ambitious growth plans for Dublin and regional centres such as Cork, Limerick, Kerry and Galway.  Throughout this year we will be chasing every lead and pitching for every potential win to ensure we continue to rise up the rankings"
Later this week, that push for more business will continue as Fáilte Ireland's Dublin Convention Bureau target new UK business at its "Meet Dublin in London" event where over 300 UK meetings and events buyers will have the opportunity to meet directly with Irish hoteliers, business meeting venues and conference organisers to generate new business for the conference and meetings sector in Dublin.
Looking forward to the event, Ciara Gallagher, Fáilte Ireland's Head of Business Tourism said –
"Now an annual fixture on the business tourism calendar, this year's "Meet Dublin in London" event has attracted its largest UK attendance ever – proving that, despite Brexit, there is still great British interest in our Irish business venues.  With potential business worth €52 million available to pitch for, our 50 Dublin trade will be on hand to showcase the world class facilities that the city can offer business delegates."
The pitching to top British buyers will take place on the Silver Sturgeon boat located on the River Thames at a tailored event which will include an informal networking evening hosted by Irish celebrities Brian McFadden and Keith Duffy.