If you've ever visited Ireland in the spring you know it is one of the most majestic places to be this time of year. Fields are blanketed in wildflowers, painting a picture fit for a postcard with lambs frolicking among the flourishing and vibrant plants. Here in Canada, blossoming buds and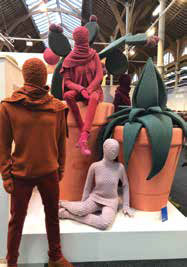 singing songbirds are here to clear the bitter winter air with their delightful presence. A new season has arrived and after a true Canadian winter, it is safe to say we deserve a proper Spring! We can expect longer evenings, new life to the beauty that surrounds us and definitely some new clothing. With each changing season, we can bring fresh enthusiasm to our daily wardrobes. What better way to do so than by using Ireland's natural beauty as a muse for the palettes in our day to day life?
This season Irish designers have sparked their creativity from simply taking a look around them. The country landscapes and the terrain is the perfect artistic influence. They've developed collections by sprouting new and fun colours you maybe wouldn't expect to see so early on in the year. Mustard, orange and teal which are normally reserved for Autumn

and Winter seasons are making the rounds alongside yellow, classic pastels, creams and sky blues. Cotton and linen grandfather shirts for men and linen sweaters and ponchos for women are always a Spring go to as the natural fibres wear extremely well. It's best to let the skin breathe on those warmer days so cotton and linen are a crowd favourite.

A burnt orange merino wool half-zip is sure to brighten up any wardrobe and will keep your body temperature perfectly regulated for those evening walks. For a feminine touch try a shorter dusty pink chunky turtle neck over a long skirt and consider yourself sorted from day to night. With genuine hand knits getting harder and harder to find, more consumers

are looking for something different enough to set them apart but still clearly ties them to their heritage. Designers like McConnell have figured out how to let traditional knot work and high-end chic coexist. Their sweaters and ponchos in ice blues, blush pinks and charcoal greys bring new meaning to Irish couture and will certainly elevate any wardrobe. Ireland's Eye Knitwear is another fantastic example of Irish style at its finest. Traditional the patterns seem a bit more refined within this brand. This is important if you are aiming to stay on the more contemporary side of things while still wearing your heritage proudly.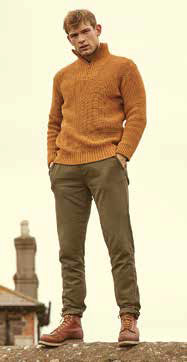 It's important to have a few staple pieces that you can find yourself reaching for in the closet. Exhibiting these pieces is crucial in loving what you wear. You are able to show them off with pride and enjoy expressing your Celtic background through the best way you know how: the long-standing family tradition of Irish designs. So put a spring in your step this year and make your day a little brighter with an authentic and stylish Irish piece of clothing!