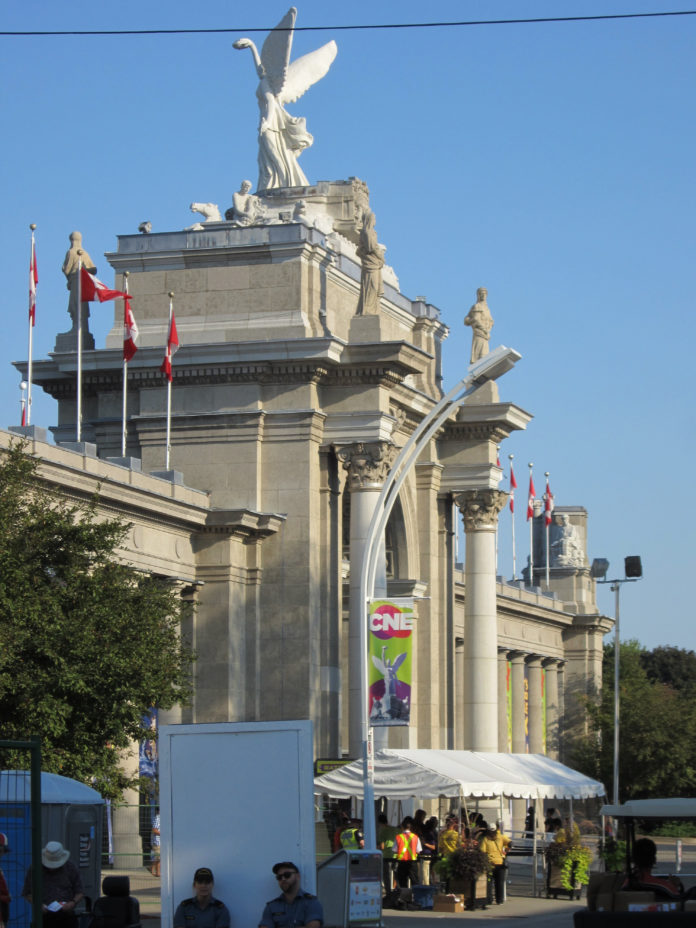 New this year – East Coast Kitchen Party – Get ready for a tidal wave of Maritime merriment throughout opening weekend, Aug. 18 and 19 as the East
Coast Kitchen Party returns to the CNE! Indulge in East Coast cuisine and craft beers, watch the city's best mixologists face off in a
Caesar competition, or cheer on a race to see who can shuck the most oysters for bragging rights. Seal the experience with a
Newfoundland tradition by kissing a cod and getting screeched in!
Toronto's iconic summer celebration, the Canadian National Exhibition (CNE), kicks off August 17 to
September 3 with all-new and more diverse programming than ever before. In celebration of the 2018 Canada-China Year of Tourism, the
CNE is home to one of the world's largest indoor lantern festivals featuring 17 illuminated large-scale art installations on display daily inside
the Enercare Centre, as well as an outdoor TELUS Asian Market transforming Princes' Blvd. into a bustling and lively marketplace for
artisanal crafts and authentic street foods from Aug. 30 to Sept. 3.
Returning to its destination beside the Princess Margaret Fountain is the eight-feet tall CNE sign. A new popular 'selfie' photo opportunity
at The Ex is the Nook of Gnomes inside Heritage Court, where visitors can find unexpected encounters with six- and 12-feet giant gnome
statues decorated in greenery. Innovation is also a strong theme this year with the return of the CNE Innovation Garage and the Emerging
Innovators Pitch Competition; a new Genius Lab Playground and Nintendo Kids Tech Zone; more play-to-win tournaments at Gaming
Garage; and an exciting new robot competition where high school teams showcase their robotic creations for top honours.
Back by popular demand is the Aerial Acrobatics & Ice Skating Show, adrenaline-pumping Parkour Competitive Demonstrations, and the
President's Choice SuperDogs show entitled Happy Barkday, in celebration of its 40th anniversary. The CNE Bandshell rocks with headlining
concerts from Blood, Sweat & Tears, Dennis DeYoung and the music of STYX, Nancy Wilson of Heart, as well as new music from The Trews,
Bedouin Soundclash, and Marianas Trench to name a few. Take a scream-tastic ride on the newly re-furbished Zipper making its debut at the
CNE; or for those who prefer to take in G-force thrills from the sidelines, the 69th annual Canadian International Air Show promises to be one
of the best yet, featuring the iconic Canadian Forces Snowbirds and the US Air Force Thunderbirds. The Thunderbirds will be making their
highly anticipated return to the CNE for the first time in 15 years, and will be their only scheduled performance outside of the USA this year!
MEDIA ACCREDIATION FOR THE 2018 CNE IS NOW OPEN: Click here to submit an online request form.
2018 CNE Highlights:
NEW – Legends of the Silk Road Come to Light! – The CNE will "come to light" this year with a spectacular indoor lantern festival!
A stunning series of 17 illuminated sculpture installations will create a kaleidoscope of colour, themed around legends and myths
associated with the ancient Silk Road. The awe-inspiring displays were created by 90 artists using 4,000 metres of synthetic silk, 55
metres of steel, and arrived in eight shipping containers that travelled more than 12,000 km from China to Toronto! The indoor
lantern festival is co-produced by DDM Entertainment and Events Inc.
NEW – TELUS Asian Market – Colourful, aromatic and bustling with energy, the TELUS Asian Market at the CNE takes over Princes'
Blvd. starting Thurs. Aug. 30 through to Labour Day with an eclectic mix of vendors, artisanal crafts, cultural entertainment, and
authentic international street food to feast on.
NEW – Flip Flop Sculptures – Beautiful art, with a cause. Abandoned flip flops retrieved from the Indian Ocean are transformed into
whimsical animal sculptures by Kenyan artisans. Watch their creativity at work throughout the 18-days of the CNE inside the Enercare
Centre, Hall A.
NEW – Silent Disco – Dance the night away on Princes' Blvd. to tunes that only you can hear at the CNE's first-ever Silent Disco, Aug. 27
and 28. Participants are encouraged to don a pair of the 300 headphones that will be available on a first-come, first-serve basis
(deposit required), and let loose to the music of two energized DJs spinning a variety of genres and songs.
NEW – Nook of Gnomes – Six whimsical giant garden gnomes are ready to greet CNE visitors as they enter Heritage Court. These
legendary spirits known for their small stature have been super-sized to stand at 12 feet and six feet tall. Covered with flowers and
greenery, the gnomes are sure to be an instant 'selfie' sensation. #GoBigOrGoGnome
…/more
NEW – The Zipper – Celebrating its 50th anniversary as one of most popular amusement park rides worldwide, the Zipper debuts its
new makeover at the CNE this year. Thrill seekers can now ride the vertical G-forces (without the enclosed cage) surrounded by
illuminated LEDs, music and 'screams.' Be one of the firsts to experience the new-generation Zipper!
CNE Gaming Garage Powered by AMD – Back by popular demand, the Gaming Garage Powered by AMD is bigger and better. From
Aug. 24 to 26, gamers can rally in eSports tournaments and compete in pinball tournaments for a shot at prize money, enjoy play-towin
tabletop games, interactive VR experiences, gaming demonstrations, and more.
East Coast Kitchen Party – Get ready for a tidal wave of Maritime merriment throughout opening weekend, Aug. 18 and 19 as the East
Coast Kitchen Party returns to the CNE! Indulge in East Coast cuisine and craft beers, watch the city's best mixologists face off in a
Caesar competition, or cheer on a race to see who can shuck the most oysters for bragging rights. Seal the experience with a
Newfoundland tradition by kissing a cod and getting screeched in!
CNE Innovation Garage — This year the Innovation Garage adds a number of exciting additions including the new Genius Lab
Playground and Nintendo Kids Tech Zone for the young and curious who want to learn more about STEM and coding. Visitors can also
explore Maker Spaces showcasing ideas and products, interactive displays, and an exciting new robot arena where high school teams
showcase their robotic creations to compete for top honours.
The Emerging Innovators Pitch Competition — Now in its third year, the brightest young innovators from Canada are converging at the
CNE's Innovation Garage for a three-day competition, Aug. 17 to 19. Watch as competitors pitch their cutting edge inventions in six
different categories from Urban Farming to Kids Technology, for the coveted Grand Prize of $25K.
Bandshell Concert Series – The CNE Bandshell stage is ready to rock this summer with a line-up of music royalty including Dennis
DeYoung founding member of STYX, Blood, Sweat & Tears, Nancy Wilson of Heart, Kansas, and Canadian rock group Moist.
International reggae icon Freddie McGregor and country music chart toppers Emerson Drive also headline, along with homegrown
talent from Big Sugar, Bedouin Soundclash, The Trews, Hollerado, and Toronto rapper Fateh. Click here for the full Bandshell line up.
President's Choice SuperDogs: Happy Barkday! – Our favourite pups are celebrating 40 years of entertaining audiences with a new
show titled, Happy Barkday. It's a birthday extravaganza filled with all the fun that audiences have come to expect, along with new
tricks to keep the party going. SuperDogs return to the CNE in a new location inside the Enercare Centre, Hall G.
69th Annual Canadian International Air Show – The 69th annual Canadian International Air Show soars over Lake Ontario on Labour
Day weekend with another awe-inspiring show. This year, the aviation extravaganza is bookended by two of North America's best
aerobatic jet teams: The Canadian Forces Snowbirds and the United States Air Force Thunderbirds. This will be the Thunderbirds' only
performance outside of the USA in 2018 and first time back at the CNE in 15 years. Celebrating the 60th Anniversary of NORAD (North
American Aerospace Defense Command), the CNE Air Show will be a shining example of US-Canadian military cooperation.
Quatro: Aerial Acrobatics & Ice Skating Show – The CNE's new Aerial Acrobatics & Ice Skating Show, Quatro, is themed around the
dynamic forces of the four elements: water, fire, wind, and earth. Captivating audiences with their athleticism and dazzling artistry, this
year's special guests include Vanessa Bauer, the 2018 Dance on Ice winner, and former Cirque du Soleil artist, Angela Kim.
DATES: August 17 to September 3, 2018
LOCATION: Exhibition Place, Toronto, ON
Via Princes' Gate (Lake Shore Blvd. and Strachan Ave.) or Dufferin Gate (food of Dufferin St.) or
GO/TTC Exhibition Gate
TICKET PRICES: Purchase your tickets before August 16 at midnight and save!
Save before August 16: General Admission $15 ($4.99 Savings)
Ride All Day (RAD) Pass $41 ($24.99 Savings)
August 17 – September 3: General Admission* $19.99
Adults 65 & Better $16
Children (13 & under) $16
Children 4 & under Free
CNE Family Pass $59 (2 adults & 2 children or 1 adult & 3 children)
On-Site Ride All Day Pass $46 plus admission
*Persons with disabilities will receive 50% off regular gate admission; and complimentary
admission for their support person upon presentation of an Access 2 Entertainment Card.
WHERE TO BUY TICKETS:
Before the CNE: Online at TheEx.com
All GO Transit stations and Union Station
CNE Gift Card Tickets will also be available at Canadian Tire, and major grocery and drugstores
in the GTA
During the CNE: Online at TheEx.com
GO Transit stations and Union Station (not at Exhibition Station)
On-site at the CNE gates
WEBSITE: For more information about the 2018 CNE, tickets, programming, directions and hours, visit
www.TheEx.com